Xbox One X 'standard edition' preorders to be detailed next month
Microsoft has detailed its plans to share more information on standard Xbox One X console availability this September.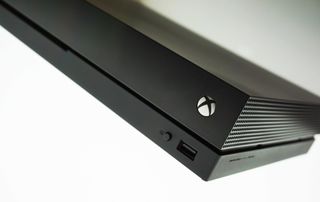 (Image credit: Windows Central)
Late last week, Microsoft opened up the initial wave of preorders for its upcoming flagship Xbox One X console. Despite being unveiled back in June, only recently have eager buyers been able to secure a console for release, after the device received approval from the Federal Communications Commission (FCC). Since opening, almost all major retailers have sold out of their initial allocation of consoles, with an "overwhelming" response according to Microsoft.
Related: What do you think of the Xbox One X 'Project Scorpio Launch Edition' console?
When preorders for the Xbox One opened, availability was limited to the "Project Scorpio Edition" – a version of the console which pays homage to the device's codename. It now appears Microsoft is preparing for another wave of Xbox One X preorders, for those looking to purchase the standard black variant of the console.
In a recent Xbox Wire post (opens in new tab), where Microsoft framed the Xbox One X as the fastest-selling preorder in Xbox history, Corporate Vice President of Marketing at Xbox, Mike Nichols, expanded on what to expect from the console's availability going forward.
Although the Xbox One X Project Scorpio Edition sports a unique design and some minor bonuses, those who pick up the standard SKU won't see much difference in value. The same 1TB hard drive comes standard, as well as the same hardware specifications as other models and an included wireless controller.
Did you already preorder an Xbox One X? Or did you plan to hold out for the standard edition of the console? Let us know what you think of both versions in the comments.
Matt Brown is Windows Central's Senior Editor, Xbox & PC, at Future. Following over seven years of professional consumer technology and gaming coverage, he's focused on the world of Microsoft's gaming efforts. You can follow him on Twitter @mattjbrown.
Scorpio Edition Pre-ordered in Mexico!!!!

Waiting on larger storage sizes to become available before I take the plunge.

differnet HD skus probably won't happen until next year.

I learned my lesson buying the 1TB version of the XB1 versus getting the 500 GB version and putting that money into an external drive that you will need anyway, and that's much faster than using the internal storage.

The question is whether that slowness of the internal drive is still the case with the One X. I really wish I could just replace the internal drive with a bigger hybrid drive or something.

@nopokyme In that case, neither will my purchase. Vote with your wallets people.

I did, I purchased a faster, bigger, and better external drive from a 3rd party.

Hopefully the standard X units will be easier to pre order. I've been out of luck since day 1.

What on Earth do they have to "announce"? Everyone saw the regular edition hardware already. The console is listed on the site... All they need to do is enable the purchase button. Unless by some miracle they saw sense and are lowering that overpriced tag for the regular version. But I highly doubt that...

They don't need to lower the price, you just need to earn more money. Anyone that thinks this console is overpriced clearly has no idea what it actually is. It's half the price of a comparable PC rig and includes a controller and cables. It's even not that much more than a stand alone 4k Blu-ray player.

I agree. 449gbp for that level of graphics with just plug n play an away u go is amazing. U won't get a similar in stars high end gaming PC for that money not a chance. People are just retarded and probably can't afford it cos of whatever financial reason and they should not bash it cos they not getting it. U can buy one from argos on a 12 month interest free option so no excuses for wanting it lower priced

Djcbs, You contine to sound like a BAG (broke ass gamer). Get out your moms basement and learn how to earn and make some money.

Wow insults because someone gives an opinion on the price of a piece of plastic. That's MS/XB fans for you right there.

Preordered the Scorpio Edition at Amazon in the US. I'll use the same 4TB drive I currently use withthe One S. I wonder if the console will automatically download and install the new assets for the enhanced games if the standard versions of the games are already on the HDD, or if I would need to uninstall and reinstall my games to get the enhanced graphics/assets.

It was stated that you'll be able to download the 4K assets ahead of receiving your X, so that when you get it, you'll be able to just plug in your external drive (with the additional assets already downloaded) and start gaming right away. I'm not sure if they're going to somehow verify that you'll be an X owner, since the people without an X won't need those patches, and there's potential for non-X owners to download and potentially have bandwidth cap issues as a result. Either way, you'll be given an option to get those ahead of time.

My guess is they won't verify. You'll probably just manage downloads yourself and get the updates. There's no reason to do it differently if they want ppl to download early.

Purchased mines from target
Loved the Scorpio edition
Cant wait till it arrive
Windows Central Newsletter
Get the best of Windows Central in in your inbox, every day!
Thank you for signing up to Windows Central. You will receive a verification email shortly.
There was a problem. Please refresh the page and try again.