Square Enix: An Xbox version may still be coming for Final Fantasy XIV (update)
Square Enix says the MMORPG has enough content for another five years of expansions.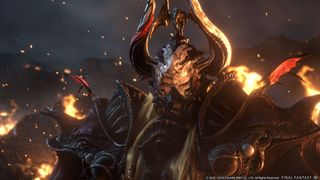 (Image credit: Square Enix)
Update Feb, 18, 2021: An Xbox version might be coming in the future.
What you need to know
Final Fantasy XIV is an MMORPG released in 2013.
It is one of the most popular online games, rivaling World of Warcraft.
Despite rumors the game might be coming to Xbox, a recent report says that's not in the works.
In an interview with The Washington Post released today, Final Fantasy XIV: A Realm Reborn producer and director Naoki Yoshida discussed the forecast for the hit MMORPG, which continues to have a fanbase that rivals World of Warcraft eight years after its release. Unfortunately for Xbox players, a port of the PC and PS4 game isn't likely anytime soon, despite rumors that have been floating around for years.
Yoshida told the Post that he would love to see the game on other systems, but that most of his team's time is spent working on expansions. Endwalker, the fourth expansion for Final Fantasy XIV, was announced this month and is expected to be released this fall. It will end the main story up to this point in the game by taking players to the moon as part of an apocalyptic event.
On the topic of bringing FFXIV to other platforms, Yoshida said: "We provide content on a fairly regular basis and our cycle is rather condensed. And it is a fairly stable cadence that we continue to follow. We have to think about long-term planning with additional platforms, we need additional testing for that particular platform. So it kind of exponentially grows the amount of resources that need to be allocated." The Post interview inferred from its discussions that Square Enix isn't planning an Xbox version "in the near future."
Square Enix remains strongly committed to the game, which currently has 20 million subscribers, and hopes to grow that number to 30 million. If the current growth rate continues, Yoshida said he believe Square Enix will continue to support it for at least another five years.
While Xbox players likely won't have a chance to try Final Fantasy XIV anytime soon, you can still get some similar fun by checking our our list of the best Xbox One role-playing games.
Update Feb. 18, 2021: Xbox version might be coming in the future
In a new interview with VG247, Naoki Yoshida elaborated more on the Xbox version, noting that there are no boundaries holding the Xbox version back.
It's a simple case of them focusing on the PS5/PC version at the moment, and that they hope to address the Xbox version in the future.
Get the Windows Central Newsletter
All the latest news, reviews, and guides for Windows and Xbox diehards.