Xbox Series X, Series S size comparison video: PlayStation 4, banana, Gamecube, and many more
A comparison video of epic proportions.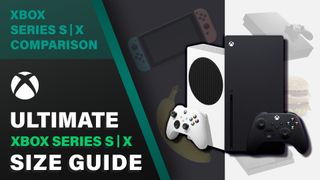 (Image credit: Windows Central )
We recently got our hands on some dummy units of the Xbox Series S and Xbox Series X. To give you a better idea of how these new form factors size up, we'll be comparing them to an array of current-gen consoles, household items, and tasty foods.
Forget what you've seen so far, this is the ultimate Xbox Series S|X size comparison guide!
Comparing the Series S and X
First off, we'll compare the two new Xbox SKUs to each other. As you can see, the Xbox Series X takes up a bit more real estate with its large, brickish design while the Series S manages to pack next-gen features in a casing that's only slightly larger than the average hardback novel.
The Series S will definitely be easier to fit in most entertainment systems, but even the Series X is smaller than initial impressions might have suggested. With both models featuring a very pronounced ventilation area, it's clear Microsoft focused on form factors that deliver maximum airflow and cooling. These new consoles are certainly for fans of clean, minimalistic design.
Comparing current-gen consoles
After spending a little time comparing the Xbox Series X and S size differences, we took some the opportunity to see how these new Xbox consoles size up compared to the current big 3 of current-gen consoles - the Playstation 4 (launch edition), the Xbox One X, and the Nintendo Switch.
The new form factors for the Xbox Series X and S are certainly different than the DVD-inspired layout of the last several cycles. With power and ventilation at the forefront of design, Microsoft opted for a cleaner, more simplistic design this time around.
An array of food and other comparisons
In addition to a host of very relevant and helpful comparisons, we took fan requests for a host of non-conventional comparisons as well. If you're curious to see how the Xbox Series X and S stack up to a Big Mac, Optimus Prime, a banana, British foods, and a host of other fun items, be sure to watch our comparisons video.
A huge shoutout to everyone who engaged in our thread and gave great suggestions for comparisons! We had a ton of fun whipping up this fun video and we look forward to seeing some of your hilarious comparison pics on launch day.
The Xbox Series X and Xbox Series S launch on November 10, 2020, and are compatible with all the current best Xbox One games with the entire library going backward compatible, and all Xbox One accessories, including your best Xbox One headset.
Leading 4K
(opens in new tab)
The full next-generation experience.

Xbox Series X is Microsoft's new flagship, as its most powerful console with over 12TF GPU performance and a custom SSD. It boasts up to 4K resolution and 120 FPS, full backward compatibility across four generations, and ray-tracing support.
Next-gen in HD
(opens in new tab)
Experience next-gen gaming for less.

Microsoft serves the next-generation for less with its budget-friendly Xbox Series S. The console packs the same high-performance CPU and SSD technology as Xbox Series X, while scaling back the GPU and removing the disc drive.
Xbox Series X/S
Main
What is the Xbox Series X release date?
How much does Xbox Series X cost?
Why you can't preorder Xbox Series X yet
Miles Dompier is a Freelance Video Producer for Windows Central, focusing on video content for Windows Central Gaming. In addition to writing or producing news, reviews, and gaming guides, Miles delivers fun, community-focused videos for the Windows Central Gaming YouTube channel. Miles also hosts Xbox Chaturdays every Saturday, which serves as the Windows Central Gaming weekly podcast.
Useful but a better comparison is side by side with AV Receiver and a Blu-ray player. No-one is going to buy two consoles

? No one buys 2 consoles... Say that the Wii60 crowd... Pretty sure a lot of switch owners have a xb or a PS... A ton of gamers get 2 consoles during a Gen...

Speak for yourself, buddy. Why would I deprive myself off awesome games?

Time management? That's my problem. The need for it, not the act of doing it that is.

*looking at my PS4, PC and Xbox libraries* I mean, I don't have the time to actually play the games, but if I did at least they're available to me when I can. Although I have actually been making my way through a number of games in the past few weeks, so I'm proud of myself for that.

I really like look of the Series S now. So sleek and small. I hope it can really deliver Series X visuals at 1080/1440p resolution. I don't need 4K but I don't want to skip out on FPS or ray tracing.
Windows Central Newsletter