Xbox Music and Xbox Video pick up small updates on Windows 8.1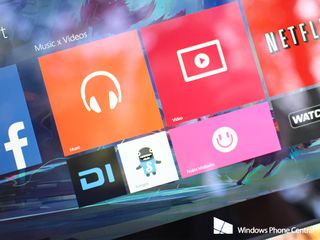 It's been slightly over a month since we last covered an update for Xbox Music on Windows 8.1. The app has just been updated with a handful of new features. In addition, Xbox Video picked up a small update too in the Windows Store. The Windows Phone version of Xbox Music just picked up a major update. So let's check out how this one for Windows 8.1 fares.
Xbox Music version 2.2.849.0
Now you can view the folder path for songs.
Head into the Windows Store and you'll find Xbox Music at version 2.2.849.0. The update for Xbox Music on Windows 8.1 last month introduced visual improvements to easily see what music was available for you offline. Today we're getting the following features and changes with Xbox Video:
When there's enough room, the shuffle and repeat icons appear directly on the playback bar – no more need to dig in a pesky menu!
You can now grab the folder path for songs in collection (select one and choose Properties) so you can find them quickly in File Explorer.
It's easier to tell what's playable when you're offline and what isn't – particularly on an artist page!
With a child account it's clearer when content is explicit and can't be played.
Not a major update to Xbox Music on Windows 8.1, but these small changes keep adding up to make it a nicer experience. We're fans of not having to dig for the shuffle and repeat icons anymore. That's of course if your display is big enough to accommodate the space. Grabbing the folder path for songs could be pretty useful. We might not use it that much, but we're sure a ton of you will.
Download Xbox Music from the Windows Store (opens in new tab).
Xbox Video version 2.2.849.0
Looks like Xbox Video is on the same version as Xbox Video for Windows 8.1 now. However, this update for Xbox Video doesn't really big anything that exciting to the fold. We're only seeing 'minor fixes and improvements' listed for this update. Let us know if you notice anything new or improved in this release.
Download Xbox Video from the Windows Store (opens in new tab).
Thanks for the tips everyone!
Windows Central Newsletter
Get the best of Windows Central in your inbox, every day!
Dang Heading...Lol, you had me hurrying up to go download the app on my phone..

Not this week, probably next if they stick to their bi-weekly updates on phone.

Stock to it? Lol. They better after one update. Smh.

Shouldn't this be fortnightly? I got so excited at first when I saw bi-weekly...

Lol yea, bi-weekly can mean both twice a week and every two weeks. Fortnightly is the best word to use.

No, bi-weekly (I guess fortnighly is an acceptable synonym). bi- = Two So, the updates are every two weeks. What you are thinking of is "semi-weekly," which would be every half-week (which is screwy with na odd number of days, of course).

http://m.dictionary.com/definition/bi-weekly

Hopefully another update is coming for WP8.1 soon.

Xbox video needs major fix! It crashes and gives some weird error message!

I installed the app/shortcut to the original Music Hub and I have to say it's really awesome, who cares about Xbox Music anymore.
They could update it 100 times, it'll never be as fast as a native app :)

+1111111111111111111111111111111111111111111111111111111111111111111111111111

Ah rats, I read it fast and thought wp8.1 got another update for music lol

Which is exactly why the Windows PC content should be elsewhere. This is a phone site.

Next year, WP and RT will merge. What will the complaint be then?

It's not just a phone site. IMore talks about Macs, and AC about Chromebooks, so...

So.. Change the name of the site to Microsoft Central. It's misleading. And partition the news by tags or sub areas.

I like the MS ecosystem news in one place. Admittedly, this is WP but I'm okay with all the relevant MS news here, just me.

Next Xbox Music update for Windows Phone will be here next week.

Lol I thought it is windows phone 8.1. :D

Seems fas.......ahh forget it...

Sam, you put "here's what's new with Xbox video". That should be music brother

Fix Xbox Video for WP 8.1 I can't play any of my purchased content. Reading the reviews in the app store tell it's not only me with this problem.

Would love to see music remember the shuffle option. Out at least per playlist

Please just allow sorting in Playlists so I can clean up my lists a bit. I have dups all over the place.

When combined with "up" it is.

I'm giving Xbox music less then a month, then I'm out.

Until someone gets their head out of their arse over at the Xbox media division, this is never going to get better. MOST OF US DO NOT HAVE AN ISSUE WITH THE STREAMING. Did you get that, Microsoft? We have an issue with the way both handle our own personal libraries. We have had 30 updates that have done nothing to make that side of the apps better (even if you claim you have). Stop working on the streaming and fix the way it handles our video and music library. The exact same music library that was handled perfectly by Zune, now has incorrect artist, incorrect album art, albums split in two, etc.... The Video app throws all my movies and tv shows into one giant pile, and then does t have a way to organize episodes, etc. For a thumbnail, instead of using movie posters and DVD covers, it uses a random frame 30 seconds in. So now I have 300 videos with either the MGM lion, Universal globe, or Fox's spotlights as my thumbnail. After almost three years, bang up job you clowns.

Yep and the syncing still sucks too, please fix it:
http://xboxmusic.uservoice.com/forums/209733-xbox-music-suggestion-box/s...

Got the Xbox Music update a few hours ago but the Xbox Video a day before that, O well ....

Please bring back the skip ahead button

Just downloaded. My library would never add totally to Xbox music, as I sit typing this the new version of Xbox music is adding all my music! At last. Now if only match would work so that all my music would match or upload.

There is more to Xbox Music than the phone app how it interacts with your library in Windows. Obviously functions on the PC have an impact on the mobile and web apps. Any update to Music on the desktop is welcomed and gives us something to talk about while we wait out this next week's phone update. ; )

Once XBOX music gives me the ability to stream what is in my library without paying for it, I will officially completely migrate over. It is my music, I paid for (most of) it, and it lives on my external HD which is forever plugged into my computer at home. When im out and about, why cant I stream directly from my 8.1 PC at home using xbox music? Even if my music had to be uploaded to skydrive to do so, Id be fine with that, but the fact that its not even an option keeps my music tied to google's teet (using Cloudmuzik beta app to access my music) even on windows phone. Ive decided to go the free route (Cloudmuzik, and Nokia Mix Radio) - but i should have the option to stream directly from my pc, or at a minimum, be able to download from my pc to my phone for offline playback.

3 things to make the Xbox music experience better:
1-Allow sorting of music by what I own and what I'm subscribing too
2-Allow purchasing of multiple tracks at once or whole playlists.
3-Cloud storage of my personal music collection and ability to stream it
There is more like personalizing the app based on what I own and buy, stop showing multiple copies of some songs/albums, make the heart static. These are features I want and need.

Damn i was getting excited ... I thougt it was fr WP8.1, i cant't play any stored videos with the xbox video app on wp8.1 :/

I read that as Windows Phone the first couple of times lol

Open quastion: Is it likely for Xbox Music to ever get a more complete codec support? And more importantly, a humane media organization? It's good that there's is an option to go straight to own video instead of the default home screen, but the non-existant organization makes it impossible to use even for the videos it can play.

Hey jerks how about releasing 8.1 for 90% of your user base already.

When are they going to fix the fact that playback stops between tracks if you idle? This is real basic stuff. Instead, they're tinkering with things no one really cares about.

There used to be this thing at Microsoft - practically a religion - that bugs get fixed before new features get added. But this new way seems nice too, I guess.

How's this. If your work on Xbox Music, do the following:
•Get a Surface device
•Install Xbox Music
•Try using your own music library with it
•Go turn your resignation in after realizing you have wasted all of our time I'm tired of waiting for these taters-tots that are working on this.

Just the shuffle menu makes it much better, they're getting there.

Xbox video need a major update on wp to fix crashing issues......

@SamSabri Typos I guess: 1. "Today we're getting the following features and changes with Xbox Video:" 2. "Looks like Xbox Video is on the same version as Xbox Video for Windows 8.1 now" I think, both bold words should be Music instead of Video.

Hey Sam, my windows 8.1 apps don't seem to be updating, i tried to update my asphalt 8 that was updated last week, still my store didn't showed any update for it....

More codecs and subtitle support would be nice one day. Its poor without.