Xbox Video receives minor bug fixing update for Windows Phone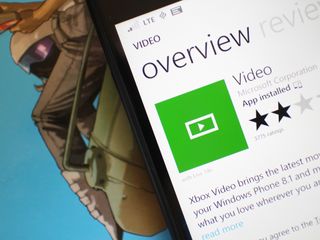 If you are into watching videos on your Windows Phone, you will want to go and grab the Xbox Video update that just went live.
Version 2.6.284 is now live for those who want the practical details. However, there are no new functions revealed, just "minor fixes and improvements". But wait, there's more!
Xbox Video 2.6.284
Improved status messages during content downloads
Fixed an issue that caused HD purchase to be unavailable for some content
Polish fixes and general improvements
*Correction: An earlier version of this article used the Windows app changelog instead of Windows Phone. The new changes are shown above.
Not bad at all. As you can see, the full changelog reveals that Microsoft is still hard at work updating their Video app, and it is coming along nicely. Nevertheless, I'll leave the final verdict to you in comments.
Remember, if you have a feature that you want, suggest or vote for them at Microsoft's Xbox Video User Voice! You can find the site here.
Source: Xbox Video; Thanks for the tips, everyone
Windows Central Newsletter
Get the best of Windows Central in your inbox, every day!
Daniel Rubino is the Editor-in-chief of Windows Central, head reviewer, podcast co-host, and analyst. He has been covering Microsoft since 2007 when this site was called WMExperts (and later Windows Phone Central). His interests include Windows, laptops, next-gen computing, and for some reason, watches. Before all this tech stuff, he worked on a Ph.D. in linguistics, watched people sleep (for medical purposes!), and ran the projectors at movie theaters because it was fun.
Give us the god damn Green tile option back for Videos and Music....!
I don't want one color on my phone.

I want to be able to make everything transparent so I can use any backround :P

Yes that's why we need OPTIONS.

Options are good. Not everybody wants their start screen to be uniform. Then its kind of boring.

Good but everytime I don't want transparent. I want colorful too so an option is great right.

Then let's write it on uservoice site and vote for it.we can also add a uservoice about slow updates on WP devices

You will hardly get any result for such things. Uservoice is useless to apply pressure on MS for really important things. To name the voice assistant to Cortana done by usersvoice... big deal! Remove the carriers from the update process: now this, that you wont achieve no matter how many millions of votes you will collect on that. Uservoices is just the illusion.. the honeypot MS put there so you FEEL you are in control, when in fact there is nothing far than the ability for you to control that giant company. The only way to apply pressure on MS if you can influence the value of shares drop due to crappy quality software they produce. If something directly hurts MS pockets, they will listen. Any other "we are listening" is just pure BS from the handbook of PR.

Useless for me too.. No phone videos, not from U.S... Sometimes I don't get how Microsoft thinks that this will get to all people

The changelog in this article is for the Windows 8.1 app. There is a different changelog on the Uservoice site for the Windows Phone version. :)

Yup, article updated. Thanks.

The supposed bi-weekly updates for Xbox Music seems to have been forgotten quickly. It's better than the sorry state it was in back in July, but is still prone to blank screens and crashing. Also no sign of artwork in store searches makes finding the right album or song very laborious.

Wikipedia works, or use music sense app, song downloads into the app, it will then load all the proper tags and has a selection of album covers you can choose from, then save to your phone a d presto.

Still needs to be an 8.1 app too instead of an 8.0 app like out still is!!!

When will it support HD for chrissake

What do you mean? It plays my HD movies on the phone and on all my other devices.

Lets see what the Xbox music team comes up with this week..
Ohhh I can't wait *sarcasm*

Don't worry, the app I almost usable. Its almost certain they're about to scrap it and start over with something worse

that so Microsoft..
They create an app people actually like, then scrap in saying there making it better from the ground up.. #MicrosoftLogic

Just scrapping and starting and 8.1 app would give it a 30% performance boost over the current 8.0 app. I really don't believe that they could do worse if they started again.

Careful, they might take that as a dare.

It is a WP8.1 App, isn't it?

mproved status messages during content downloads
◾Fixed an issue that caused HD purchase to be unavailable for some content
◾Polish fixes and general improvements
...
The changelog from the website

"Xbox Video recives minor useless update again" Same as every week.

Love how the articles picture shows it at 2 starts. LMAO

yah thats the 1st thing i saw. hahaha

How about adding HD playback.

And AGAIN, still throws out personally owned TV shows and movies into a Hodge podge under ' personal'. What a mess.

Hey my screen freezes on switching the videos to full screen everytime anyone else has got this issue ??

Yeah, me too. I had the same problem before.

8.1 is a serious disappointment. Xbox Music is a cluttered mess and in general, we have basically downgraded to a mixture of io6 and Jelly Bean. Sad times.

Windows Phone handles media like shit. This is mainly because the phones now use some Mickey mouse app to sync your content with. There is very little control over the situation. Time to dump the for different Windows Apps (Music, Video, Phone Sync, and Desktop Phone Sync) and begin by moving it all into one app, so we actually have control over what's happening with our content. In general, the whole media portion of Windows Phone is a mess.

This! Media management is driving me away from windows phone.

It is completely useless for me.

Major issue= Xbox video service is not available here in India still I have to wait for this shit app to connect to the internet only to play my local stored videos.

Exactly... Waste your data, just so that it can load up your local files... So xbox...

Exactly my thought. That's why I use MoliPlayer for my local stored videos. I wish it had more features like MX or something. It is ridiculous how Microsoft has ignored Xbox apps performance for local files. It takes too much time to load songs in music app. Atleast xperia have a decent Walkman app which can play music without any issues.

OMG, almost forgot xbox video.

Screen freezes every time I switched the videos to full screen. How is that?

Try restarting your phone. It is the only thing that works for me. Although with this update, this freeze thing has been reduced to just once, but when i scroll a video anywhere, there is this annoying scratch sound everytime

Still didn't fix the app data issue. My Xbox video app takes up 8gb of space on my phone because I downloaded 3 movies months ago that I've since deleted. But I can't get the space back. And of course I can't uninstall and reinstall the app. Someone get Microsoft to recognize this issue please

Love the rating of the App

Lol I didn't notice it, sadly this app still is really bad

It's not that bad. Seriously, stop being so dramatic.

Its not an update,it is purely downgrade....developers are cheating Users by saying MINER FIXES AND IMPROVEMENT....but it should be like that IT IS AN MAJOR DOWNGRADE OF THE VIDEO APP.....

I don't really notice any change, good editorial btw, Mr Rubino

When I fastforward a video in the Xbox Video in my L520, a somewhat loud cracking is heard. This is particularly hurting when using a headphone. Has this been addressed and fixed in this update? EDIT: Just updated. The cracking sound hasn't been fixed. MS please fix it. Can't bear it any longer. Can't wait for VLC player to release stable version.

Exactly, that cracking audio even when you start or fast forward video is somewhat disturbing, irritating & frustrating. Once again pathetic update and is not unexpected from Microsoft

This update is completely useless for me and for too many other people, we want an update for people who don't have Xbox video service in their country, an update for personal videos

I never use video app in India. Only moli player.

I also get the crackling sound, annoying

Lame app even with all the updates that benefited from.

Xbox team if you're reading this just try to play a local video stored on phone where Xbox music is not available without fast internet connection. It takes almost 20 sec for a video to start as the app tries to connect to the CLOUD FIRST other than to play video on MOBILE FIRST(No pun intended). If this seems too complicated to you then do us a favour an quit. Even after all this biweekly updates this issue is never fixed and yeah! Try seeking in videos in this latest update.

If only you could provide some useful changes like doing away with the annoying crackling sound at the end of each track in music & while fastforwarding videos, that'd be great.

Seriously if they are so useless in making the xbox line work they must give us a media player only for our offline files. Yes I know someone will say there are 3rd party apps, but this solution is as sad as the whole situation with the xbox line. I had better media player experience with my "dumb" phones 10 years ago.

Of you hate this video player, download another.
I like the player called "xVideos". (dont go over the name. :P it plays videos from memory card or phone with ease.)
Another player, is QuickPlay. For music, you may find several apps like muzik player, cool music player, find my music, etc. etc. But I believe that the default player is good enough. And for video downloads, use U.C. Browser.
It works for audio too. But if you want to download songs, use the apps called Music +.
Yeah. They are two apps with same names. One downloads from its own browser, and other downloads from mp3skull. Both save songs to the music folder and so you can listen them from default music player. And Daniel, can we just call you "Dino"? :P suits your dynamic personality and its derived from your name! Daniel rubINO. :D

*if.
And for playing flv and mkv files, there are apps. They are mkv player and the other is flv player. :)

And can anyone tell me, what must be the reason for being unable to install the update?
The thing is that the videos app is no more in my app list. Yes, it is gone. This had happened while updating the last time. I thought another update might solve the problem, but it hasn't.
It shows the same old message... "cannot install the app. If its the first time this message is being displayed then try again, or else go to settings and check for updates making sure you are using the latest version."
And the thing is that in the app store, it shows that the videos app is installed in my phone, but it doesn't show up in the app list, nor in the storage sense all apps installed list.
What do i do? Recently same thing happened with me while updating asphalt 8. After downloading, I was installing, and suddenly, the app is gone. It shows installed in the store, but its nowhere to be seen. And it is still using my 1.6GB space. Please help.

P.S. I use preview for developers. And its version is fully updated. I mean 8.1 update 1... Or something like that.

Rather keep using VLC on my phone......... OH WAIT! VLC has not even been published to the WP store, its in progress since 20 months now!

I love how they show the Xbox Video Store page and the rating is 2/5! #GarbageVideoAndMusicAre

Guess the old codes are creating problems. Old codes need to be recoded for more compatibility.

1080p video not working properly....in zune it was buttery smooth.

How to sign out from Xbox services in my 8.1

I have Lumia 920 not show video ,movie,music so what problem I have all ready register with Xbox video

After this update, I think MS forgot to make Xbox video app to play videos..The videos which played normally on windows8 are now not playing..it can't even play videos taken using my camera... Lumia 920...along with these the battery drain and overheating issues are never solved.... God Damn..

Hey, Daniel I have a problem with video app I downloaded like 10 videos and deleted them . And storage sense shows me 530mb in videos but I don't have any of them .... Lumia 925 , 8.1