XCOM: Enemy Within and three more Xbox 360 games now playable on Xbox One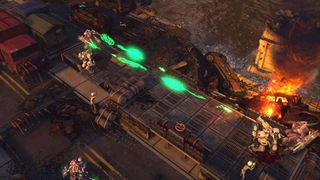 (Image credit: Firaxis)
Four more Xbox 360 games, including XCOM: Enemy Within, are now playable on the Xbox One console via its backwards compatibility feature.
The new additions were revealed on the Major Nelson Twitter account. The big game on this list is XCOM: Enemy Within, released for the Xbox 360 in 2013 from developer Firaxis and publisher 2K Games. The sci-fi turn-based strategy game, about humanity trying to defeat an alien invasion, got a sequel, XCOM 2, that will be released for the Xbox One os September 6.
The other three Xbox 360 games that can be played on the Xbox One include Fowl Play, the side-scrolling brawler from Mediatonic, along with Monopoly Plus, a version of the classic board game from Ubisoft. Finally, there's Sega Bass Fishing, a port of the classic Dreamcast fishing game.
Get the Windows Central Newsletter
All the latest news, reviews, and guides for Windows and Xbox diehards.
Meh. Where's mah Lost Odyssey?

Yeah. I want that and pretty much all of the other JRPGs that were released for the 360. Of course, that all depends on the developers.

I wish they'd grab one of Apple's legal guys to find a way to exploit so they can just enable ALL 360 games instead of us *maybe* being thrown scraps, and maybe going without.

I think they are being overly cautious on the legal front. If the games are still running inside the Xbox 360 OS, which they are, I don't see how that could violate any licensing agreements. I wish they had been more bullish about it and just announced that all Xbox 360 games were going to be playable on Xbox One and seen if anyone was actually going to legally challenge them on that front. It's pretty much the same problem they'll face with their "forwards compatibility" claims, so if they plan on doing that, I don't see how that's any different.

I think for some of the games it's not just the game itself but the assets the games use like licensed music. It might be be less of a problem for a hobbyist but for a company with as much cash as MS, you can bet the original owners would want their cut.

Want Sega Bass Fishing BUT need that fishing controller!!!

XCOM!! Yes! Isn't it free soon, too?

Not this one. Enemy Unknown is free next week.

Damn, I just bought Enemy Unknown! - How does one know which games are going to be GWG?

They are annouced the last thursday of the month every month. You can follow major nelson, look on windoes central or searco the internet for games with gold (insert month and year)

Still waiting/hoping for Orcs Must Die

Can't we just please get something like Ace Combat.....anything like it...there is not a single thing on X One.

I'm still waiting for Black Ops 2 and Spec Ops The Line. Damnit! Posted via the Windows Central App for Android

I am still waiting on Burnout Paradise and maybe Burnout Revenge. But it's hard to say since developer Criterion's original staff has all but left the company with no new Burnout game in the works

Kinda late ubisoft I bought the xb1 version already(though it lacks rabbids)

I wonder how many big-name games are they holding back so they can announce them on Monday.