Tom Clancy's XDefiant: Beta test sign-up and everything we know
Prepare for Ubisoft's upcoming (and unexpected) crossover shooter, XDefiant.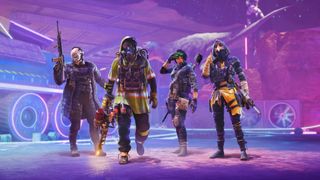 (Image credit: Ubisoft)
The venerable late author Tom Clancy has lent his name many movies, TV shows, and movies, including some of Ubisoft's best titles. Rainbow Six, The Division, Splinter Cell, and Ghost Recon all sprang from his military fiction, and have gone on to become great successes in their own right — but what if they were all in the same game? Tossed into a combination platter that no one ordered, Ubisoft has pulled inspiration from the Tom Clancy universe to craft a new first-person shooter that promises to shake up the genre. Does it have what it takes to be one of the best shooters on the Xbox and PC? Only time will tell. Here's everything we know about the upcoming shooter, XDefiant.
What is XDefiant?
Tom Clancy's XDefiant is an upcoming free-to-play, 6v6 arena, first-person shooter that features player classes picked from the world of Tom Clancy. While we haven't seen much gameplay yet, the fast and loose firefights, customizable load-outs, and flat maps with limited vertical movement are reminiscent of Call of Duty, while the classes and character evoke hints of Overwatch. It's unlike anything Ubisoft has delivered up to this point.
What classes are in XDefiant?
At launch, XDefiant will feature four classes based on popular Tom Clancy games:
Echelon: Pulled from Splinter Cell (remember that game?), the Echelon are Support characters that can be used to provide intel to teammates and deny intel to enemies.
Cleaners: The Division's Cleaners are the main aggressors, and feature high damage abilities.
Outcasts: Also from The Division, the Outcasts act as healers.
Wolves: The Wolves from Ghost Recon are the Tanks of XDefiant. They have increased health and can deploy shields to help their teammates.
XDefiant's main draw is that it's pulling from many of the Tom Clancy games in Ubisoft's catalog, so we can expect classes inspired by Rainbow Six, and maybe even more obscure games like Tom Clancy's H.A.W.X. and Tom Clancy's Endwar. Ubisoft has mentioned that more new factions will join post-launch and consist of more Tom Clancy crossovers as well as "beyond," which suggests that game may branch out into other Ubisoft series. Upon closer inspection, the cosmetics seem to be pulled from other popular Ubisoft titles, like Assassin's Creed and Watch Dogs, so they may join as a class, too.
Is there a beta? How do I sign up?
The reveal of XDefiant also came with another revelation — that a beta is coming, much sooner than you think. Starting Aug. 5, players can sign up for an opportunity to try out the game for themselves and deliver feedback to the development team. You'll have an opportunity to sign up with the platform of your choice, so head to the site and fill out the short questionnaire to get started.
What maps and modes will be available in the beta?
Ubisoft plans to launch the beta with 10 maps — seven of them will be arena maps while the other three will be linear maps. The two map types are tied to unique game modes, five of which will also be available to play during the beta. They are:
Domination (Arena)
Ringleader (Arena)
Upload (Arena)
Escort (Linear)
Zone Control (Linear)
As for the maps, Ubisoft hasn't confirmed names or any other specifics. In the reveal trailer, we see saw shots of fighting going on in what looks like a subway station, possibly based off of the NYC subways from The Division. Another shot takes place in what looks like some sort of junkyard. Since the characters are based on Tom Clancy games, we reckon that the maps will be as well.
What's XDefiant's customization like?
Customization seems to be a big deal in XDefiant. In XDefiant, players can customize their gun loadouts and equip various cosmetics and attachments to their gear. The reveal trailer gave us a brief look at some of the arsenal packed into the game, including sniper rifles, submachine guns, assault rifles, and riot shields.
The game also has a distinct style, immediately apparent from the game's presentation. In the words of Ubisoft, XDefiant can be described as a "fast-paced firefights meet punk rock mosh pit". You'll likely be able to customize your character's looks with gear from various Ubisoft titles, even some outside of the Tom Clancy Universe.
In addition to cosmetics and weapon loadouts, players will also have a few options to consider when selecting a class. Every faction has passive abilities, a secondary gadget, and a special move called an "Ultra".
Will XDefiant have crossplay?
Crossplay has become increasingly popular in multiplayer shooters, and XDefiant is no different. While Ubisoft is committed to bringing crossplay to XDefiant, it isn't promising it'll be available at launch. Just recently, crossplay was announced for Rainbow Six Siege, but kept the PC version separate because of balance considerations.
XDefiant is a much faster shooter than Rainbow Six Siege, so we may see them welcome PC players into the mix, in the same way Call of Duty has in Warzone and Cold War.
Will I need to use Ubisoft Connect to play XDefiant?
Yes, you'll have to add another platform to your list. XDefiant will only be available on Ubisoft Connect at launch. While this doesn't really affect console players, PC players will not be able to play the game on Steam or the Epic Game Store.
XDefiant PC requirements?
Ubisoft hasn't announced any word on PC specs yet, but we'll be sure to update you when they do. In the meantime, it never hurts to upgrade your PC hardware, so if you're in the market for updating your gaming PC, check out our choices for best GPU, best CPU, and best RAM to get the most out of XDefiant when it launches. It's worth noting, though, that parts are still scarce at the time of this writing.
How much will XDefiant cost?
XDefiant is free-to-play, but Ubisoft will probably launch XDefiant with some starter packs that'll cost real money, as is typical with most free-to-play games. Normally, free-to-play games can be enjoyed in full for free, but they often entice players to spend some of their hard earned cash on cosmetics or loot boxes. As of this writing, Ubisoft has not confirmed whether we'll be spending in-game currency, real cash, or a combination of both in XDefiant.
When does XDefiant release?
Ubisoft hasn't announced a release date yet, but considering that they're calling upon the community to weigh in on the development, I'd guess that the game is pretty far along. Still, I wouldn't hold my breath for a 2021 release, considering Ubisoft just delayed Rainbow Six Extraction into 2022.
When it does release, it'll be available on Xbox Series X | S, Xbox One, PC, PlayStation 4, and PlayStation 5.
Get the Windows Central Newsletter
All the latest news, reviews, and guides for Windows and Xbox diehards.
Zackery Cuevas is a writer for Windows Central, Android Central, and iMore. I like playing video games, talking about video games, writing about video games, and most importantly, complaining about video games. If you're cool, you can follow me on Twitter @Zackzackzackery.