Xiaomi's Windows 10-powered Mi Pad 2 to be available January 26 for 1,299 Yuan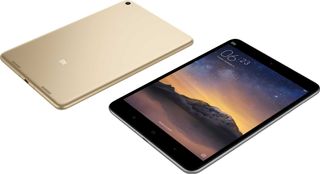 Xiaomi's Windows 10-powered Mi Pad 2 tablet is set to hit the market on January 26 for the price of 1,299 Yuan. Featuring a 7.9-inch display, the Mi Pad 2 comes equipped with an Intel Atom X5-Z8500 chipset and 2GB of RAM. Onboard, Xiaomi has opted for 64GB of storage, with no microSD card slot to expand that. To keep you powered through the day, Xiaomi has included a 6190mAh battery that charges through its USB-C connector.
The tablet was first announced back in November, and the company has been quiet since. Those looking to grab a Mi Pad 2 will be able to do so starting January 26 for 1,299 Yuan. Does this tablet interest you at all? Let us know your thoughts in the comments!
Source: Xiaomi; Via: GSMArena; Thanks, Sarang K., for the tip!
Windows Central Newsletter
Get the best of Windows Central in your inbox, every day!
Jared started off writing about mobile phones back when BlackBerry ruled the market, and Windows Mobile was kinda cool. Now, with a family, mortgage and other responsibilities he has no choice but to look for the best deals, and he's here to share them with you.
It would be useful to have in brackets the price in $ or €.

And the the other 202 countries?
How does $ € help them?

Well those are two widely used currency's

And most people know by now that it's ~1 for 1

Actually Euro is about 1/4 more expensive than $.

It helps because it's easier for most people to compare

US dollars are the worlds reserve currency. (at least for now) Most people know the US exchange rate for their currency. That's why.

Jarid is not most people and Windows Phone is not used by most people.
Press the button that looks like a magnified glass.

The pad sector is getting started... Finally something new from the likes of Apple.

Stop being lazy and use MSN money.

Converted it while reading this article on my phone via Google now. I'm sure Cortana could do the same. Posted via the Windows Central App for Android

$199. Technically it came out as 197.43 but $199 isa more normalized list price.

The tricky part is that some jurisdictions include sales tax in the price (most of Europe, for example), others don't (Canada and the U.S. are prominent examples). It's not always an apples-to-apples comparison to do a straight currency conversion.

@MassDeduction. Yup, US prices are usually listed without tax added as each state has their own tax laws. Which, as a brit I find mighty confusing lol.

Now for xioami windows phones!

I don't like that Xiaomi seems to copy Apple too much though. More like a Chinese Apple device copy than an original product design invented by the company.

Ya, Xiaomi is Apple from the East.

At least they are not copying Apple's profit margins. Their prices are like 1/3 of Apple's, yet they can deliver products with similar aesthetics as Apple's. Most people are okay with that.

What logic would that be based upon if they would have aimed for same profit margin as Apple?

Especially since its China haha Posted via the Windows Central App for Android on my Lumia 950 XL

It's roughly $215, I need this. Only thing missing is pen support.

Man that's a good,price for that stuff

Absolutely, even without a pen. Time to start looking for how to ship across...

I'd pay 300 if it had a pen. I want a scribbling device, and surface is too expensive for the low level things I'd do.

I got $197. When shipping is factored in it really might be only around $215. It's cheap but you can do better. Posted via the Windows Central App for Android

Very Interested. Also wish they'd bring their flagship to windows

Any news about mobile phones?

Ah that looks interesting. I've been wanting a 7-8" windows tablet to use mostly as an e-reader.

The tab is extremely good considering the price, the design and build quality. Xiaomi does make good quality phones and we can expect the same in tab too.

64 gigs no SD card for windows?!

Buy an external hard disk

Yeah, that really adds to the portability. :\

Buy 1TB onedrive storage then... Portability ;)

So much for the portability.

Then you have to pay a yearly fee, you have to have an internet connection, it uses more battery, and it's not as reliable.

I agree. It's totally pointless when Windows is going to eat about 15 or so GB. Posted via the Windows Central App for Android

This gets me every time 64 gig and no SD expansion. Is it to hard to get options for more storage.

How about a memory stick?

Fantastic tablet, wish they'd added pen support and a stock keyboard option though. If this is available for €200-250, I'd be very interested.

That is not bad.... A little powerhouse... But at 1,299 yuan or $197 USD that is not a bad price...

Seems good, should've provided the SD slot though. It's full Windows 10 right?

With 7.9inch display, I doubt.... Bcz w10 mobile works upto 10.1 inch, beyond that its windows 10.

It's Windows 10. Not the Mobile one.

I just visited TheVerge and gsmarena, turns out that it'll run Windows 10 (full fledged version) in tablet mode but many in the comment section of those sites claim otherwise.
Btw, why didn't Xiaomi post a single picture of it running on 10? :/
And I'm not sure how good the experience is going to be on a mere 7.9-inch display...

HP Spectre works fine.. Ahem

It'll do fine. I enjoyed my Dell venue 8 pro. Posted via the Windows Central App for Android

I don't think they're lying. And I already saw some 8-9 tablets running full Win10.

What? Posted via the Windows Central App for Android

Check this demo video on YouTube. You can see mouse support, recycle bin etc etc. It's windows 10 version with a proper desktop. Microsoft kept the promise of keeping windows free for screen size less than 8 inch.
https://www.youtube.com/watch?v=jTjkwMjtRxs

Thanks for sharing! Well that makes it pretty clear now.

No expandable storage is a big lag.....

Looks awesome, although good luck with OneDrive and that storage.

You can always use an external hard disk..or use your onedrive storage... And for that price you can only expect 64GB... It comes with USB-C as well..

It's a tablet... Posted via the Windows Central App for Android

That storage is not that bad. Considering other tablets in this price range usually have 16GB (or 32GB at max) of storage, and people deal with that, it's definitely not bad. May not be perfect, but it's good enough.

Without placeholders, will be tough for a OneDrive user.

No expandable storage in the form of micro SD and only 2 GB of RAM are unfortunate, but it's pretty cheap at least.

You know you can get 10inch tablet with 4GB ram and 64GB rom + SD card support for 200 hundred dollars, right?

Mind sharing any link about the tablet you are talking about?

No broadband, no wonder it's cheap

It should be the display.

Looks lovely...again the continuous cries for 8" tabs with pen support. Completely understand this! Want something thin, light and small to take notes with. Dells offerings are not exactly attractive.

The shield is a better deal though unless you specifically need Internet Explorer for your job. If you're buying this thing for media consumption only there are better options. Posted via the Windows Central App for Android

Very good price-point (But then I don't know China's market). I still want this, the design seems amazing. If the RAM was 4Gb we would have a good comparison (and winner) to the updated Dell Venue 8 Pro 5000 series.

Wow. Yes. At that price point yes. But I want a kickstand + keyboard:))

The thinkpad 8 is available for about this price where I am. Has microsd and 1200p display. Having a hard time convincing myself I shouldn't just get one to play with. At the moment still on the fence about usefulness of an 8" tablet though.

You'll wish you had one when you go on a trip but need iTunes but your laptop is too heavy.

I ordered one 6 weeks ago and the payment went through one month ago. I got a refund yesterday because of supply issues. Screw that.

I want one but don't want to deal with the shipping aspect from overseas. One picture at a time -- LG V10

Only 64GB...******* cheap iPad rip off, and you can't even expand memory. Take that **** back to China, no thanks!

No SD card support? Passed.

I thought its an ipad first ! Even the walpaper is also copycat ! not fan of xiaomi, they just apple copycat with android and now windows ! but little different design would be better !

No SD, Mini SD, Micro SD, are you serious? Are we in April?

I wish they had one of their exotic phones running windows 10 mobile, I'd lobe to have it

Which of the ear lobes would you "lobe" to exchange this thing with?

Can we connect display dock with it ??
It has a type c connector right

No, it has an air dock. And left, it has a type W ritter connector /s.

No Micro SD slot...haha.. With 64GB internal memory... 64GB - Space file window & App = Free user space... Haha

I wonder where they got the inspiration for the name and the design from!

We need a phone not tablet .as your low budget phones sucks in specs and xiaomi can deliver cheap phones for great specs.

We need both =). If more people run tablets, more apps will be in the store. If more apps are in the store more apps will be made to fit phones too because the code is the same. That means more apps for phones...

I'm still waiting for mine to ship. I ordered it in December from two different vendors. Gearbest cancelled because of the wrong promised date, and I'm still waiting for my TinyDeal order.

I am tad disappointed as Xiaomi for me stands for top of the line specs at entry level prices. While the pricing is definitely entry level (Even in Chinese and Indian markets) the specs too feel entry level. memory at 64 gigs for a tablet is not great. It gets worse considering you wont have the option of using a SD card. One would need a type-C USB cable and card reader to use high capacity SD/micro-SD cards to store stuff, which is not very convinient or portable. I hope Xiaomi comes up with a table that is comparable to Surface in terms of specs and priced at not more than 2800 yuan (ie. less that $400). I guess the problem is that Xiaomi is not confident of selling anything north of 2000 yuan sucessfully yet. The brand is still associated with entry level pricing.

Would vs great to buy this with a keyboard. Xiaomi should sell this with a keyboard with extra free. Or else we can get Microsoft foldable keyboard.

Order page item.mi.com/static/buymipad supposed to have opened less than 2 hours ago, but already not taking any more orders. 3% smaller but 14% thicker (for claimed 12-hour-video big 6190mAh battery?) and 8% heavier than iPad Mini 4, with same 2048x1536 7.9" resolution. Comes in gold, silver and pink. Has Office mobile, but doesn't seem to have Office 365. Free shipping in China. Would be nice if it can take some of iPad Mini's accessories. As mentioned many times though: no microSD, no LTE, no 4GB: mi.com/mipad2

Reportedly, 2 people who tried to order it, as soon as ordering started 2 hours 10 minutes ago, were not successful.