Xiaomi's Mi Pad 2 tablet runs Windows 10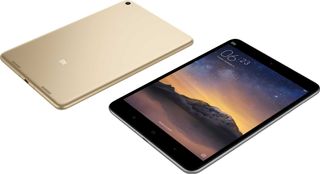 In a press event at Beijing, Xiaomi launched its new smartphone and smart home products, and sneaked a Windows 10 tablet as well. Dubbed the Mi Pad 2, the tablet is the successor to the Android-only Mi Pad. While the first-gen model ran Nvidia's Tegra K1, this year's offering is powered by an Intel processor, and is available running Android or with Windows 10 out of the box.
The Mi Pad 2 features an all-metal construction, and is powered the 64-bit Intel Atom X5-Z8500 processor. It has a 7.9-inch IPS display, 8-megapixel rear camera, and is equipped with a large 6,190mAh battery which supports 5V/2A fast charging via USB Type-C port.
Xiaomi Mi Pad 2 Specifications:
Processor: Intel Atom Quad-core X5-Z8500, 2.24GHz
RAM: 2GB dual-channel LPDDR3 RAM
Internal Storage: 64GB
Display: 7.9-inch IPS display | 2048 x 1536 resolution, 326PPI
Camera: 8MP f/2.0 primary camera | 5MP front camera
Battery: 6190mAh battery with 5V/2A fast charging
Dimensions: 200.4 x 132.6 x 6.95mm
Weight: 322 grams
Available in two colors — dark grey or champagne gold — the Windows 10 version of Mi Pad 2 will be available with 64GB storage, and will go on sale in late December for 1,299 Yuan ($200) in mainland China.
I used the first generation Mi Pad for a few weeks, and it not only boasted a decent build quality, but also performed well. I look forward to trying out Windows 10 on Mi Pad 2. The company, though, has not announced any details about availability in countries outside China.
What do you think of the Mi Pad 2? For the affordable price, would you like to pick one up?
Windows Central Newsletter
Get the best of Windows Central in in your inbox, every day!
What I dont get from the article.. is this now a Windows Only tablet or do they ship it with Android as well but they have also a Windows 10 Version of it. Looks like they have a both OS running since the author actively avoids to mention it is is windows 10 only

Read the article with patience.

Thats the thing and you should too. he says "successor of Android only tablet" - indicating that the first one didnt offer a windows version - so the second one might. and "he Windows 10 version of Mi Pad 2 will be available with 64GB storage," again - indicating there might be a nother version of the Mi Pad 2

"runs android or windows 10 out of the box" Not sure what article you were reading.

The original articel before the Edit I would say

They will release Mi Pad 2 in various storage spec. Maybe from 16 to 64 GB. All are Android based one. The Windows based one though, only available on 64 GB tier. So if you buy one with < 64 GB, you get Android tablet. If you consider 64 GB, you can either pick Android version or Windows version.

Xiaomi was previously Android only but now they're also using W10 OS. What does it matter if it also runs Android?! That Xiaomi has now a Windows version is the important thing - it's a win for Windows 10 in China.

gimme 4GB RAM - Core M and I buy it ASAP

A new product with 4GB and Intel M for $200? Don't think so. At least not this year.
Buy Surface 3.

Core M is too far at this price point but 4GB of RAM is doable. This CPU supports up to 8GB so it's up to Xiaomi to give it to us.

Wouldn't be Android maybe chrome

It is under 8", so it should run Windows Mobile, but it isn't?

Nope.. 7"+ screens gets Windows 10

Nope...In January MS clearly stated 8"+ screens can only run full Desktop Windows 10

That's only a suggestion, not a requirement.

Yes, this was exactly my question when I saw screen size.

the tablet must be 7.8 to runs Windows 10 Mobile. 7.9 > is WIndows 10 "PC".

What if 6" phablet run win 10? Will it ruin WP10?

Horry Sheet! That's all i need! So much happiness!

Have a look at Chuwi Vi8.

Does it have a full size USB port?
Does it have USB type C?
Stereo speakers?
Expandable memory? What type? I am in the market for a cheap 8" tablet but it must have those above. Posted via Spaceship One

You can connect USB using an OTG cable incase it doesn't have a full sized port... But USB-C is very unlikely

I wont be able to find that cable when i need it. I current have the winbook tw801 with a full size USB3 port but need one with a little better resolution. Posted via Spaceship One

Here's the full spec: http://www.yugatech.com/personal-computing/xiaomi-mi-pad-2-now-official/

Thanks. I didn't see any info on expandable memory and type.
I am also worried about that CPU and the battery life. Posted via Spaceship One

Yes. No expandable storage.
999RMB for 16GB (Android)
1299RMB for 64GB (Android)
1299RMB for 64GB (Windows) Posted via the Windows Central App by OnePlus One

Damn no microsd card support.

there is micro sd card support in mi pad 2

Great! Thanks for clearing this up. December cant come any sooner!

They said "12 hours battery life"

answer https://www.youtube.com/watch?v=VG-d46dae6M

Specs looks good for the price. Though I prefer 10 inch tablets.

Yeah that it's a really good price for what you get. I have serious reservations using any Chinese computer, but Xiaomi had some really great kit.

All computers are made in China.

Xiaomi should make a Windows 10 Mobile device.. ( or just release a W10M version of upcoming Mi5 and release a version of Mi4 running W10M since MS has already released a ROM to do the same for few insiders )

i suspect that will be the case.
the Mi Pad 2 is giving me hope of seeing a Mi 5 running Windows 10 Mobile or Android, upto the user.
MS already worked with them to get a Windows 10 Mobile ROM for existing Mi 4 phones.

They announced last year or maybe the year before that they had no such immediate plans. But also said that this might change with Windows 10 arrival.

Surprising. I thought they only make Android devices.

Seems like this is the first time

Just what I was looking for. USB C, so all expansions are possible. Fantastic!!

Can it run an external had disk thru OTG?

Its running windows 10, so why not?

Not all tablets can run and power external hard disk tho. My Dell Venue Pro 8 running Windows 10 can't

Really? The lowly HP Stream 7 can

How? It needs external power. Unless you get OTG with external power

Couldn't find info anywhere about expandable storage? Looks sleek though. Would definitely get it.

Give me a digitizer and I'll buy it.

Digitizer is quite a niche. Go get Surface products then.

Dell Venue 8 Pro has a digitizer.

Many tablets have a digitizer available. Not so niche, but it does add a layer of expense to the total cost.

go get the capacitive stylus then.

Sounds like a decent tablet and good news for windows 10

Is it me, or do they look very similar to one of those iPad tablets?

That's the point, actually

I wonder if it would fit in an iPad mini case.

Yes definitely consider getting one. There are no 8" windows tablets available here in Australia and me and a few other people I know need one. Dell and Lenovo have taken there's off their website and retailers don't have any either. Very frustrating.

There is a real lack of 8 or 10 inch windows tablets with a good screen resolution in Australia. All I see is a few 10 in tablets that have recently come out which are overpriced and have low screen resolutions.

Would be cool with dual boot... I dont think bluestacks or andy is up to the task at all times...

This would be perfect device if it had more RAM, this is no longer BayTrail (limited to 2GB), this one supports up to 8GB DDR3L. I think with full Windows they should go for 4GB.

Instant buy for me. I've been waiting for a Win10 8" tab with this high resolution with budget price.

Biggest concern: No microSD. 64gb will only have 40 or so available. Still, it would be nice to have.

That somehow killed it for me. Have to use otg all the time I think

For basic work, that should be enough. Unless you plan on buying it for games.

Around 48gb, I have a 64gb Intel atom tablet running windows 10. As long as you use it as a device for light web browsing, media consumption and Windows store games/apps 64gb is plenty of storage. For the heavy lifting I'll go to my core i7 workstation, as any sane person would do ;-)

I download and watch movies and series. 48 GB will be a joke.

Did they show the tablet running Windows 10 or they just announced it? Posted via the Windows Central App for Android

Quite similar to Nokia N1

You mean the iPad Mini. Since that's what the Nokia N1 looks like.

Its Android version also launched, though.

Yeah. Even better. Now customers have a choice.

So this has no desktop option right? Wait what version will it run? Mobile or Desktop version of Win10? Posted via the Windows Central App for Android

Design-wise very beautiful device, good to see running it on W10.

@Abhishek Baxi thanks for keeping updates. Really want to buy one. :) When in India? :D

That actualy like a solid buy. If something like that was available here in the U.S. would buy it.

If it were it wouldn't be at that same price.

I actually preordered it at gearbest for 250. just bing it! Preorders are almost out though! So pumped for this to arrive around Christmas. needed a DVP8 replacement.

No microSD is almost a deal breaker. But there are no tablets with these specs at that price available and that beautiful iPad Mini(still the best looking 8 inch tablet) design running Windows. And it comes with a reasonable 64GB internal.

I like it! $200 with those specs is a great deal

I want one for my wife. What's the conversion of the Yuan to the Canadian dollar?

Currently it would be about $271 CDN. Not a bad value IMHO.

This is big news! Although Xiaomi products are not out here yet, but with support of a big well known company in China, will help in trade awareness to devs, next is they make their new flagship phone w/windows 10 mobile and we will see that global market share increase!

That's a good thing after a long time from a android lover company. Now waiting for a phone running W10M.

I'd definitely pick up a dark grey one if it was available in Australia.

I will be so on a 10 inch version. And even more so if it can be flashed for Android.

Very nice specs imo. Although I think I am going to get a Surface 3 even though I much prefer the smaller 8" tablets than the larger 10-12" ones.

Any chance for Redmi Note 3 with windows 10 ?

I'm waiting for it to come in India.

If it was 10 inches I'd get one.

yessss I have been waiting for xiaomi to release something with windows and they delivered it I hadn't bought any xiaomi product even when they have nice hardware for the bucks because the miui truly I hate it because it is iphonis and I hate that thing and also that miui is tooo much resource hungry that it makes most xiaomi phones with flagship hardware to crash . And now we had a device from best hardware for the price with the best software for me it's a win win for me and also for windows . And I can predict it right now that the mi pad 2 with Windows 10 will sell more units than the one with miui

Gimme a Win 10 update for my Mi Pad Posted via the Windows Central App for Android

If comes to India.... I'll surely be the one buying it.

and whenever it is goint to launch in india it is going to be 13-14k INR that's great price for what we get

And I had rumours that it is going to launch at either Xmas or New Year Hear in INDIA for around 13-14k INR.

I don't see the point of paying $200 for a small Windows tablet while you can get much cheaper Windows tablet for $59, my Vulcan Journey with BayTrail, 1GB of RAM and 16GB of storage is great for my little daughter.

well that thing is great for your little daughter but I don't think anyone here would be happy with less resolution screen and less storage and also a decent build quality, that is everything one can spend 200$ for.

This tablet has 2x as much RAM, 4x the storage, a better BT processor and a bigger battery. That's why you'd pay $200. Frankly, if I want a usable tablet, I'd fail to understand why someone would pay $60.

And gorgeous screen and thin unimetal body!!

$200 and people is expecting a Surface Book like product. XD

haha that's what I tried to point out. people are not seeing the affordability of the product rather are demanding surface like power for it's 10% (10% for surface pro and 5% for surface book) of price.

And one more thing I am happy about is that the coming mi pad 2 would always be updated as it will recieve direct updates from msft not like other xiaomi craps which do not recieve timely updates and are now hanging on kitkat till now

Will it have GPS installed?

sorry to say that it doesn't has a gps. But I got information that it has micro sd card support for sure upto expandable upto what windows supports

Really? It had micro sd card support??

woohoo, finally a replacement for my Lumia 2520 and finally a screen dimension in a small windows tablet that is correct. QXGA - just like the Apple mini 4 and the Nokia N1 tablet. Shame there is no mention of Windows hello either by fingerprint or retina scan but at a great price though this is brill.

The more I research this tablet, the more confusing this gets. The press picture that they use for advertising shows the desktop version of Windows 10, but it supposedly can't run the desktop or desktop apps. So this thing either runs W10M or Xiaomi has removed the Win32 libraries, which would require a different SKU AFAIK.

ohh come on, this tab runs windows 10 home desktop version and can run whatever windows 10 can, why everyone is just confusing about it so much, it is not a first device of its kind, there are many device( google telcast x98) like this tablet running full windows 10 desktop and some are even with less price and less resolution and screen of just 7 inch eg. iball's latest windows 10 tablet which cost only $50 in INDIA. So I think this explanation from me sort of clears all of yours confusion and stop bothering about which version of windows 10 it had.
it will run everything from win32 to any app windows 10 desktop home version can.
it's a full pc with a touch interface and no keyboard and mouse , just simple so relax and wait for it's arrival in the market.

why not everyone clear your doubts here the most trusted mobile specs site http://m.gsmarena.com/xiaomi_mi_pad_2-7770.php

great! i'll definitely upgrade my tablet to this.

Sorry to say Mi pad 2 doesn't offer sd card support.

Abhishek Baxi Any updates on availability of MiPad 2 [windows10] ?

they're taking preorders over at gearbest for 248. ships in 4 days. i just put money in for one about a week ago. so excited.

I pre-ordered one a few weeks back. It went into the processing stage on Dec 20. I'm still waiting for it to ship. After it ships it will still probably take a week to get across the ocean. So if I'm lukcy I'll see it before the new year :P

Mi pad 2 or a 2 in 1 like Asus transformer mini, Linx v12, teclast tbook 16?
Any problem with update?
Thanks
Windows Central Newsletter
Thank you for signing up to Windows Central. You will receive a verification email shortly.
There was a problem. Please refresh the page and try again.