Yet another Windows 10 PC build, 10159, to be released today for Fast ring members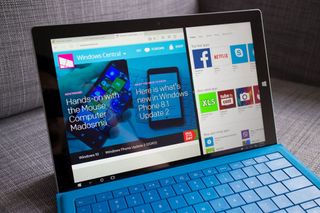 Microsoft will release yet another Windows 10 PC preview version, build 10159, to members of Windows Insider program on the Fast Ring sometime later today. This news comes less than 24 hours after the company released build 10158.
Windows Insider leader Gabriel Aul states why they have launched another build so soon after the last version.
Just what is that one interesting change? We should find out later today.
Source: Microsoft
When a new Phone Slow Ring build?

The Windows Team will be more focused on the Phone after Windows 10 PC went RTM.

I think it is included the new wallpaper!

"in one very interesting change" OMG Please be Cortana in more countries!! Please!!

I would think Cortana support in more countries would not require a new build. It should be a server side change.

Nope, it needs a new build. Everytime new features are added (or added again if we compare W10 to WP8.1), or everytime a country was added, a new version of the OS was rolled out.

I really hope it's Cortana in new regions *fingerscrossed*

Hopefully the phone one will be next

"just what is that one interesting change? We'll find out later today." Cryptic stuff, Gabe.

I'm happy to hold off until an announcement I don't want to spend a few hours while it updates to find the it's just an even uglier looking login

According to Gabe, welcome to 'ludicrous speed' ring.

So far 10158 is very good to me. The build before that was horrible for me.

10158 finally made win 8 apps with menus usable in tablet mode again.

Really!!?? That's huge. Without the edge gestures, using apps was a fiasco. How did they fix it?

Swiping down from top brings up app menu. It also bring down a little swipable tab in case you wanted the window bar like win 10 used to give you when you did the swipe (hamburger button, close, minimize, etc.)

Agreed 10130 didn't play well with my pc

how did u get 10158? Just wont appear for me :-s

You must change something in the registry. Google/bing for it.

i reset my internet by unfloging router for 1 min then 159 shows up instead so try that maybe?

lol i was the other way round though only sound was broken in 158. In 130 i didnt notice many gubs at all.

Same here.. Sound didn't come.. But change setting worked for me.. N sound is back

Hopefully it's something more than just the new hero wallpaper. Has to be. Posted via the Windows Central App for Android

I'm hoping for the Edge tab hover preview.

I hope they add touch-friendly Edge and pin login.

If only! This is really the biggest downside to Windows 10, at least for tablet users. A lot of the other functionality that was stripped I can live without, but I'm not going back to having needless chrome getting in the way of browsing. I remember using the preview of modern IE way back in the developer preview of Windows 8 and not getting it. However many years it has been since, I've come to not be able to use any other browser on a tablet. it truly is the best tablet browsing experience. I won't be moving to Windows 10 until there is a modern, touch browser.

We already have PIN login.

We do? It didn't work before 10158 for me, and I haven't had a chance to try it in 10158 because the upgrade destroyed the settings app. Did they add PIN yesterday? Or did it work for you before?

Pin login is in settings, but doesn't work.

Pin login doesn't work for those who overwrite the builds, you should install it by doing a clean install

That's not all correct, you don't need to do a clean install in order to get it working again....just go to settings> accounts > sign-in options and click on I forgot my pin. Then you can go ahead and change it, lock your computer and viola ur pin is back :)

I got PIN login to work by choosing "I forgot my PIN"

But I've tried the"I forgot my pin" method, but it didn't work.

Maybe I'll see this new build in the Update list since I never saw build 10158. One can always hope!!

Could be worse, 10158 corrupted my settings app beyond the system check utilities' ability to fix, and required me to totally reset the OS.

You have a good point there!

When someone asked about mobile build he said "They're working on it" so maybe Thursday he'll send it to server so we get it by Friday or within the next two weeks.

I hope they're working on it every day tbh ;-)

With win10 being released this coming month I'm sure their main focus is making sure the OS is smooth for PC and tablets, we may see one mobile build but it's 50/50 chance though,next month we could see mobile builds coming out more often.

Is settle for a new desktop picture. It's not winter here anymore :-/

Please do the same with Windows 10 Mobile Microsoft!

I'm betting the one addition to 10159 is Windows Hello!

That's been around for a few builds already

Nobody can test that though, can they? I though it required new hardware (it doesn't just use a normal 2d webcam from what I understand).

I'd love this! But currently my 10158 is taking an hour per 1% to download... -.-

Me too, I was never been able to download it from the settings. I always download the ISO that I find in the internet, the live one or the leaked

Build 10158 has been the slowest download since I've been in the Insider Program. I started it at 8:00 pm CST last night and I went to bed at 12:00 am this morning and was still downloading. I'm not sure why this build took longer than usual. After that long process; I may wait a few days before downloading 10159 just because I don't know if I can stomach a second night of a lengthy download process.

That would be fantastic. It's the one reason my server will not get 10.

Me too, I literally cannot upgrade. My wife and kids would kill me if I tried because we rely heavily on WMC. :) A Media Center replacement would be a pleasant surprise!

Kodi (formerly XBMC) is a decent WMC replacement

Oh please let it be Edge tab hovering...

Under VMWare, the 10158 upgrade kills the virtual machine. It blows up the disk file up to the physical limit. 4 weeks to fix.

The last build didn't even appear in Windows update to me. And I know for a fact, I'm on fast ring.

Wild speculation time. Maybe it is Edge Extensions :) That would be pretty suprising to be in by now.

Almost certainly not gonna happen. They clearly stated it would come somewhere after release

For the people that complained that the fast ring was not fast enough. You better STFU now, as this is fast, real fast. lol

Sweet! Fast ring finally lives up to it's name. Bring it.

Maybe the one change is window title bars with blurred transparency? Just a wild guess. :P

God no. Also they won't, I'm pretty sure of that

somehow the phrase "fast ring member" doesn't sound quite right

Please say it's not a new build just to get that stupid new wallpaper.

Why would that require a new build this fast after the previous one? Nah it has to be bigger than that

He mentioned 300 bug fixes, PLUS the one interesting thing.

The one change is that they're releasing a build a day now.

Same been trying for the last 3 hours and it wont appear in WU

I wasn't able to get it either. Windows Update would just spin and spin and just sit there. I ended up having to fresh install 10130 from the iso and then check for updates. It finally worked then.

How did you you do it? Did you mount the ISO and run if from hard drive?

I am now downloading this build to my pc (10159)

Downloading 10159...let's see what's new coming with it.

the update is up... downloading 10159!

Nice. But my PC is currently churning away taking about an hour to digest 10158. So looking forward to a busy evening when I get home. What I am happy about is they apparently are not going to make us coast into the release on an old build.

NICE...downloading now :-)

In windows 10, there are full Aero theme?

Downloading build 10159 now! :-)

I hope they are fixing one drive and I am surprised how come no one here noticed that it doesn't work like how it works on 8.1

That's been known for a while, it was one of the first things to be talked about when the preview program started. But yeah, I'd like the placeholders back.

MS has stated on numerous occasions that this is how OneDrive is going to work in Windows 10. The 8.1 placeholders are dead.

Not dead, more like in a coma until they get the new sync engine up to speed.

installintg now so happy to see them release another so quickly. I hope my sound works this time lol.

I can't even get 10158 to show. Wtf??

they said 300 bugs fixed so im guessing it is more than just a wallpaper.

Wish they would send out Windows Phone 10 updates this fast...

M using Dell Inspiron 3420 also on Build 10130 and opted for Fast Ring Can't update to build 10158, Windows keep saying no updates available.

There are a few workarounds to try. Set your insider speed to slow, then reset to fast and reboot your computer. The only thing that worked for me though was fresh installing 10130 from the ISO and then going to updates and it found it.

For me same was resolved by modifying some register values. Check this out it might help: http://www.neowin.net/news/failing-to-update-to-the-latest-builds-of-windows-10-here-are-5-fixes-to-your-problem

The "interesting change" is the new win10 wallpaper on the login screen.

And some small changes of the login screen itself.

ok ive been on 159 for 10 minutes. Still no sound recognised on a 2-3 year old gigabyte z77xud5h motherboard in this and last build, i find that outragous(its not like realtec isnt popular.). But then i cant even access program files without having to open file explorer and then a page apears and i have to go to it from there. Really no program menu on the start. But the fact the audio doesnt work on either of these bulds is very worrying at this stage. PS: being abble to move a tab from the main edge window is all good and fine but not being able to put it back hum?. I cant recomend this build soaly based on the sound, but if the sound works im gona go see if i can install classic shell cause ive just fallout out of love with the start button here. No program button? whats the point?

I have the Gigabyte z77XUD3 and sound was not working on 10130 however its working on 10158.

You can put the tab back in edge. One weird thing though I that if you put the last tab of a window, the window does not disappear. Instead, it goes back to the new tab view.

10159 is just stuck at 0% T_T

Seriously just for bug fixes they should of just have waited one day

Looks like they pulled it.

The real reason for build 10159: build 10158 has naked bathroom selfies hidden in the windows folder.

I installed 10159 and promptly went back to 10158. Why? After upgrading, now clicking on a tile or start menu item, it doesn't open. It seemed much slower to me. But the worst part was I was unable to fix office 2016 preview. I had to roll back to 10158 to be functional.

Installing on my Dell Venue 8 Pro........

Can't update. Update is stuck at 26% and I can't figure out how to unstick it.

Issue I am having on 59 is store doesn't open on first click and any of apps tile doesn't open. Yeah this build has new wallpapers but at least these basic apps should work .
Windows Central Newsletter
Thank you for signing up to Windows Central. You will receive a verification email shortly.
There was a problem. Please refresh the page and try again.