The Yezz Billy 4.7 disappoints with underpowered hardware and confusion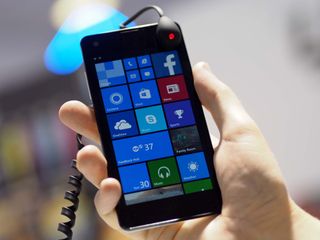 At IFA 2014 we saw a few new Windows Phones like those from NGM, Archos, and Prestigio, but the Yezz Billy 4.7 had the potential to really stand out. Details about this phone have been scarce since its announcement in May, so when found this phone in Berlin, we knew we'd have to spend at least a few minutes with it.
'Found' might be a bit of a stretch. We stumbled across it. Yezz is a small company, yes, and their booth at IFA wasn't a site to behold like some of the others. That's fine. But in their display that had about two dozen Android devices (including one so simplified it dropped the multitasking button for just two huge 'home' and 'back' buttons — it was an odd sight), the lone Windows Phone was tucked into a corner with nary a plaque to identify which one it was.
Picking it up I was surprised by how thin and how light it was. 7.2mm is thin, yes, but I wasn't quite prepared for it. The Billy 4.7 spots a 4.7-inch 1280x720 IPS display covered with "Ashahi Dragontail" glass, a chemically-strengthened glass not dissimilar from Gorilla Glass, but in this case somehow inexplicably impossible to clean and feeling of cheap plastic. In fact, I was sure it was plastic until I looked up the specs in writing this. The back of the phone is most definitely plastic; it was slick and slimy and the grid pattern on the white shell did little to impress.
Inside you'll find a 1.2Ghz quad-core Qualcomm Snapdragon 200 processor, 1GB of RAM, and 8GB of storage (with microSD expansion). While this very same processor was more than up to the task in the Archos 40 Cesium and the Prestigio phones, it failed to keep up in the Yezz Billy 4.7. Scrolling through just the homescreen elicited noticeable lag and jitter. Apps were slow to load and the entire experience felt painful in comparison to what we're used to from Windows Phone.
This could be attributed to the fact that they've put Qualcomm's entry-level processor in a phone that has a mid-tier display. The 1280x720 display has nearly three times the pixels of the 800x480 screens in the less phones. For comparison, the NGM Harley Davidson phone we also sighted at IFA has a 1280x720 screen and the more capable Snapdragon 400 at its core — we saw none of the same lag on it.
To make matters worse, the Yezz Billy 4.7 does not have the standard Windows Phone buttons at the bottom. Instead of back/Windows/search, the Billy 4.7 has dot/circle/dot. They execute commands as if they were labeled properly, but there's no discernable way for a user unfamiliar with Windows Phone to understand what's supposed to happen when you tap on the dot to the left. Or the dot to the right or that circle. One could assume that the circle would take you home, and you'd be correct, but it's a huge disappointment that none are properly labeled.
Apart from that, there's support for HSPA cellular, an 8MP camera on the back, and a 2MP shooter on the front. There have been significant chances since the May announcement of the Billy 4.7 — the phone's dropped the promised aluminum construction and 13.1-megapixel camera.
On paper the Yezz Billy 4.7 seems like it should be a decent phone. But the underpowered processor, confusing controls, and cheap plasticky construction make it feel like something that should be a tier lower on the totem pole. It certainly makes us question the $249/€229 price tag that Yezz is asking for here.
Windows Central Newsletter
Get the best of Windows Central in in your inbox, every day!
Derek Kessler is Special Projects Manager for Mobile Nations. He's been writing about tech since 2009, has far more phones than is considered humane, still carries a torch for Palm, and got a Tesla because it was the biggest gadget he could find. You can follow him on Twitter at @derekakessler.
Is it possible that this is just a prototype and the actual phone will have the right buttons... and proper software/firmware? If not... Microsoft needs to put a stop to this... and fast.

I was actually considering buying one of these for a thin & light media player, but this review definitely is making me reconsider... It's possible that it was just a firmware thing (or I'm hoping)... so I'm going to look for other reviews.

So update 1 perhaps? That's the same performance U1 gave 3 of my phones.

The whole article made me laugh

why contribute it that much space on WPC at all. We've seen crappy phones before, why this is so special...

Maybe because people expect more on this.

The pinnacle for crappiness is here!!! :D

Because there were far too many people going "OMG this is gonna be the best thing ever!"

Blu,,Archos,,Zolo,,HTC,,Prestigo and Micromax impressed though!!

Yep, based on the same chassis so this is probably an early prototype.

They should have told like Polaroid before hand to avoid controversies and more importantly insults!!

i'm impressed as well. though this phone seems to blow and may actually scare people away, its just one more company to produce windows phones. The proliferation of cheap android handsets gave them the marketshare they have today.

These buttons look horrible. How can Microsoft even allow this? Aren't they supposed to approve every Windows Phone made before it's released? That's really disappointing. And $250, really?
I hope big tech sites won't review it or else it'll destroy Windows Phone's reputation of being fluid on low-end hardware, all this because of a Yezz Billy.

This is what happens when you license the OS for free.

I know Windows Phone is free, but I thought Microsoft had to give permission to a manufacturer to use the OS. Isn't that the case?

They do & more to the point determine what software features make it. Theres an article on neowin about that

Looking at the comments of Derek I think he really liked this phone :p

Microsoft should be the only manufacturer of WP like Apple and avoid naming,,carrier,,OTA updates..Ya ofcourse after gaining a significant amount of mobile market share!!

I've always thought the same thing.

Hahaha Kkim0615 your comment literally made me laugh out loud :)

If so, it is in the wrong place... it should be on the right hand side. Never the less If someone showed me a prototype of the phone with these buttons as they are for approval for the display, I would fire them on the spot if they persisted at it being a good idea.

Those circle buttons on the hardware look absolutely disgusting :o What were they thinking -_-

"Yezz Billy"? The ffffck?!

What sort of trash. There should be standards when making stuff like this. What a shame.

Had they used their common sense not to use an entry level processor for a midrange spec...

Still better than iPhone 6?


Better than iPhone 3G then?

Haha ok. sometimes, it's difficult to detect sarcasm, lol.

But it's probably better than the iPhone 3G though ahah

Windows Phone in general are way under powered! What should be standard:
- Snapdragon 810
- 4GB RAM
- 64GB+ flash memory
- 5"+ 1080p display
- 128GB micoSD support
- BT 4.1 & USB 3
- 3000+ mAh battery
- 1 million + apps

You forgot the $800 price tag.

$800 would be a bargain for a phone like this

You call this "standard"?
That"ll be just $1500 sir,pick them out from your tree of infinite wealth to but this standard(and some might say average) phone :)

1080p? 4k or NOTHING, dude.

Yeah. Update 2 should support QHD

Dont forget nuclear fission reactor.....

It will run on Cold Fusion...

Mr. Fission? Working with beer cans and bananas? :)

It should also make me coffee...

Give me that in a 4" or 4.5" phone and I'll be happy with the pricetag.

Maybe you're in the US where people only know about 2 year contracts and subsidized phones. We that are outside the US don't have that choice and we have pay full price.

Way only 64gb and 1080p I want 4k, an i7 and 1tb+ flash... Oh and at least 12gb ram. Also 75 hour battery and make it 2mm thick with gorilla glass 7. Some people

That's a dumb thing to say, since the 810 isn't even a SoC out in the wild yet. There shouldn't be a standard because any hope of affordability would be out the window. However, the Lumia 830 is an example of a total failure by Microsoft to offer quality hardware over gimmicks. This suffers a similar fate, but at least it prices itself like a turd.

If that's standar... what's High End? A phone with an i5, 8 gigs of ram and a 128GB SSD and with 4K screen? Standar phones are for standar people. What you described is a flagship phone with more power than several computers... or at least more powerful than the computer I have at work (yes, it is a bag of feces packed in the case of an HP ProBook 4425)

This is the kind of trash that gives people a chance to bash your os. It wont be the phone that sucks, but windows phone.

Agree. "That phone sucks! What is it? Aaaah, that explains. It's Windows." Typical >:(

MAYBE, and I'm spit-balling very hopefully here, that wasn't their final make of this device? =[ Oh wait, I'm thinking of the blu phones... Hmm, I guess Billy dropped the ball =/

It is nice to see more Windows Phone options... but if someone gets one that is junk they will claim Windows Phone is junk not that particular handset. This will hurt Windows Phone longterm.

Phone tutorial: "Long-press the Back arrow facing left to multitask and switch apps."
User: "Which button? All I see are dots and a circle."
User returns phone next day. But seriously though, I hope this design is just a prototype for now and that they use real
Back\Start\Search buttons for this.

They have the same phone and markings on their website.

Say "no" to Yezz then? Ok, sorry about that.

This phone needs to be stopped before hitting shelves ....

Seems slower. I had to. :P

Lol, since all WP are underpowered with a measly 512MB of RAM and crappy screens, this phone must really hit a new low haha

RAM does very little in a phone.

Tell that to my Resuming and Loading screens and noticeable lag when returning to homescreen. Lumia 620, WP8.1 DP

What app do you have that are filling up your RAM completely?

Facebook gobbles up your entire ram-stack!? What have you done??

I'd like to be the first to know :D

That due to not having cyan Posted via the Windows Phone Central App for Android

I really hope it's the major cause but I won't be surprised if it'll be still happening after Cyan. The phone did a lot of resuming and loading even when it was new.

I donno... Just found out about mass effect game (had to come.out from under my rock)... It lags on 1gb phones!. Then again it lags a little on my wife's 2gb phone... Buttery smooth on my 1520 though... Only downside is it'll burn your hand if you play too long... Lol

And all are not 512 just the sub 250 ones Posted via the Windows Phone Central App for Android

Looks like it should cost sub $50 unlocked.

I like your display picture... yes, I know is totally offtopic

More like they should pay you $50 to take this junk off their hands.

1. Stupid name
2. No icons on capacitive buttons
3. Laggy performance
4. Cheap construction
And $249?
I'd rather buy me a fancy pizza...

I, personally, would like to invest in your fancy pizza, so long as you're will to offer at least a 25% share.

I'm not going to be able to offer you more than 10% :P

$250 for a Snapdragon 200...... this is why Windows Phone fails, retarded OEMs

This is what happens when you open the floodgates for cheap low budget phones. Window Phones had a feeling to it of quality. Not so much now with all trash ass low budget rinks appearing. MS wanted the low and mid tier market. This is what represents your OS. Posted via Windows Phone Central App

But it seems to work for android that markets have does not come with the one, galaxy 5 or g3 it comes from low end phones we do not eat that as readers of this site would not have anything less then mid high end phone but the majority of the world wants cheap Posted via the Windows Phone Central App for Android

You can see the same button combination on the Xolo Q900S, infact the worst part is Xolo had swapped the search and back buttons so the right dot button takes you back while the left dot button brings up search -_-

Seriously?! That is even worse... T_t

WTF?! Why would Microsoft approve such a horrid design?!

Yes, that's one gripe I had with Xolo win q900s. I also think its similar the looks weight etc, but its priced at USD 165 here in India which is quite nicely priced and as my cousin had one was very impressed with the screen display quality also was quite responsive but the capacitative buttons takes getting used to.

So this is the Justin Bieber of Windows Phone

Sorry what. Compare this article to this http://www.wpcentral.com/nokia-lumia-625-unboxing-1st-impression-video-a...
And I as a 625 user don't know what you're talking about.

Driver issue more than likely. The same reference design, with same specs from other companies didn't have these performance problems.

What other Windows Phone has a Snapdragon 200 and a 720p display?

The BLU Win HD does (to be released within probably the next couple weeks). I sure hope the performance of that one is better. A preview video of it gives me hope it will be, and also makes me suspect that the Yezz Billy reviewed here was just an early prototype without optimized firmware.

I understand your frustration.. Its like seeing a gorgeous women.. Just to find out she is married.. Just cant do anything about it...

Even if she's married, she still might be into it. It's more like seeing a gorgeous woman then finding out she's a raging racist with an IQ of 30.

1280 x 720 with a snapdragon 200?! That processor's GPU isn't strong enough for that resolution. No wonder it was jittery. They should've gone with at least a SD 400.

The Blu 5 HD has the same specs. Wonder how it will perform...

Snapdragon 200 (Quad Core @ 1.2Ghz) supports up to 720p screen resolutions. 1280x720 is 720p. So we should not see any problem here. I just wanna say that Lumia 520 only uses Qualcomm MSM8227 (Krait Dual Core @ 1GHz) it's screen resolution is only 480x800 yet it'svery fluid. They sacrificed display in favor of performance?

Is this a proof of concept model? They can't seriously be putting that into production.

Also.. Phones like this gives new users bad impression about the Os... If someone new to windows phone gets his hand on this phone first.. He will never buy a windows phone...

Is it that bad? I would like to see a video about it

Don't mean to go on a tangent, but were there any "ruggedized" phones announced there? I'm sorry I missed the article for coverage of the conference.

So disappointing for the specs and thinness.

LOL!!!!! I can't stop laughing at that!!!

MS didnt see this coming when they allowed any idiot to put WP on their phones?

Damn!.. This phone is supposed to be named after Bill Gates... Such crap doesn't deserve to be out in stores with that name..

Damn I understand reviewing it, but..... Damn. I just got the tone of insults.

No tone, just disappointed what he saw at the trade show. The fact they didn't even identify the phone in their booth is a problem.

That is the least of their problems... Sadly it looks like this OEM has no clue what so ever as they even removed the multi tasking button from one of their android phones. I mean sure you need to differentiate but taking away functionality in order to do so.. is suicidal.

I hope you are wrong about the Snapdragon 200 being not powerful to handle 720p display. Blu's upcoming Win HD has similiar specs but seems to be fairly responsive from what I have seen in video.

This is exactly why Microsoft should have kept tight control over hardware makers. Unfortunately, here come the junk Windows Phone to tarnish the reputation of the OS.

These phones will be the sames the 1st gen xp netbooks... slow, cumbersome, woefully underspecced and poorly optimised. I just hope going forward MS mandates that if they are going to use capacitive keys they have to use Windows Phone keys, otherwise they must use soft keys instead and No other silly options... like Dots..

Oh My. This could be a problem for the Cherry Mobile Alpha Luxe as well. They both have the same specs but CM was priced very reasonably, just around $90.

Why are they even allowed to change the button icons ??

Wow! they are asking for how much?????
Honestly would you go for this or the 735 marked at an rrp of 219 euros. My life savings would be on the latter lol.
I'm surprised, they actually shipped the phone with those buttons (atleast with HiSense you could figure out what the buttons did) and even more taken back by fact they managed build a laggy windows phone...
The Yezz Billy, was named after Bill Gates (their Android line is named after Andy Rubin).. this phone is an insult and disrespectful lol...

Circle Circle Dot Dot, Now It has its cootie shot

Definitely agree with the article. Snapdragon 200 with 800x480 screen and 512 RAM. 720p and 1gig goes with the 400.

Yeezus, what a price for such an underpowered dwvice!

I want a quality thin phone the size of yezz Billy. Maybe the surface phone or something.

The name Billy is suppose to be in honor of Bill Gates. But in this particular instance, it seems it's an insult to the venerable name. Speaking of conspiracy theories, maybe this is a conspiracy to give WP a bad name. After all, on display at the same time were their "two dozen" Androids so you know where their loyalty lie. Maybe they should just rename the phone to "No Billy 4.7".

To be fair, it seemed like the device Derek reviewed was just an early prototype, probably with unoptimized firmware and non-final capacitive key markings. Or shall we hope! I guess we will find out soon as the device is available for pre-order on Amazon right now. The Amazon page says it will ship on September 15. The images on Amazon show dot-circle-dot capacity keys too so maybe they are final, but to be honest, that's hardly a dealbreaker. Anyone will realize and remember what each of those buttons do after spending a few minutes with the device. Some nice things about this phone is that it is the thinnest Windows Phone (7.2mm) and comes with red, white and blue removable covers. Personally I think it looks at least as good as most of Samsung's designs. More worrisome is the quality/feel of the plastic and the price tag seems steep compared to the $179 Blu Win HD which has a bigger screen but otherwise similar specs.

I just watched this video of the Indian-made Xolo Win Q900s, and it appears to be the exact same phone! https://www.youtube.com/watch?v=H4HBtM99xf8 The reviewer thought the HD display was "very impressive." Phone also does not look laggy. Comes with a flip case the phone can be inserted into, and is super light (100g) and thin. The weird thing remains the dot-circle-dot buttons, where the "back" and "search" buttons are reversed. That could be awkward for people who own multiple Windows Phones but I think it would be normal for people used to Android phones. It also appeared to have a plastic screen-protector installed (or just new-product wrap) which could explain why the screen felt and looked like plastic to Derek.

That's a shame. I had been considering this one on my short list if I'd gone travelling. Oh well. Nice thing about the new normal of loads of OEMs is that I have a billion options.

I dont' think so. More likely you handled a failed device.
There is a Cnet video in which it doesn't look laggy or freezing at all.
I suggest, if you want to try the device, to ask Yezz to give you a new one. I'm prety sure it will be fine.

It is probably a faulty device. It look like exactly the same as XOLO win 900s except it has a black back cover with XOLO writen on it, and that look quite fluid without any lag or jitter ( http://www.youtube.com/watch?v=1QSojBIT3Ig )

Well, it was bound to happen once Microsoft dropped the licensing fees and hardware restrictions. Lower quality devices hitting the market, tarnishing WPs reputation on lower end devices. Hopefully, they'll either improve their quality or leave the WP market.
Windows Central Newsletter
Thank you for signing up to Windows Central. You will receive a verification email shortly.
There was a problem. Please refresh the page and try again.