You can make your OneNote scribbles sparkle with new ink effects in Windows 10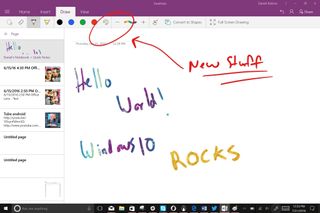 Microsoft has updated its OneNote app for Windows 10, allowing users who have a paid Office 365 subscription a way to add ink effects in their notes and drawings.
You can see an example of how the ink effects look in a Twitter post from Microsoft's Jen Gentleman. Microsoft offered more information on the new feature in a blog post (opens in new tab):
This app update, which has the version number of 7167.5765, is currently available for Fast ring Insiders, but Microsoft's Gentleman says it should be rolling out today for all Windows 10 PC and Mobile users.
Download OneNote for Windows 10/Windows 10 Mobile (opens in new tab)
Windows Central Newsletter
Get the best of Windows Central in your inbox, every day!
This is actually quite fun! I was thinking it would be childish and cringeworthy, but after having tried it out on my touch laptop (with my finger!) the child artist in me is rejoicing!
​Nice that they have a rainbow (yeah!), space, silver, and gold. The latter three are ironically Apple device color choices haha Microsoft trying to make a statement here? ;)

This is nice but when will they fix the longstanding bugs like black paper when switching to OneNote?

And still no "ink input" for OneNote Mobile, however it is long time in desktop version and inking already in Word/Excel Mobile :( UPD. Found this suggestion on uservoice. Please upvote if you think it would be nice to have Drawind on W10M https://onenote.uservoice.com/forums/327186-onenote-for-windows-windows-...

Yes! OneNote is the office UWP app with the worst feature comparability between mobile and desktop. And that makes no sense, because OneNote is the app that should be the most mobile-friendly.

Updated my massage with link to uservoice.

Upvoted. But this has also been supported in the feedback hub plenty of times.

I'll look for them, please, share links if you have some UPD. just searched for "Draw" and "Ink" and upvoted a lot of them

Here's the highest voted one I found. feedback-hub:?contextid=264&feedbackid=a1018fc8-d79b-4b28-be7b-24ecdb811438&form=2&src=2. But the other thing I've been pushing for is a proper ribbon like in OneNote UWP for PC, and for every other Office app on mobile.

I'm still a bit butt hurt my brother's galaxy edge, one note can do free drawing

Totally rad, dude! Maybe they should rename it to OneTrapperKeeper.

They should let us vote on their priority list for improvements to OneNote. Posted via the Windows Central App for Android

There is uservoice for OneNote
https://onenote.uservoice.com/

are you sure about that version number? fast ring insiders are already on version 17.7167.57731.0

what about the ruler from windows ink? when we get that stuff?

Found this request, you can upvote https://onenote.uservoice.com/forums/327186-onenote-for-windows-windows-...

Ok but how do you.... Say, remove ALL annotations from a pdf at the same time