You can now sign up for Facebook Messenger without a Facebook account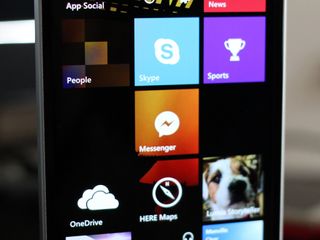 All you need is a phone number and a picture to get started on Facebook Messenger now. The company has dropped the previous requirement, which was a Facebook account. Signing up for the service is simple, just download the app and select the "not on Facebook" option to use your phone number to sign up.
You can download Facebook Messenger free from the Windows Phone Store, and get started using it with just your number now.
Source: Facebook
Get the Windows Central Newsletter
All the latest news, reviews, and guides for Windows and Xbox diehards.
Jared started off writing about mobile phones back when BlackBerry ruled the market, and Windows Mobile was kinda cool. Now, with a family, mortgage and other responsibilities he has no choice but to look for the best deals, and he's here to share them with you.
Lol. So is now its gonna like WhatsApp and other messengers huh?
In a way, it's a nice idea I think. The facebook messenger will now actually be a "messenger".

it's kinda funny. facebook already owns whatsapp.
why don't they merge messenger and whatsapp already?

Whatbook sounds much better.....

haha..that was awesome :-P

That's probably going to be the eventual goal down the road. Easing Fb Messenger sign up restrictions is probably a step down that road.

with whom will they chat?

Other users in their list I guess. Phone number is needed, right? I guess it must be for that.

So... like text messaging?

It will function like WhatsApp......

Voice and video calling ...... You have to delete that part

VOIP is coming to messenger on windows phone.

Next year! Just kidding, it will be on 2048

Everytime I read the word messenger, I go back to the days of MSN. It's such a shame Microsoft lost their leadership in that space just because they went mobile so late!

Microsoft can still compete if they make Skype work like whatsapp

Yes they can, but I am not sure they will. I am no developer, but seriously, is it that hard for the best software company in the world to make Skype just work? I don't know why Microsoft even bought it! At the time MSN Messenger did way more than Skype, but then they bought it and it went downhill from there for MSN snd Skype.

Thanks for the appreciation for my and my former team's hard work. It was told to us that the Skype acquisition approval came from the highest level. Essentially Skype had the market penetration that Messenger desired. Of particular note is that Skype did not relatively affect the corporate version of Messenger (which was developed separately) now known as Lync (formerly Office Communicator).

I am glad to know that among us there are individuals of Microsoft's teams. We come here to give feedback, because most of the time it feels like the officials and teams lack the knowledge of what is happening with users, what they want and what they hope for. To this date, I still think that if Microsoft made an MSN Messenger mobile app, with the legacy emojis, and the ability to send all types of files including drawings, videos and audio files, or any other file, with buzz-ing, video and audio calls, the ability to sign in via email or mobile number, appear offline, custom fonts and colors, timed and destructible messages, video messages like Qik, and make it available across all platforms (iOS, Android, WM, Blackberry, OSX and W10 and even via browser), it would succeed for sure. People don't use Skype for texting, it's just not in their mentality or the go to app for texting. I wish if this happened, I really hope the best for Microsoft.

@B_Hawk, some of what you described was incorporated into the now defunct Rooms.

Voice, Video calling?? You're mistaken....

Indeed he is ))
But that's available on Android
Hope it comes to Windows phone

This is a common post for all the mobile nation sites like android central, imore..... that is why he said it. Posted via the Windows Central App for Android

I have a Facebook account and never bother with messenger. Weird splitting 1 app into two. Just use Facebook less and less.

Probably to differentiate sources of data "cough" ad data "cough" to certain companies :P.

I have given up all hopes of improvement from this app. Absolutely unusable.

What are you talking about? Facebook Messenger runs fine. Everyone's so dramatic...

All that remains is the option to sign out in order to enter with another account (without having to uninstall and install it).

But why would you, the app sucks on WP..

I personally have actually liked the app better on WP than Android. its a good WP app

When will the app get voice / video calling that iOS and android versions of the app have had for ages!?

I think that app needs an update cause i can't sign in without facebook account

I'm having the same issue. I really hope this gets updated quickly, because I'd love to be able to have access to my friends on Facebook without having to rejoin the site itself.

Please also add calling features too on facebook

What about the contacts? Will be through number like WhatsApp?

No longer on FB. Thank goodness.

Good for you! It's such a waste of time.

This article is wrong. The "not in facebook" option takes me to the Facebook's sing up page.

Still don't get the concept of splitting an app into two and both at below par levels than their counterparts.

Why do they need a phone number though lol

Must be dreaming there is not ant type of calling features on messenger.

Hi when Facebook messenger will allow making calls on Windows Phone as in Android

Hi when Facebook messenger will allow making calls on Windows Phone as in Android

This is Windows Central not a Facebook blog or forum so no affiliation lol...

I have a Facebook account and I don't want messenger

Skype will be circling the drain before long if they don't step up. WhatsApp video calling is inevitable

IT'S A TRICK. Don't give them your phone number unless you want MILLIONS of political calls on your Lumia.


Sheesh. Get your facts correct.

what exactly is a political call?

@Lumio. A robotic call of the televised political adverts. @Electrodude16, Jazmac has a point, these companies call anyone and used to get countless ones about "your car insurance claim", "your miss sold ppi (payment protection insurance) for your loan" etc etc at work on the office landline and get it too on my mobile phone. The funny thing is I don't drive so don't have a car or have a loan taken out. So ask yourself with Facebook, who doesn't sell any consumer services how do they make money? Furthermore pay for the recent television commercials, hmm?

Another data grab from these shameless operators. I'd never sign up for this.

Messenger Video calling on windows phone???

Voice calling for windows phones Facebook messenger?
its not possible. Ha ha....

The article is wrong. You need an account.

In that case, why is the need of "Facebook" in the "Facebook Messenger?". MSNGR will be good. see what i did there :D update: seems it's already just "Messenger".

I stopped using Facebook a few months ago and I have to say I haven't missed it at all. It was actually a relief, kind of like finally having that bowel movement.

It's good to know that there might (hopefully) be less people inclined to join Facebook, but what I really want is to stop having so many sites force you to use a Facebook account to login. I hate Facebook, but if they were willing to do something like a "login only" account I might be willing to give them a second chance. But until then, I will see them as the worst thing to happen to the Internet since viruses...

This article is wrong! Facebook allows you to sign up with phone number instead of an email account and one still needs FB account! Shame :(

Unfortunately I can't give up whatsapp because everyone I know uses it. Same with fb messenger, have friends who are on facebook constantly and use nothing else.
I hope they don't mandate everyone to use phone numbers for their app in the future, if they do I'm uninstalling it.