You can now sit through Star Wars: The Force Awakens with your friendly Sphero BB-8 unit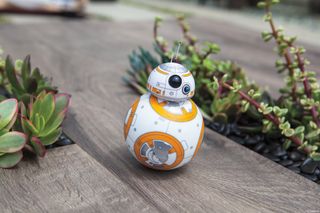 Sphero has updated the company's BB-8 app, which enables the little friendly droid to enjoy Star Wars: The Force Awakens. The connected droid will be able to react to content on-screen with a combination of sound and motion. The new feature, titled "Watch With Me" prepares BB-8 for the movie, which can now be purchased on Blue-ray.
As expected, you'll need to have a copy of Star Wars: The Force Awakens already purchased and ready for viewing. For those who may be on their first run of the latest instalment, the app (opens in new tab) will also display relevant information on-screen to help those who may struggle to follow the main plot.
As an added bonus, should you not have BB-8, you can snag the Sphero unit for just $129 through April 10.
Windows Central Newsletter
Get the best of Windows Central in your inbox, every day!
Rich Edmonds was formerly a Senior Editor of PC hardware at Windows Central, covering everything related to PC components and NAS. He's been involved in technology for more than a decade and knows a thing or two about the magic inside a PC chassis. You can follow him on Twitter at @RichEdmonds.
Cool! Just noticed a price drop on Amazon UK to £108. Firebox also doing it for £110.

Not in UK till the 18th. !:-(
The Force awakens that is

Did Rich really say Blue-Ray?

Blu-ray Posted via the Windows Central App for Android

BB-8 app update is not yet available for Windows Mobile. Will it be pushed later today?

I've got no update from the store or within the app at all, even using force update firmware does nothing. Do I have a dumb Droid?

Too bad they didn't, 1) roll this out when the digital copies were released a few days ago and 2) update the Windows app at the same time. My son would have loved watching it with his BB8. Sure, he'll watch it again but we made kinda a big deal about it the other day.

Such is the price when using Windows.

Is this a late April Fools joke? Cause there is not an update at all whatsoever. So why was this article written stating we can now do these things when we cannot? I mean no disrespect but I just want straight up, if it's not out it's not out.

Based on facts current, this article is erroneous. Future doesn't count, currently out counts when something is stating "now." I do appreciate the article on the BB-8 as I own one and I love Windows. But I've been waiting for an update since Sphero told me they were going to be doing frequent updates months and months ago when this came out. I've yet to see a single update and even this one, if it is real, is not a frequent update. Their definition of frequent must be very different than what's in the dictionary.

It's already a bad experience without a 130€ gadget imo

Wow. Just like you could watch Barney with the Microsoft ActiMates Barney in 1997. Or Arthur, or Teletubbies. State of the art, there, guys. Only took you 19 years to catch up. To put it in perspective, when Microsoft did this you watched the video playing on your VHS player.

"You can 'not' sit through"...so many typos on this site! Come on editors!

I apologize to the author, Rich, and to windows central team. I'm having a bad day and it's not y'alls fault this stuff isn't out. You all do a great job and I appreciate everything you all do. Thank you.

Wow I just called sphero. It's not for windows they are not giving the update to windows...

That will not make my grandson happy. He ask me about every other day if the update has come out. He has been waiting to watch the movie with his BB-8. Guess I'll break the bad news to him tomorrow when he comes to stay the night.

Wonderful, they only updated the iPhone and android apps. Doesn't work on WP.

Still no update for EITHER windows 10 OR windows 10 mobile, WTF?

This si the response I got from Spehro: "I can tell you that we are working on the Windows version of the updated app, and we anticipate a release for this about two to four weeks from today. This is the latest word on this, and it is subject to change of course, but we are definitely working on it and have certainly not abandoned the Windows customers."