You can now start a group Skype call from right inside Slack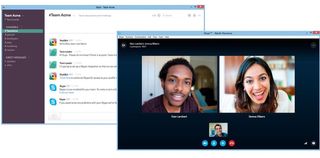 Users of the popular Slack business messaging service can now start a Skype call from within any of Slack's clients. This is thanks to a new integration that links the text-based Slack into the voice-and-video-centric Skype from Microsoft.
To enable this preview, Slack users can go to the Skype integration page and click on the Add to Slack button, which will add Slack integration to a selected channel. Microsoft says:
Slack users can join a Skype call over the web as a guest, even if they don't already have a Skype account. As this Slack integration posts a link to a Skype call in a channel, this will probably be most useful in channels with a smaller number of users — as anybody that's been on a call with several people can attest, it gets noisy and difficult to manage rather quickly. This feature is being put forward as a preview, so it's possible users may encounter bugs or glitches in the process.
Interestingly, this comes nearly a year after Slack's acquisition of Screenhero, a company that specialized in voice chat and screen sharing for teams. Slack said at the time that they planned to integrate Screenhero's tech into the Slack platform, but so far we've yet to see the fruits of that union.
Skype recently announced that group video calls were coming to all mobile platforms "in the coming weeks". Until that feature is enabled, Slack and Skype integration for mobile users won't be of much use.
Sign up for the Skype integration for Slack preview (opens in new tab)
Source: Microsoft (opens in new tab)
Windows Central Newsletter
Get the best of Windows Central in your inbox, every day!
Any luck for Windows Mobile users....?

Skype group calls are not on any mobile, but it that feature was announced as coming to all mobiles in the coming weeks, so the question is not really valid.

That being said, it's really sad to see the performance and status of Skype's app (a service owned by Microsoft) for Windows Phone. Not being negative about WP, i do love it to the core but we need a major ground up work on Skype app for WP just like they did for Office for W10 mobile.
Hope something better is coming :)

Congrats to slack devs as well as to Microsoft also

Without indicating directly saying to those people who are not interested in windows OS, that's okay but don't insult them who are developing it gradually Go for the OS which you like but don't comment badly inspite of supporting
If you have capability to make an OS with proper function then you can comment... Otherwise valueless

Everyone around me has been adopting Slack for messaging including me and this integration is great to hear, particularly allowing guests without accounts. This should bolster users and usage on Skype which makes the most sense next to Google Hangouts.

I not only really rate Slack, but I'm impressed with how fast its developing. This is a very good addition.

At first I thought this was about Skype on mobile -_- not yet

GOOD!!! as a slack user and a microsoft user I wish they had more integrations. Give me a onedrive integration and I would have a better case for office 365 over google apps!

Thanks for posting this info! Slack and Skype remain open on my systems all day. This might be a nice addition for flexibility.

Guess what doesn't work well on my 950XL...