You will be able to watch the Windows 10 400 NASCAR race on August 2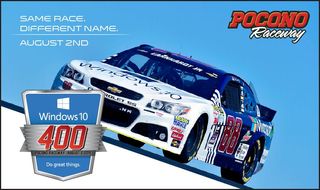 Microsoft is going to go after the NASCAR audience in a big way for the launch of Windows 10 next week. It has reached an agreement with Pocono Raceway to rename the Pennsylvania 400 race on August 2 as the Windows 10 400.
This would appear to be a one-time special sponsorship of the race, as Windows 10 itself will begin its official rollout a few days earlier on July 29. Pocono Raceway says:
Microsoft has already announced it will be a sponsor of Dale Earnhardt Jr.'s No. 88 Chevrolet SS stock car at that same race, and that Earnhardt Jr. will also serve as an official spokesperson for Microsoft for the launch of Windows 10,
Source: Pocono Raceway
I might have to go to this race

Neat. That raises my interest in the race from 3% to 10%.

For me it is more like .5% to 1%. Still happy for more windows exposure.

I think I may watch this race just for Windows 10. Microsoft is really rolling now

The Windows 10 400 slogan - "Windows 10, if these hillbillies can use it you should be fine!"

It'd be quick developing. But it'd be nice if Build 10400 went to Insiders that day.

Lol Posted via the Windows Central App for Android

Also, I just realized that this app turned my 3 letter comment into a 4 line one... Posted via the Windows Central App for Android

Sick you of friggin uneducated illiterate waste of meat thinking Nascar is all about hillbillies as you dumbasses call us. Fuck you moron. Promise you, you don't have .001 percent the IQ of even 1 of us.

I thought Nola was a girl name not a guy name

Some one rustle your jimmies today? It's a joke. And from the time I spent in Alabama, it's really not that much of a stretch. If you personally are not an uneducated hillbilly, move along... Nothing to see here.

Big fan, far from a hillbilly.

hEY nOW ! I aint no hillbilly ! Funny though..

I watch it anyway in the UK but will enjoy it a little bit more maybe :)

Hope it isn't filled with crashes. The jokes will never end.

The people with dumbest brain will make joke

Thank you for this grammatical irony.

Just imagine the stability of build 10400... Posted via the Windows Central App for Android

All it'll need then is a clear blue sky. ;)

Microsoft is improving it's advertisement department slightly... But still has many drawbacks... The promotion for Windows 10 and it's free upgradation offer should be globally everywhere like crazy... In India still many people can correlate Microsoft with Windows, Office, and other services

Globally everywhere? Is that like, "World famous in India" thing?

Yes I'm confused by his comment lol.

This has the potential to be bad. What if it crashes? Years w10 photos that includes a busted up nascar

As an 88 fan, I sure hope not. :) With that, Dale likes to win at this track, so, maybe we will see the car in Victory Lane. (Rocking my Dale Windows 10 hat now!) #DaleYeah

This doesn't make any sense "You'll be able to watch the race....." but the article doesn't mention anything about watching the race. I assume the television broadcast is normal.

I was confused about that too. Was thinking Microsoft would stream the broadcast or something.

...on August 2. Emphasis is on the date here.

Not a huge NASCAR fan, though going to the races is quite fun. MS was very smart to sponsor Earnhardt jr as he is a fan favorite. Posted via the Windows Central App for Android

Great news! This race track is right in my back yard so to speak 20 minutes away and another plus Dale Earnhardt is my favorite driver not including Windows 10 now we just need a WIN dows

Nope, I gave up Watching NASCAR about a month ago.

Missing out, getting good! Nice car package changes

According to Nascar, the tv network that will carry this race is NBC Sports. This is unfortuate for those of us (such as myself, and I only have basic cable) who don't have the level of cable that carries the channel, so I hope Microsoft will stream the race online.

It's NBC sports on network TV, where I live

That's a broadcast station, isn't it?

No :(. NASCAR is the only reason I have cable. Even with that, I think I am cancelling cable after this race. Not worth 100+ a month for me, as much as I love it. I pay for NASCAR.com, so.i won't completely miss out on the race.

Will the car stay like that even after the race? I don't keep up with NASCAR

They are sponsoring random races. This is the second on the 88 car. But they did pen a deal with NASCAR and Hendrick Motorsports to be the official technology partner. So, I imagine we will see windows on the car a lot. Hopefully a full time sponsorship at some point.

anyone else read the title quickly and think there is a new build 10400 out?

That's is absolutely fantastic! GO! Windows 10.

Go Dale Jr.! As a major fan of his and a tech enthusiast I think it's cool he has Windows 10 on his car. Posted via the Windows Central App for Android

Same here!
Posted via Windows on Lumia Icon

Hope Lotus does the same.

Woah that's Holden Commodore SV8 but with Chevrolet badge instead on that photo! :D

Awesome winning combination - NASCAR, Dale Jr, & Microsoft all at Pocono PA!!!
Windows Central Newsletter
Get the best of Windows Central in in your inbox, every day!
Thank you for signing up to Windows Central. You will receive a verification email shortly.
There was a problem. Please refresh the page and try again.