Your Phone app now lets you manage Android notifications on your PC
The feature is now rolling out broadly to all Your Phone users.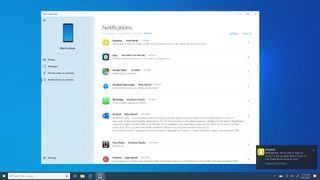 What you need to know
Microsoft's Your Phone app for Windows 10 can now mirror your Android notifications.
You'll be able to view and manage notifications as they come in, without picking up your phone.
The feature is rolling out broadly for all Your Phone users now.
After months of testing with Windows Insiders, Microsoft's Your Phone app can now mirror notifications from your Android phone. The feature is now rolling out broadly to all Your Phone users, allowing you to keep your phone firmly on your desk and deal with notifications on your PC.
Any notifications that you would normally receive on your phone will now live in the "Notifications" section of the Your Phone app on Windows 10. Whether the notification is from Twitter, Facebook, Messenger, or any other app, dismissing it from your PC will also dismiss it on your phone, and vice versa.
In order for the feature to work, you'll want to make sure you're using the Windows 10 April 2018 update or later. You'll also need to be running Your Phone version 1.19052.657.0 or later. Your Phone director of program management Vishnu Nath stated on Twitter that the rollout has currently reached about 50 percent of PCs, but it should be completed within a week.
It's worth noting that notifications don't yet support quick replies, but that should be coming soon. If you want to give it a shot for yourself, you can get started by linking your Android phone to the Your Phone app on Windows 10.
See at Microsoft (opens in new tab)
Portable (and affordable) power accessories we love
Each and every one of these charging gadgets will keep your favorite gear and gadgets going for longer, and none of them costs more than $30.
VisionTek 8,000 mAh micro-USB power bank (opens in new tab) ($13 at Dell)
This compact dual-output powerbank can speedily recharge any and all your devices, thanks to a two-amp "fast charge feature," using its micro-USB out port. Its simple design includes an LED indicator, and it costs about as much as a single ticket to the movies.
Panasonic eneloop AA batteries (opens in new tab) (From $13 at Dell)
Panasonic's rechargeable batteries are among the best available, and just a couple of them will keep your favorite remote, mice or other peripherals powered up when you need them. They're also eco. And the company's affordable charger (opens in new tab) fits and charges both AA and AAA batteries at the same time.
Belkin Qi Wireless Charging Pad (opens in new tab) ($30 at Dell)
This unobtrusive Qi wireless charging pad looks good (and kind of like a UFO …) and easily charges all your Qi-compatible device up to 5W. Its LED indicator lights up when you're charging. And it costs just $30.
Dan Thorp-Lancaster is the former Editor-in-Chief of Windows Central. He began working with Windows Central, Android Central, and iMore as a news writer in 2014 and is obsessed with tech of all sorts. You can follow Dan on Twitter @DthorpL and Instagram @heyitsdtl.
I'm looking forward to this update. It would be nice to handle notifications from my phone, on my Windows 10 machine. I've got a question about the Microsoft Your Phone app. Should it only be installed on one machine? I got it installed on my Windows 10 desktop and laptop. Wondering if I should uninstall it from one of those two?

I have it on both my desktop and surface pro, works on both! (though I've never tried using it at the same time on both computers)

Great! Glad to hear it. Thanks!

Nadella's brilliance on display. Keep ppl's phones in their pocket at much as possible. Turn them into $1K wireless hubs!

Brilliant until you use messages.google.com and realize its actually kind of junk

I use Android but mostly try to avoid Google Services. Use MS Launcher, Outlook Mail, Pulse Messenger, Switch between Alexa, Google, and Cortana for voice. Mostly Google maps and Waze however.

Google's version is just for texts, but I will say seems to work faster and has more features for texting. Microsoft is catching up though and does/will do a lot more like screen mirroring. I think Microsoft also has to work on the speed and reliability too, but I believe it'll get there. That being said I have reliability issues with google's too.

Is Messages that much better? Your Phone does photos, texts, and now notifications, and you don't have to be on wi-fi. What does Your Phone not have in comparison?

Google messages has stickers, emojis, and gifs. But as far as I can tell, that is all it does over Microsoft's implementation. However, those features will come.

People who thinks Your Phone doesn't work reliably or slow, please turn on sync over mobile data in You Phone companion app on your mobile phones. It would work a lot better and more reliable.

Welp, seems to be working fine for me. Finally, MS is back into syncing notifications after trying then not trying via Cortana, and some nonsense they tried with Skype before that. Hopefully this implementation lasts. Seems simpler and better thought-out than previous iterations.

I still miss 2-way SMS Text integration with Skype across my Windows Phone and PC's, which worked perfectly for me, but I know some people had problems with it. However, Your Phone is getting there with Android and already supports more notification types.

Would love this to work with iMessage but sadly I suspect Apple will never come to that party. I'm sure everyone knows this but they are implementing functions that already existed with Windows mobile. I just can't see how this project can be anything but always a work in progress. The thing for me is that I want the apps themselves to sync across devices. I want a synced message app, a synced pictures app etc. It just seems messy having a half-baked app with a few features such as what Your Phone has now.

I'd like synced apps as well, but considering the lack of said apps on windows 10 especially messaging apps, this is an ok alternative.

Now if my work would simply update my pc past the October 2018 update then I'd be all set. This is one of the biggest things I've been waiting for (I realize pushbullet does the same thing but it can only do so much before you have to start paying for it). I love how they are building this right into the OS; very well done Microsoft.

I remember doing this on Windows 8.1 connecting to a Windows Phone 8.1... years ago until MS decided to break everything that worked fine in Windows Phone...

After resetting your phone app I no longer see the notification option in the app, it disappeared, it was there and worked for two days only, so I reset the app but that made the scenario worst, now even after uninstalling and reinstalling the app no notification option in is seen in the app, only photos and messages. Is there a fix for this.
Windows Central Newsletter
Thank you for signing up to Windows Central. You will receive a verification email shortly.
There was a problem. Please refresh the page and try again.