YouTube Access and Windows Phone: Microsoft throws down the gauntlet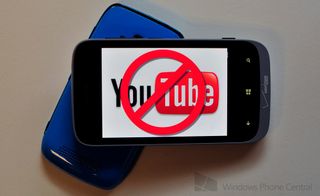 This one has been brewing for a while and it seems that the rhetoric is now stepping up as Microsoft and Google prepare to do battle. The stage has been set and much of the coming drama will focus on Windows Phone.
Microsoft has today written publically about Google's direct refusal to open up YouTube access so that Windows Phone users can easily use the service when mobile, something we first reported back in March 2011. The plot thickens when we learn that Microsoft has a high quality YouTube app ready to release. Don't be evil, read on past the break to find out more.
In the lengthy post released today Dave Heiner wrote about Microsoft's on-going concerns about Google's misconduct on a number of issues. Here are some of the key points relating to how this is affecting Windows Phone.
"We just need permission to access YouTube in the way that other phones already do, permission Google has refused to provide."
I recently wrote in length on the situation with a lack of Google Apps and services for Windows Phone. While I argued that many of the services are simply not needed there remain gaps where Microsoft does not offer a competing offering. One such example and source of much discussion was that of YouTube, the official app from Microsoft is not only weak it was recently rendered non-working by API changes.We do have capable replacements but they are all regularly broken by these changes and it's disastrous for the many users who wish to access the service.
Google is a web company and so it is natural to think that its services should be easily accessible with the built in HTML 5 compliant Internet Explorer. Sadly we also see examples of requests for certain pages to be redirected back to the Google landing page. There is much to suggest that Google sees Windows Phone as a natural competitor to its market share in mobile due to the similarities in how the OS is delivered through independent manufacturers.
"Microsoft is ready to release a high quality YouTube app for Windows Phone.."
Even under the scrutiny of regulators in the US and the EU, Google continue to actively deny Microsoft fair access to their services on Windows Phone. The recent post from Microsoft shows that they are going to peruse these incidents openly. Microsoft are highlighting Windows Phone as a key area of open denial to services but also mention patent issues and complaints about Search.
The odd thing here is that it sounds like Google execs are blocking YouTube from providing this service to Windows Phone users. YouTube have an app for Microsoft's Xbox 360 console and of course uses the Windows operating system as the main delivery method for all its services through its own Google Chrome browser and Internet Explorer. Why should the web advertising company feel so threatened by Windows Phone considering the currently small market share it possesses?
"But just last month we learned from YouTube that senior executives at Google told them not to enable a first-class YouTube experience on Windows Phones.."
One glaring answer for all this malice from Google could of course be their simmering rage that Microsoft is now allegedly making more money from Android than Google itself. Microsoft has been busy behind closed doors signing everyone using Android to pay royalties on each device sold. Some believe that Google should be charged with dumping their OS in the marketplace, making a product free that's based on long held patents for which it has not paid.
One thing is for certain, the battle between these two giants is only getting started. We would hope that some sensible agreement between the two companies can be reached before it comes to blows. As this tit for tat ramps up could we see Microsoft block Google from its operating systems? We have already seen Google drop consumer support for ActiveSync which will directly affect users and make it harder for those with Gmail accounts to use Windows Phone. As entertaining as it would be to see these two go head to head it will only hurt users in the long run.
We'd like to hear from you guys on what you think about this on-going drama and ideas for what can be done about it. Comments are now open, so sound off.
Source: Technet (Microsoft); via ZDNet Mary Jo Foley
Get the Windows Central Newsletter
All the latest news, reviews, and guides for Windows and Xbox diehards.