Zeroes is a perplexing math puzzle game for Windows and Windows Phone
4 + 2 - 3 + 1 - 3 + 2 - 4 + 1 = 0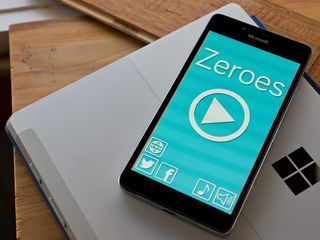 Zeroes is a mathematical puzzle game that is available for both Windows PC and Phones where you shift numbered blocks around to create equations where the sum is zero.
The layout of the game is simple, but by no means should that mean the game itself is a pushover. It does have a casual pace with no game clock or score. All you have to do is structure equations until you have zeroes across the board to advance to the next level of play. While Zeroes isn't an overly complicated game to pick up and play, the mathematical challenges can be rather perplexing. After spending time with the Windows Phone version of Zeroes, we found the game to be slightly addictive and an entertaining way to pass the time.
The primary menu for Zeroes is simply laid out with options to jump into gameplay, visit the game's various social networks and buttons to mute the sound/music.
Zeroes has one hundred, progressively unlocked puzzles with the first few levels being more tutorial in nature than challenging. Each level will have a series of numbered pegs and blocks. Your goal is to connect the pegs with the blocks to create equations where each sum is zero. Just tap/hold on a block and slide it into place to connect the dots. The numbers will form an equation and it may take a chain of connections to get everything zeroed out.
For example, you may have a block with a -4 that can be used to connect a pair of 4 pegs, changing both pegs to zero.
While the first sixty levels of play involve equations that deal with addition and subtraction variables that are headscratchers in their own right, the game also includes 20 levels that have powers and roots variables and another 20 levels that have modulo variables. If the first sixty levels do not kick your butt, the last forty should.
The pace of gameplay is casual with no gaming timer or score to reach. You just need to make sure all the pegs end up at zero after plugging in the various blocks. If you misplace a block, simply tap and drag it out of play.
Overall, Zeroes is a fun game that is mentally challenging. The mechanics are simple and the puzzles difficult but in a fun way. The challenge keeps the game interesting, but not to the point where gameplay becomes frustrating.
For me, gameplay was a little overwhelming at first, but as you start connecting numbered pegs and seeing the results, the flow of the game begins to fall into place. Once you get the flow of the game, you can concentrate more on the correct placement and solving the puzzles.
All in all, if you like puzzle games, Zeroes is worth checking out. It is a free gaming title that is available for Windows 10 PC and Mobile.
Download Zeroes for Windows 10 PC and Mobile (opens in new tab)
George is the Reviews Editor at Windows Central, concentrating on Windows 10 PC and Mobile apps. He's been a supporter of the platform since the days of Windows CE and uses his current Windows 10 Mobile phone daily to keep up with life and enjoy a game during down time.
I can see why developers get annoyed with the store... If you simply type the name of this game into the search it doesn't appear at all!

I searched it "Zeroes" didn't appear on store.

You're right, I couldn't find it either, and it's been a few days already since Petr posted it to the store. I'll let him know.

Nice of windows central to provide us with a "download app" option though...

Check out "Zeroes" for Windows Phone http://www.windowsphone.com/s?appid=14d81d70-f0e5-4d2a-b2e4-ad0fd8a2f8ac

George, as far as phones (lowercase "p" needed) is this game available for Windows Phone or just Windows 10 Mobile? The title of the article refers to Windows Phone yet the article says Windows 10 Mobile and since they are two different OSes with some app incompatibility, it is important to have the capitalizations and names right because a reader might think the app is available for Windows Phone and it may only be for Windows 10 and Windows 10 Mobile. Thank you for the article and letting us know about this brain taxing game.

It's available for Windows 8.1, Windows Phone 8.1, and Windows 10 (Mobile). Might be good to fix that in the article :)

Thank you for the information.

I couldn't locate by searching the windows store either, however, the QR Barcode thingy did work for me. I scanned it and was provided a link that opened my windows store app and was able to download the game. Hope this helps those still trying to DL it. (For the record, I use the app, QR Scanner RS)

How to find this game in windows phone 8.1 store

Hi, I have a problem with the Store. The game is not searchable. I am solving it with Microsoft support now. Please use the link in the post in the meantime.

Ok .thanks . Open in browser option work for me...

Check out "Zeroes" for Windows Phone http://www.windowsphone.com/s?appid=14d81d70-f0e5-4d2a-b2e4-ad0fd8a2f8ac
Get it for WP8.1

Whatever you do, do not, I repeat DO NOT, divide by zero!

Wait! I thought I wasn't supposed to multiply by zero! Oh snap...

Not yet listed in W8.1 phone or W10m Store. Only the link and scan in the article work to download this game!

That's an error, but we don't know what caused it. Petr knows about it and will try to solve it. In the meantime, download via the link in the article :)


You can find "Zeroes" in the Store finally :)
Windows Central Newsletter
Get the best of Windows Central in in your inbox, every day!
Thank you for signing up to Windows Central. You will receive a verification email shortly.
There was a problem. Please refresh the page and try again.