Zomato food finder launches a Universal Windows App for Windows 10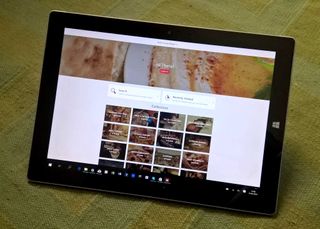 Zomato is popular service to search for and discover great places to eat. Available in over 10,000 cities across 22 countries (including now the U.S.), the service gives you recommendations for restaurants in your area and lets you look at menus, pictures, contact info, and directions along with user reviews. In recent times, Zomato is extending the dining experience with services like online ordering, cashless payments, and table reservations in some markets.
While Zomato always had a great app for Windows Phone, the company has just launched their Universal Windows App for Windows 10 (We told you so!). The app is somewhat limited at the moment, and the social features will follow in the upcoming updates.
The app features a responsive design, and the intuitive user experience works well on all screen sizes. The search works nicely, and you can use the search filters to narrow down results to find exactly what you're craving for if you're hungry. Right on the home screen there is a beautifully designed and carefully curated Collections area that showcases the best of your city while you can also quickly access the list of your recently viewed restaurants.
As the Windows Phone 8.1 app, the new Zomato app packs in lock screen support with thousands of food photos to jazz up your lock screen. It's a foodies' delight, really. The app now adds the ability to keep a track of latest offers and promos from your favorite restaurants through the Live Tiles.
Zomato is one of my favorite apps not just for its utility and user experience, but also for the fact that the app continues to get unfailing developer love with frequent updates. It's a great app if you eat out or order in often, and a definite pin to your Start screen if you are on 'eat to live' side of the fence. Give it a whirl on your Windows 10 device or your phone if you're running a preview Windows 10 Mobile build, and let us know how you like it.
Download Zomato from the Windows 10 Store (opens in new tab)
Thanks, @pheonikai, for the tip!
Windows Central Newsletter
Get the best of Windows Central in in your inbox, every day!
Nice app. Using now instead of Yelp. Or rather, Yelp, your move!

Would love dark theme of the app

They just launcehed it ? I had this installed when i first got Windows 10. Confused :p

It disappeared from the store. Zomato order came in its place. Now this came back.. And I am so happy.. I mean foodpanda is good but not zomato good.

That was a windows phone 8 app. This is the new windows 10 app.

Always been helpful in India.

No doubt. I owe many great meals to Zomato.

Yes! I was waiting for them to get on the Windows 10 bandwagon... Love their services, has never failed me even when it came to the minute details... If anybody hasn't tried this service yet, do give it a go :)

Best service for selecting a restaurant!!

Universal apps are picking up...

This thing says on my phone the location services are turned off even when they are turned on.

I don't think Yelp has anything to be worried about; besides it being more broadly used, their search and reviews encompass more than just restaurants, where Zomato is just food/restaurant based.

I thought I read where this app was canceled On iOS and Android?

Sweet! (And spicy and salty and sour)

Is it better than Urban Spoon?

Urban Spoon is now Zomato...Zomato acquired them a few months back...The spoon logo was taken over from Urban spoon :)

Yup, rianext is correct. Zomato integrated Urban Spoon.

They did buy Urban Spoon but I find this app isn't nearly as good as the old Urban Spoon app was. I've heard they're working on their services and apps to bring them back up to that level, but I really, really miss Urban Spoon. :(

I liked urban soon too. Zomato is really good so far and has helped me find some good meals.

I use Zomato on my 1020 to find places to eat now I can plan ahead by using on my Surface before heading out, thanks!
Windows Central Newsletter
Thank you for signing up to Windows Central. You will receive a verification email shortly.
There was a problem. Please refresh the page and try again.