Zomato update brings new design, Uber integration and Urbanspoon listings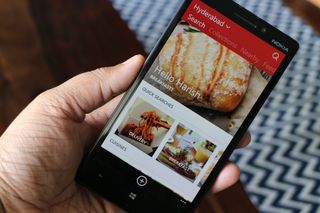 After acquiring Urbanspoon last year, Zomato announced that it will integrate the listings from the service within its own app. The restaurant finder service has now finalized the integration, with the latest version of Zomato now showing hundreds of thousands of listings in the U.S., Canada and Australia. The latest version also brings a new design.
There's Uber integration as well, which allows you to find the nearest taxis available in your location. By linking your Uber account with Zomato, you'll be able to see how long it takes for the nearest taxi to arrive, as well as different tiers (UberX, Uber SUV and so on) that are available. You can also see the directions to the location from within the app:
Version 6.5.0.0 also includes bug fixes and memory optimization, which Zomato says will minimize crashes. Cortana integration is also included, and if you're interested in seeing the list of commands supported, all you have to do is say, "Zomato Help."
Download Zomato for Windows Phone (Free)
Thanks Akhilesh and Arpit!
Windows Central Newsletter
Get the best of Windows Central in your inbox, every day!
Harish Jonnalagadda is a Senior Editor overseeing Asia for Android Central, Windows Central's sister site. When not reviewing phones, he's testing PC hardware, including video cards, motherboards, gaming accessories, and keyboards.
Zomato is growing stronger faster.

On my Lumia the app aint working and even no link workin even :/ seems need a fix

Can you tell us some more detail on the issue you are facing?? Please mail us at windows@zomato.com. If possible, pls also send some screenshots, it will be helpful for us.

finally! I needed an app for my food adventures here in the states. The yelp app sucks and I missed urbanspoon.

Zomato is awesome.. One of the best ui apps on the store

Uber integration is pretty neat.
Loving the UI so far!

I cannot add PayTm wallet to mye Uber app! Did they add this feature? Last time I asked customer care, they asked me to link it in an Android or an iPhone as a workaround :(

The previous update enabled it. Working fine for me. Try reinstalling the app

Anyone else having problems logging in? App looks great just can't try it out :(

Hi Matt, Which type of login are you using? Facebook or Gmail or Zomato username and password?

Me, too. The app insists that gps signal is missing - and it is certainly not - and I can not log in.

And the problem was not solved in 6.5.0.1. Still can't log in.

Did you try unstalling the app and reinstalling it?? It may solve your issue. Meanwhile, we'll look into it and get back to you asap.

I just started using this app about a month ago and I really like it. These enhancements sound nice.

Thanks for the tip. This app looks fantastic. Time to explore!

Its very reminiscent of the Urbanspoon app in appearance. Too bad Urbanspoon info doesn't carry over (past reservations, favorites, etc).

Gotta wonder when the Win 8 Urbanspoon app wil disappear and a Zomato app emerges.

That's why I won't turn to other food place apps than Zomato ;)

The new updated app is good.
The listing shows the distance in Km, rather than in Miles. Not used to Km.
Need more pictures, I guess this is a new app so there is not enough reviews yet.

This is good. Up until version 6.4.x, it was a very slow, unstable app which had a nice design, but crashed often. This one looks even better.

Cannot tag people during check ins as the tags get hidden behind the keyboard!
Anyone else experiencing this?

Hi, What is the model of the phone you are using? We'll check out your issue.

Thanks. We'll check your issue and get back to you. Till then, if you have any other suggestions, please mail us at windows@zomato.com

Huge improvement, now much better than the urbanspoon app ever was. Really happy to now have coverage in my area (in Canada). Will be using regularly.

I don't know why, but I always love reading stories like these. :D

A lot of improvement and features! Brazilian support?

It's a start-up. They will grow eventually. Sit tight. :)

Slow.... And the function to search close by does nothing. The urbanspoon app was much better.

One of the apps which has strong WP support,, One of the most updated app on wp. Most frequent updates... Good to see..