Xbox Live's Zoo Tycoon Friends launches for Windows Phone and Windows 8.1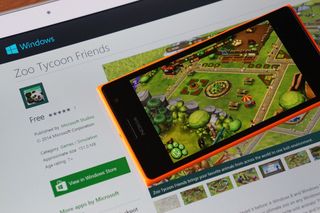 Update 2 Microsoft has just informed us that the game "was briefly made available in the marketplace for Windows Phone customers to download and play for a short period while testing." So it's only available in a few markets until it completes the company's certification process.
Update: Currently, the game appears to be US-only.
As previously announced, Microsoft has launched a new entry in its long running Zoo Tycoon simulation game series, Zoo Tycoon Friends, as a free-to-play game for Windows Phone and Windows 8.1 devices.
The game is much like the previous titles in the series in that the player is charged with creating and maintaining a zoo, and all of its animals, while also trying to attract visitors. Zoo Tycoon Friends also has a mission-based mode where they control human characters who have to rescue animals around the world "in peril from global warming, flooding, drought, and other natural and man-made threats."
Here's a quick list of the game's features, which include an unnamed bonus if you own the Xbox One Zoo Tycoon game that came out in 2013:
Create your ultimate zoo and release animals to nature reserves to aid conservation efforts!
Free-to-play game syncs automatically between your Windows 8 phone, tablet, and PC!
Bond with more than 40 amazing interactive animals in your zoo!
Bonus one-of-a-kind story and mission design!
More than 100 animal-friendly missions!
Get creative! Decorate your zoo and share it with your friends!
Connect with your friends through Xbox Live and Facebook!
Special bonus for Zoo Tycoon for Xbox One players!
Achievements are reflected in your Xbox Live gamerscore!
Unfortunately, the Windows Phone version does not currently support 512 MB devices. Hopefully this will be dealt with in a future update. If the game doesn't show up on your device, you might want to wait as it might still be propagating in the store fronts. Will you be getting this game and making your dream zoo? Thanks to Joe for the tip!
Not available on Lumia 1520 in india

But is available for L525 in India... ;) :P

No its not available for my Lumia 525

Also unable to download from Lumia 1020 in Australia

Only available to low end devices. :P

It's available to high end devices as well. It's available on my HTC 8X.

Not available for Lumia 1320 (india)

Not available for Lumia 1520 in Malaysia either.

Poor thing, unfortunately it's available here in Malaysia :) (proud L930 user)

Same as animal tycoon park

Not available for Lumia 930 UK, try again later.

Wtf? No 512mb ram support?

Looking at the detail in those screenshots I'm not really suprised

Watch your language, and don't insult other users. Thanks.

Breaking Bad reference? "Science, bitch!" Never mind.

Ohh, gotcha. That's a little better, anyway. :)

Not available for the Lumia 630/635 because of low RAM! This is poor considering this is coming from Microsoft. What is the point in chasing the budget/young market with Cheap Lumias when key games for these consumers aren't available. I love WP but really miss Android Gaming (Clash of Clans, Boom Beach, Game of War Fire Age etc). Come on Microsoft, you can do better.

10 Years Ago my Windows XP desktop PC had less Ram and could play better games than this. Why no 512 support?? Epic Fail.

Windows phone apps aren't allowed the full 512 MB. On a 512 device, they are allowed 80 MB and can request another 100 at runtime or something. So on those devices they're allowed a max of 180 MB.

True, but he does have a point, I remember Windows 98 PCs with 128MB of FP memory. yes, I was running games like MS's flyight and racing simulators, Wing Commander III, Heroes of Might and Magic. All pretty big games with somowhat demanding graphics. And the whole system only had 128MB of ram, video cards had like 4MB, and sound cards shared system memory.

Clash of clans lol play Age Of Empires:Castle Siege and you'll forget that clash of clans even existed. Clash of clans is a poor attempt at an age of empires copy.

I have been playing 'Siege recently and it is better, but still miss Clash I'd been playing that daily for over a year on Android and was in a good clan. My point is Microsoft needs to focus on improving the Gaming Apps available on WP. There's too many top games unavailable which I know isn't solely their fault but they could do more with developers to even help fund the porting of popular games. All of their own games should be available for all 2014 Lumias from the Go if they don't want new Windows Phone users to be disappointed too.

Do you realize the amount of abuse there would be if Microsoft stated shelling out funds for big name apps and it became common knowledge? I'll never forget there was a kickstarter, can't recall what program it was for, but it was offering support for Android and Apple and the guys had the nerve to add a special caveat that Microsoft needed to pay them directly for them to develop for Windows and Windows Phone which is NOT what a kickstarter is for. The comment was quickly pulled but it tells you the mindset of some developers and why a multi-billion dollar company paying them directly for a port versus offering them development tools is a bad, bad idea.

It's not uncommon, do you think Samsung owners kick off that part of their purchase goes to Microsoft's patents $1 Billion plus last year? Amazon have already been doing this for a while on two levels to bring Google Play Developers over to Kindle Fire & Fire Phone. Top level is deals done under confidentiality agreements that would never be made public. On a lower level they are coaxing developers with thousands of free Kindle Coins. Point is look at the top 100 Games on iOS and see how many are on WP? All Lumia reviews get marked down for the ecosystem and app availability. Microsoft need to be far more aggressive in chasing top developers with more than a free 800 device.

"Do you realize the amount of abuse there would be if Microsoft stated shelling out funds for big name apps and it became common knowledge?" You mean like this?... http://www.theverge.com/2013/6/15/4433082/microsoft-paying-companies-100...

Ah, The Verge. Now that's a Anti-Microsoft, Anti-Blackberry PoS if I ever saw one. I wouldn't trust them to be unbiased if my life depended on it!!!

The key word is "reportedly". Where is the proof outside of someone claiming that their friends say it's so if you go back to the original BusinessWeek article? I'm not saying MS has never paid app developers to port stuff but I am saying that if they do so it's more likely for vital apps and not flash in the pan games otherwise every single small-time game developer would holdout in hopes of a handout.

They are right though. It's common for Microsoft, Nokia, and many other companies to pay developers to port certain games and apps to their platforms.

Sega used to do it back in the day to get games on Genesis and later with Saturn.

yupp agree eoth ages of empire but

This game got such a" hight" graphics that 512 ram can't handle it ahahahah piece of "shirt"

So, it's a "piece of shirt" because only "hight" end phones can run it?

Keep going Microsoft Studios: Another game not available here in Brazil.

Downloaded it w/o problem in my 920 here.

Not available Lumia 820, UK

They need to support 512 MB RAM devices....

relax, I believe MS will make it available for 512MB Ram device soon

Hey, I trademarked that. Microsoft pay me to use it :P

Windows Store link broken for US.

Sad, not support 512mb :'(

Not available for 930, UK

Not available for l920 uk

Same, cant purchase on 930, UK. Bugger.

UK people change region to US

No. Why should I have to mess around with settings?

Changed region to U.S. and now downloading a bit of messing around but ill have it in uk

Update; only let me play tutorial then cant connect to server problem arises dont worry about the 512mb you guys aint missing out on anything

Not available L920 mexico

Change the region of your phone to US, download the game and then return to your region. It's relatively easy and quick.

I have a lumia 925 but this app doens't work

No 512mb ram?! Unplayable game for lonely store.. It just get more worst.. :(

No 512mb ram?! Just unplayable game for lonely store.. It just get worst future.. :(

I can't install the game on either my Lumia 930 or Windows 8.1 laptop (NL)

Give it time guys, just not hit the uk store yet.

i cant find this on my phones store or the surface rt store

Another Xbox title hell yes!

Not available Lumia 925 Portugal

Why are the animals so freaking huge?

I won't by be getting this as I couldn't care less for games with animals. I would send the link to my sister but since it doesn't support 512MB devices, she wouldn't be able to play it on her 620 anyway. At any rate, it's not even available on the 920, 930 or 1020 in Portugal.

Windows 8.1, Malaysia
Not available :(

it's only available in a US at a moment hopefully comes to other countries

Also Türkiye is not available!

Not available in Australia on any of my devices :(

The fuck????!!!! They should know that they are users doesn't have a high end phones

You should know that with a low end phone you're not going to get every single game.

You bought a low to mid range device so you don't get the assurance that "ALL" the apps would run on your phone.. just wait for them to release an update..

Will check later. :) looks fun

I wonder if they included saving all the birds that are being chopped up by the windmills.

Not available for 1520 in Singapore

really nice game shame its not a universal app though

For those who complained that the game is not available for their country, can't they just change their region then download the game? Correct me if I am wrong.

Playing now on my Lumia 928 US. It's fun with a nice sense of progression, but I see it be a COMPLETE grind later.

i just changed my phone to US i live in england its not that great it's very time oriented it's like playing sims free time but if you like sims free time you will love this game

Kudos on the Phone/Laptop image overlay to emphasize synchronization between devices:D

Warning***: I tried to buy 1800 diamonds for 5$ (welcome offer) but after paying the cash there is no diamond added in game. I think MS stole money from its best fan. :D

Same thing happened to me!!! It was for one of the missions! I didn't get any diamonds either

WARNING: DONT USE IAP's... EVER... FOR ANY GAME.

Fail. Not optimized for 512 mb phones.

Not available for Lumia 930, Sweden. And it has 2Gb RAM

I definitely have to share this one with my daughter. Back when her age was still written with a single digit, she proved she was destined to be a marathon gamer -- 10+ hours at a time on Zoo Tycoon PC if I let her. I probably should have worried more that she loved it when the lions got loose...

512 user. Bummed. Really.

My tiger is so huge, twice as huge as its cage...

Can't be found in the Windows Store.

Loving it on my 928. It's closed on me once or twice, but not a big problem, I'm loving my zoo. However, I have the Windows 10 tech preview, and the game seems unavailable for download on my PC. :(

Windows 8.1 - change region on "Trinidad and Tobago" works!! :)

I contacted Microsoft & they advised that they will be shutting down the servers on April 28,2015. But most people can't log in since January so not sure what Microsoft is doing. They should be refunding everyone on this, seriously Microsoft what's going on, sad.
Windows Central Newsletter
Thank you for signing up to Windows Central. You will receive a verification email shortly.
There was a problem. Please refresh the page and try again.