Zune Desktop features changed once again, App Marketplace not in sight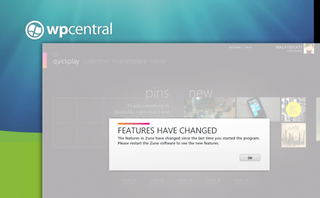 If you've launched your Zune Desktop lately, you've probably seen the pop-up message alerting you that features have changed. When you re-launch Zune you will find that there is no longer a Zune HD marketplace listing.
The only options available under the Zune Desktop Marketplace listing are Picks, Music, Videos and Podcasts. The option to view Apps, both Zune and the resurgent Windows Phone 7 apps, have vanished. We know that Microsoft is in the process of renovating the Zune services over to Xbox Music and this change could be part of that process.
While the Zune Desktop is still used for music, video play and syncing with your Windows Phone, Microsoft shifted the app marketplace for Windows Phone to the web Marketplace back in May. Citing that more used the web option more, Microsoft shut down the Zune avenue.
For those of you who want the desktop Marketplace back, you can re-enable with a registry editor and 30 seconds of your time. The method came from Russian Windows Phone users and was tipped in our comments:
Open registry editor, go to HCU\Software\Microsoft\Zune
Create a key with the name "FeaturesOverride"
Inside this key create a DWORD value with the name "Apps" Set "1" to created value
Close registry editor, start Zune and if it works
Not sure what the next feature change will be with the Zune Desktop. Maybe change the change the "Marketplace" listing to "Xbox Music"?
Thanks, Aaron, for the tip!
Windows Central Newsletter
Get the best of Windows Central in in your inbox, every day!
George is the Reviews Editor at Windows Central, concentrating on Windows 10 PC and Mobile apps. He's been a supporter of the platform since the days of Windows CE and uses his current Windows 10 Mobile phone daily to keep up with life and enjoy a game during down time.
HCU should be HKCU, which means Hkey Current User for those that aren't familiar with the registry. Also, to open the registry editor go to start and type regedit in either the search box or the run box, depending on your version of Windows.

I been so happy w my Zune HD but I guess ms doesn't care if we still own one. Maybe I should also stop supporting there products. I also own an HTC one x & yeah all the Android haters could talk about what OS is better yes I still use my focus S as a primary phone bc I also prefer WP FIRST but ms will also be supporting Android & iOS & even before there own products.

Zune HD is old and dead. So calm down.

Zune HD was discontinued 3 years ago. I still have one too, but I accepted it's time to move on. Your WP functions the same way and doesn't waste much battery. Time for crying is over.

Zune HD was launched 3 years ago.

Like already said, Zune is dead. Like my old mp3 a few years old, the support stopped

I swear I've seen this before..

I agree. Nothing to see here guys. Old news, different day. Let's move on. Xbox music and Xbox videos here to stay. The marketplace is on our phones.

Umm... you didn't mention that the entire "social" tab is now gone too, per the Zune Music Pass email that went out several days ago.

I really hope they bring it back under a different name. I loved seeing what others are listening to, and it was just baked into Zune. Zune Social was a missing piece on the Zune hardware and our phones.

whatever they are doing I* hope they get it up and running over the weekend.

I was wondering what had happened. I did the HKey mod back when they took out marketplace a few months back. Apparently, the changes I made, protected me from changes this go around. I didn't notice any changes when I restarted it. THen again, I'm not a huge user of the services. I just use it to load/play podcasts and keep my music files in order on my computer. I'm not a big subscriber, socializer, etc, so I don't really push the envelope on the features.

Since the change I can't sync my Lumia 800 over the Air :(

That's broken in windows 8. It may be they finally broke it 7 too.

It's clear they will end up getting rid of the desktop Zune client, but will they replace it with something else so we can get updates for our WP7.5/WP8 phones? Or will WP8 get updates directly over the air and wont use desktop software? As of right now thats pretty much all I use the zune software for and organizing pictures, music, videos on my phone. Much of the marketplace has been replicated already in Windows 8's native apps but syncing, updates and organizing ur media is not there in Windows 8 for your phone.

WP8 is reportedly using an OTA (Over The Air) update mechanism... But, We still have to see how W8 deals with the WP8 without the Zune sw...

What app will we use in windows 8 to sync our windows phone? Zune software still?? Is a new version going to be released?

It's going to be built into the OS.

I think I was one of the 15 people who actually used the social function, though the fact that the social is gone doesn't even piss me off as much as the fact that my play count, badges and history are now kaput. I don't remember reading about that going away in the email...

Really? That blows, I was hoping that would stick around even if not update any more.

I managed to get the social features back by using the same method to get the Apps back, and adding a DWORD called Social under the Apps DWORD.

I do that registy and i get it .... TNX a lot.

Can also access Zune hd apps through wifi connected Zune HD player

Its not the just the app marketplace that they took out, according to the email they sent me, they also disabled social, mixview, and music videos.

So that's why my music counter dissapeared (under my gamertag/Zune tag and next to my avatar)

Just want each Zune device feature replicated in the phones. Too often, we've used the phone in lieu of Zune and discovered we couldn't just start the podcast over from the beginning. The old artist pic in the background bit is also missed... Make wp8 as sweet, please?

What you talkin' 'bout, Willis? The artist background pictures are on the phone. You can see them on your lock screen and while in the music/video app when playing music. The only thing missing is the pictures section when viewing a particular artist. The bio, albums, songs, related sections are all still there like on our old HD's, just not pictures.

This also completely removed the apps that I already had downloaded.

I did this procedure and it worked 100%, so after installing the app refresh marketplace, this app only appears (refresh marketplace)! Pliz help!
Windows Central Newsletter
Thank you for signing up to Windows Central. You will receive a verification email shortly.
There was a problem. Please refresh the page and try again.