10 Xbox Windows Phone games from Electronic Arts on sale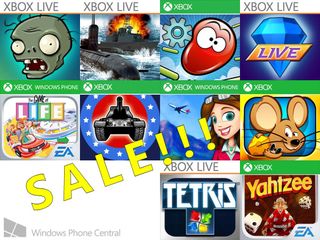 On top of a stellar Red Stripe Deal this week (Chaos Rings), Windows Phone gamers have another Xbox game sale to tempt their wallets. 10 Electronic Arts games are on sale for 30-40 percent off.
The most exciting discount comes in Plants vs. Zombies, a terrific game that hardly ever goes on sale. Both it and Bejeweled Live are three bucks. A slew of games that regularly sell for $2.99 will ring up for $1.99 instead this week, including: Battleship, Blobster, The Game of LIFE, iBomber Defense (ugh), Jet Set Go, Spy Mouse, Tetris, and Yahtzee.
Descriptions and Store Links after the break!
Plants vs. Zombies (Windows Phone 7 and 8)
Regular price: $4.99 Sale price: $2.99 Download size: 82 MB Store Link
Alright, so iOS and Android are enjoying Plants vs. Zombies 2 while Windows Phone users languish with the first game. That is regrettable. But on the other hand, the original Plants vs. Zombies is a game that everyone needs to play. I get the feeling that some of you still haven't tried it yet, in which case this sale gives you the perfect excuse to snag it up already. How else will PopCap know that we want the sequel?
Plants vs. Zombies is a tower defense game like no other. Zombies are invading the player's home, and only a host of attack plants will fend them off. The variety of towers, err, plants at your disposal (49 in all!) is amazing and allows for all kinds of strategies.
Adventure Mode's 50 levels will take a fair while to plow through, but that's only half the game. 19 unlockable minigames really do flesh out the package and keep the fun going. Even when you're not playing, don't be surprised if the catchy soundtrack (including a brilliant music video during the end credits) gets stuck in your head. Check out our full review and developer interview for more information.
Battleship (Windows Phone 7 and 8)
Regular price: $2.99 Sale price: $1.99 Download size: 46 MB Store Link
Battleship is an adaptation of the popular board game from Milton Bradley. In the Classic game type, two sides take turns blindly firing at each other, trying to find and destroy the other's ships. Yawn! Salvo mode works much like classic, but moves faster than traditional games because you're allowed to fire as many shots per turn as you have remaining ships. So much better. The new Superweapon mode adds a variety of weapons to the gameplay, mixing up the traditional dynamics.
This was actually the first Xbox Windows Phone game to support online multiplayer. However, said multiplayer is super buggy and the whole game is super slow and takes forever to load. Check out our review for the scoop.
Bejeweled Live (Windows Phone 7 and 8)
Regular price: $4.99 Sale price: $2.99 Download size: 46 MB Store Link
Bejeweled is the classic match-3 puzzle game that has enchanted casual gamers across a variety of platforms. If you're hungry for a simple puzzle game to play whenever a spare moment pops up, Bejeweled is a good place to look. As our review indicates, the Windows Phone version has three ways to play: Classic, Race the Clock, and Endless. It's also got some tough and grindy Achievements despite being a casual title, but that's PopCap games for you.
Unless you just want the Achievements, I would strongly suggest you skip this one and buy Bejeweled Live+ instead. It's $3 all the time and a much better game to boot. See our Live+ review if you need convincing.
Blobster (Windows Phone 7 and 8)
Regular price: $2.99 Sale price: $1.99 Download size: 13 MB Store Link
This is the first time that former Nokia exclusive Blobster has gone on sale. A casual platforming game, players control a little blob who must stop the Big and Powerful Corporation from polluting the land of Blobtopia.
Let's be honest, Blobster is not the most impressive game in the Windows Phone lineup. The backgrounds are completely flat and the rest of the visuals lack flair as well. But the Achievements are pretty quick and easy, as Arsenic 17's Achievement Guide reveals. Maybe you'll soldier through it for the GamerScore.
The Game of LIFE (Windows Phone 7 and 8)
Regular price: $2.99 Sale price: $1.99 Download size: 23 MB Store Link
The Game of Life brings the popular board game to your phone. It simulates a person's path through life, from getting a first job, going to college, getting married, having kids, and eventually retiring. Players spin a wheel for movement, collect 'Share the Wealth' cards that help them or hinder opponents, and occasionally choose between different life paths to follow.
The Windows Phone port supports single- or local multiplayer – no online play, unfortunately. But the Achievements are fairly easy and the game itself is decently interesting for a few playthroughs. Check out our review for lots of details.
iBomber Defense (Windows Phone 7 and 8)
Regular price: $2.99 Sale price: $1.99 Download size: 71 MB Store Link
I don't say this often, but here's a game nobody should buy. Scottish developer Cobra ported iBomber Defense and Storm in a Teacup to Windows Phone. Both came out pretty bad, but iBomber Defense is the worse of the two.
What would otherwise be a by-the-numbers but fun World War II-themed tower defense game is ruined by extreme bugginess and poor frame rates. The game crashes so much, it makes several of the overly difficult Achievements just about impossible. Even after several updates, iBomber Defense remains a buggy mess. See our review for more glitch-filled horror stories.
Jet Set Go (Windows Phone 7 and 8)
Regular price: $2.99 Sale price: $1.99 Download size: 40 MB Store Link
This marks the first time that former Nokia exclusive Jet Set Go has been on sale.
Jet Set Go is a time management game that looks quite a lot like Sally's Salon. This one has a less feminine theme though, so even insecure male gamers will be able to play it! Instead of running a salon or a day spa, the game puts players in charge of a travel agency. Guys travel too!
Tending to the various customers involves a variety of light travel-themed minigames like choosing destinations, hotels, itineraries, and more. Keep them happy and you'll rake in the money. Earnings can then be spent on upgrades to increase your agency's appeal.
The game stretches on a bit long and requires a bit of grinding, but otherwise the Achievements are fairly easy. See our review for more information.
Spy Mouse (Windows Phone 7 and 8)
Regular price: $2.99 Sale price: $1.99 Download size: 111 MB Store Link
Spy Mouse's developer Firemint is best known for popularizing the line-drawing genre with Flight Control. In this one, they've utilized that line drawing tech to make a stealth game. Players control the titular mouse by drawing a path around each level. He'll need to grab cheese and reach the level exit without being nabbed by patrolling cats.
Each level has three optional goals such as not being spotted, drawing only one continuous path, and finishing within a certain time limit. Completing every level with those goals completed will net some tasty Achievements.
Tetris (Windows Phone 7 and 8)
Regular price: $2.99 Sale price: $1.99 Download size: 10 MB Store Link
The Windows Phone version of Tetris was actually quite slick back when it launched in 2010. It's got great visuals and a good remix of the classic Tetris theme 'Korobeiniki.' There are numerous gameplay variants such as Gravity and Radical that add a bit of variety to the game we've all played a million times before.
Some have complained about the touch screen controls (swipe left and right to steer, tap to rotate, and swipe down to drop pieces), but I find them to be natural and effective enough. Many of us older players are basically done with Tetris, having played it to death on GameBoy and DS (the best version) ages ago. But hey, maybe you still need a falling block puzzle game in your life.
Yahtzee (Windows Phone 7 and 8)
Regular price: $2.99 Sale price: $1.99 Download size: 24 MB Store Link
Sure the clone game Yahtzy is free today, but Achievement hunters will prefer to stick with the real thing. Single-player Yahtzee is kind of boring and the CPU cheats like a mother. But the presentation is good, and did I mention Achievements?
Will you be buying some of these sale games, dear readers?
Get the Windows Central Newsletter
All the latest news, reviews, and guides for Windows and Xbox diehards.
Paul Acevedo is the Games Editor at Windows Central. A lifelong gamer, he has written about videogames for over 15 years and reviewed over 350 games for our site. Follow him on Twitter @PaulRAcevedo. Don't hate. Appreciate!