10 Must-have apps for the first-time Surface owner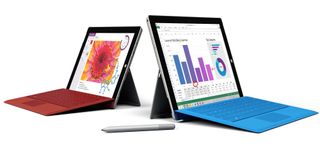 The arrival of the more wallet-friendly Surface 3 will surely bring many of the benefits that Surface Pro 3 owners enjoy to a whole new crowd. Many of these first-timers may not be familiar with all of its capabilities, options, and available apps.
So we've put together a top ten list of apps that we think should be at the top of the first-time Surface owner's list to install.
Facebook
Love it or hate it, over 1.4 billion people around the globe actively use Facebook at least once a month. And being that you are reading this technology blog, chances are you are one of them.
Facebook for Windows is a nearly fully-functional app that is well-designed and touch friendly. You can post, upload files, like, leave comments, and check in all from within the app. Friend management, messaging, and groups all work as well.
Pictures can be clicked to be viewed full-sized, and videos can be played from right in your feed.
Live tiles show you recent activity on your account, including new posts and pictures, to give you a quick glimpse of what is going on in your newsfeed. It can run in the background to stay up to date and show you Lock screen notifications.
What makes Facebook only "nearly" fully-functional is the lack of individual setting controls and the fact that certain options kick you over to your browser to access your account that way.
It may not be perfect, but the Facebook app looks great and performs well.
Download Facebook (Free)
Tweetium
If you are a regular visitor here, you've probably heard us sing Tweetium's praises. It is the Twitter client of choice, both for Windows and Windows Phone, for many of us here at Windows Central.
Tweetium is beautifully crafted and chock full of features like user name auto-complete, automatic timeline refresh, Live Tile support and pasting image data directly into the post editor. There is also built-in support for many third-party media types.
In addition, lists you've created or subscribed to, and hashtag or user searches can be saved to the navigation pane for easy access.
If you fancy yourself a hardcore Twitter user, you can sign up for Tweetium Pro ($7.99). This purchase grants you the ability to use up to seven different accounts, along with push notifications, and other benefits. The cost covers both the Phone and PC/Tablet version of the app, as it is buy once, enjoy everywhere.
Whether you go Pro or keep it simple, Tweetium is the go-to client for any Twitter user.
Download Tweetium ($2.99)
Instapic
Keeping with the social media theme, let's talk Instagram. The bad news for Instagram users on Windows 8 is that there is still no official app for the photo-sharing social media network. The good news is InstaPic, the self-proclaimed "first and only fully featured Instagram Client for Windows 8 devices."
Like other apps of its kind, InstaPic shows you all of your friends' photos and comments. But what separates InstaPic from the rest is all of the other stuff, like posting pictures and comments, adding and removing followers, and using multiple accounts.
With InstaPic, you can manipulate photos using the built-in editor, or take pictures using your device's camera and then upload them. Images from your feed can also be downloaded from the app or shared via the Windows Share charm.
InstaPic is free with ad support. If there is a better, more complete Instagram client out there, I certainly haven't found it.
Download InstaPic (Free)
Adobe Photoshop Express
With all of the different ways there are to share our lives with images, we are much more focused on making sure our pictures look great. Adobe Photoshop Express makes touching up and editing photos easy.
Photoshop Express gives you a toolbox filled with the basic editing tools that most everyday users need to touch up their photos for sharing with friends or printing to enjoy at home.
Adobe Photoshop Express is free though you can purchase additional tools and features a la carte from within the app.
Runner up: Fhotoroom - It really was a toss-up between Adobe Photoshop and Fhotoroom, which is equally impressive.
Download Adobe Photoshop Express (Free)
Download Fhotoroom (Free)
VLC for Windows 8
Universality seems to be VLC's distinguishing characteristic. You may recognize the name because VLC media player is available on just about every software platform. And not only does it play both audio and video files, but the number of different file types it supports is mindboggling.
The functionality doesn't stop there. It's built-in media library enumerates your files and fetches metadata, if you so choose.
VLC supports multi-track audio and subtitles. It also lets you control the playback speed of videos. Or if you'd rather just listen to some tunes while multi-tasking, you can let the audio run in the background and under the Lock screen.
VLC is a media player that truly does it all.
Download VLC for Windows 8 (Free)
Tubecast Pro
Let's put it this way: Tubecast Pro is the best YouTube app available on Windows and Windows Phone.
Simply as a YouTube client, Tubecast excels in design and functionality. This sleek modern style app supports various video quality, including 4K, QHD, HD, and SD. Videos can be downloaded for offline viewing, and audio from online or offline videos can be played under the Lock screen.
But there's more to Tubecast Pro than just being a superior YouTube app. The real kicker is its ability to cast your videos from your Windows computer to any number of other devices so you can share them on a larger screen. Tubecast Pro can connect to any DLNA device, like smart TVs and Xbox 360 or Xbox One. It works with Apple TV and Chromecast.
So now when you are sitting around with a group of friends and want to show them that hilarious video you came across, you no longer have to huddle around your relatively tiny screen.
Tubecast has a free version available that does not include this casting ability. However, it's a great app, so you should just buy the Pro version for less than two bucks. Being that it is a universal app, that $2.99 will entitle you to download it on your Windows phone, or any other devices, as well.
Download Tubecast Pro ($2.99)
Netflix
Netflix was one of the early official apps to land on Windows 8, and it is still one of the most popular. It is the best way for you to access your account, maintain your queue, and watch your movies and TV shows.
With full access to your account and profiles, any family member can search for content and add or remove it from their personal list. The touch-friendly interface makes it easy to navigate and control the app without the use of a mouse or keyboard.
Whether you want to stream while on the road or connect your Surface to your television at home, Netflix puts your media right at your fingertips.
Download Netflix (Free)
Hulu Plus
The old days of being chained to a cable provider for access to your favorite television shows are drawing to an end. More and more people are dumping cable in favor of services like Netflix and Hulu.
The Hulu Plus app for Windows is the ideal way to bring that content to your Surface. Hulu Plus gives you the same features and abilities as logging into the website with the convenience of a single click.
Manage your watch list, browse for shows, or watch your favorites whenever you want. The well-designed official app for Hulu Plus lets you do it all.
If you aren't a Hulu Plus subscriber or are just looking for a great television-related app, I suggest you also check out the official Comedy Central app.
Download Hulu Plus (Free)
Clipboard
Clipboard is one of the simplest, yet most useful apps that I have come across. The app creates an entry in your Share charms bar (swipe from the right of the display, or Win + C) that sends whatever data you are sharing to the Windows Clipboard. The data can then be pasted into whatever app or program you choose.
Here's an example: In the past, if I wanted to copy an app link from the Windows Store into, say, Microsoft Word, I would have to go to the Share charm bar, then select Email. When a new email message popped up, I would then copy the tap link from it and close the email.
With Clipboard, all I have to do is select Clipboard from the Share bar, click copy, and voila, I have my app link ready to paste.
The developer of Clipboard identified a detail that should have been a built-in feature of Windows 8.1 and made it themselves. It's simple, effective, and free. The more I use it, the more I will find more reasons to use it.
Download Clipboard (Free)
MSN Weather
Everyone loves a good weather app and has their personal favorite. For those of you just starting out on Windows 8.1, MSN Weather is the best place to start.
MSN Weather is a comprehensive weather app that gives you much more than just your current temperature and conditions. Instead, MSN pulls weather data from multiple sources to give you 10-day, 5-day, and hourly forecasts.
Choose your favorite locations and see weather maps and satellite images, or just browse the list of cities around the world. Additionally, MSN Weather can provide severe weather alerts to give you a heads up.
If you are a skier, you will also love the list of world resorts that includes local conditions, trail maps, 360-degree images, and even news and deals.
Once you've explored the Windows Store, you may find that you like some other weather apps better. But after being a Windows 8 user for quite a while, MSN Weather is still my weather center of choice.
Still, if you want an alternative, check out Ambient Weather.
Download MSN Weather (Free)
Download Ambient Weather for Windows 8.1 (Free)
Lastly, we couldn't post a list like this one without mentioning our very own Windows Central app. It's your one-stop app for everything Windows, Windows Phone, Xbox, and Microsoft.
Do you have an app that you think every new Windows user shouldn't go without? Be sure to let us know in the comments section below.
Get the Windows Central Newsletter
All the latest news, reviews, and guides for Windows and Xbox diehards.