10 Must-have apps for the first-time Surface owner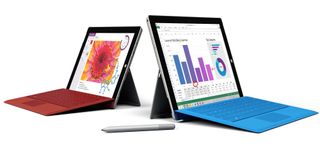 The arrival of the more wallet-friendly Surface 3 will surely bring many of the benefits that Surface Pro 3 owners enjoy to a whole new crowd. Many of these first-timers may not be familiar with all of its capabilities, options, and available apps.
So we've put together a top ten list of apps that we think should be at the top of the first-time Surface owner's list to install.
Facebook
Love it or hate it, over 1.4 billion people around the globe actively use Facebook at least once a month. And being that you are reading this technology blog, chances are you are one of them.
Facebook for Windows is a nearly fully-functional app that is well-designed and touch friendly. You can post, upload files, like, leave comments, and check in all from within the app. Friend management, messaging, and groups all work as well.
Pictures can be clicked to be viewed full-sized, and videos can be played from right in your feed.
Live tiles show you recent activity on your account, including new posts and pictures, to give you a quick glimpse of what is going on in your newsfeed. It can run in the background to stay up to date and show you Lock screen notifications.
What makes Facebook only "nearly" fully-functional is the lack of individual setting controls and the fact that certain options kick you over to your browser to access your account that way.
It may not be perfect, but the Facebook app looks great and performs well.
Download Facebook (opens in new tab) (Free)
Tweetium
If you are a regular visitor here, you've probably heard us sing Tweetium's praises. It is the Twitter client of choice, both for Windows and Windows Phone, for many of us here at Windows Central.
Tweetium is beautifully crafted and chock full of features like user name auto-complete, automatic timeline refresh, Live Tile support and pasting image data directly into the post editor. There is also built-in support for many third-party media types.
In addition, lists you've created or subscribed to, and hashtag or user searches can be saved to the navigation pane for easy access.
If you fancy yourself a hardcore Twitter user, you can sign up for Tweetium Pro ($7.99). This purchase grants you the ability to use up to seven different accounts, along with push notifications, and other benefits. The cost covers both the Phone and PC/Tablet version of the app, as it is buy once, enjoy everywhere.
Whether you go Pro or keep it simple, Tweetium is the go-to client for any Twitter user.
Download Tweetium (opens in new tab) ($2.99)
Instapic
Keeping with the social media theme, let's talk Instagram. The bad news for Instagram users on Windows 8 is that there is still no official app for the photo-sharing social media network. The good news is InstaPic, the self-proclaimed "first and only fully featured Instagram Client for Windows 8 devices."
Like other apps of its kind, InstaPic shows you all of your friends' photos and comments. But what separates InstaPic from the rest is all of the other stuff, like posting pictures and comments, adding and removing followers, and using multiple accounts.
With InstaPic, you can manipulate photos using the built-in editor, or take pictures using your device's camera and then upload them. Images from your feed can also be downloaded from the app or shared via the Windows Share charm.
InstaPic is free with ad support. If there is a better, more complete Instagram client out there, I certainly haven't found it.
Download InstaPic (opens in new tab) (Free)
Adobe Photoshop Express
With all of the different ways there are to share our lives with images, we are much more focused on making sure our pictures look great. Adobe Photoshop Express makes touching up and editing photos easy.
Photoshop Express gives you a toolbox filled with the basic editing tools that most everyday users need to touch up their photos for sharing with friends or printing to enjoy at home.
Adobe Photoshop Express is free though you can purchase additional tools and features a la carte from within the app.
Runner up: Fhotoroom - It really was a toss-up between Adobe Photoshop and Fhotoroom, which is equally impressive.
Download Adobe Photoshop Express (opens in new tab) (Free)
Download Fhotoroom (opens in new tab) (Free)
VLC for Windows 8
Universality seems to be VLC's distinguishing characteristic. You may recognize the name because VLC media player is available on just about every software platform. And not only does it play both audio and video files, but the number of different file types it supports is mindboggling.
The functionality doesn't stop there. It's built-in media library enumerates your files and fetches metadata, if you so choose.
VLC supports multi-track audio and subtitles. It also lets you control the playback speed of videos. Or if you'd rather just listen to some tunes while multi-tasking, you can let the audio run in the background and under the Lock screen.
VLC is a media player that truly does it all.
Download VLC for Windows 8 (opens in new tab) (Free)
Tubecast Pro
Let's put it this way: Tubecast Pro is the best YouTube app available on Windows and Windows Phone.
Simply as a YouTube client, Tubecast excels in design and functionality. This sleek modern style app supports various video quality, including 4K, QHD, HD, and SD. Videos can be downloaded for offline viewing, and audio from online or offline videos can be played under the Lock screen.
But there's more to Tubecast Pro than just being a superior YouTube app. The real kicker is its ability to cast your videos from your Windows computer to any number of other devices so you can share them on a larger screen. Tubecast Pro can connect to any DLNA device, like smart TVs and Xbox 360 or Xbox One. It works with Apple TV and Chromecast.
So now when you are sitting around with a group of friends and want to show them that hilarious video you came across, you no longer have to huddle around your relatively tiny screen.
Tubecast has a free version available that does not include this casting ability. However, it's a great app, so you should just buy the Pro version for less than two bucks. Being that it is a universal app, that $2.99 will entitle you to download it on your Windows phone, or any other devices, as well.
Download Tubecast Pro (opens in new tab) ($2.99)
Netflix
Netflix was one of the early official apps to land on Windows 8, and it is still one of the most popular. It is the best way for you to access your account, maintain your queue, and watch your movies and TV shows.
With full access to your account and profiles, any family member can search for content and add or remove it from their personal list. The touch-friendly interface makes it easy to navigate and control the app without the use of a mouse or keyboard.
Whether you want to stream while on the road or connect your Surface to your television at home, Netflix puts your media right at your fingertips.
Download Netflix (opens in new tab) (Free)
Hulu Plus
The old days of being chained to a cable provider for access to your favorite television shows are drawing to an end. More and more people are dumping cable in favor of services like Netflix and Hulu.
The Hulu Plus app for Windows is the ideal way to bring that content to your Surface. Hulu Plus gives you the same features and abilities as logging into the website with the convenience of a single click.
Manage your watch list, browse for shows, or watch your favorites whenever you want. The well-designed official app for Hulu Plus lets you do it all.
If you aren't a Hulu Plus subscriber or are just looking for a great television-related app, I suggest you also check out the official Comedy Central app (opens in new tab).
Download Hulu Plus (opens in new tab) (Free)
Clipboard
Clipboard is one of the simplest, yet most useful apps that I have come across. The app creates an entry in your Share charms bar (swipe from the right of the display, or Win + C) that sends whatever data you are sharing to the Windows Clipboard. The data can then be pasted into whatever app or program you choose.
Here's an example: In the past, if I wanted to copy an app link from the Windows Store into, say, Microsoft Word, I would have to go to the Share charm bar, then select Email. When a new email message popped up, I would then copy the tap link from it and close the email.
With Clipboard, all I have to do is select Clipboard from the Share bar, click copy, and voila, I have my app link ready to paste.
The developer of Clipboard identified a detail that should have been a built-in feature of Windows 8.1 and made it themselves. It's simple, effective, and free. The more I use it, the more I will find more reasons to use it.
Download Clipboard (opens in new tab) (Free)
MSN Weather
Everyone loves a good weather app and has their personal favorite. For those of you just starting out on Windows 8.1, MSN Weather is the best place to start.
MSN Weather is a comprehensive weather app that gives you much more than just your current temperature and conditions. Instead, MSN pulls weather data from multiple sources to give you 10-day, 5-day, and hourly forecasts.
Choose your favorite locations and see weather maps and satellite images, or just browse the list of cities around the world. Additionally, MSN Weather can provide severe weather alerts to give you a heads up.
If you are a skier, you will also love the list of world resorts that includes local conditions, trail maps, 360-degree images, and even news and deals.
Once you've explored the Windows Store, you may find that you like some other weather apps better. But after being a Windows 8 user for quite a while, MSN Weather is still my weather center of choice.
Still, if you want an alternative, check out Ambient Weather.
Download MSN Weather (opens in new tab) (Free)
Download Ambient Weather for Windows 8.1 (opens in new tab) (Free)
Lastly, we couldn't post a list like this one without mentioning our very own Windows Central app (opens in new tab). It's your one-stop app for everything Windows, Windows Phone, Xbox, and Microsoft.
Do you have an app that you think every new Windows user shouldn't go without? Be sure to let us know in the comments section below.
Food and drinks should get honorary mention. I like all Msn apps to be honest.

Yes MSN apps are very good

They are all pretty slick. My only problem is with health and fitness. Doesn't share with other MS stuff, like band, step data from a phone if you have one, also GPS is very limited compared to say endomondo, but overall it's a great suite.

It sync data all across windows and windows phone devices !

That's the idea, but for a device without step counters there is no place to see a step counter on the PC or surface.

I also love Sports and Money they're one of the best apps out there for reading economics and sports news.

Anybody else constantly get signed out of the facebook app and have to sign back in? It's like every other day for me...

yes, every couple of days

Not every other day but does happen way more than I'd like.

I could be totally wrong, but I believe it's a security feature. The reason I believe that, it never requests 2nd factor auth again. So it still recognizes who you are and your browser, but it wants you to add your password. I'm wondering if it has to do with the fact that you could do child accounts, etc. and provide that app to your child account?

Installed it on day 1 and have never had it sign me out.

I have an outside-the box suggestion for a must-have app: Google Chrome. With Chrome you can run regular (as in free) Hulu, and with the Chromecast extension you can cast to your TV. No more need to pay for Hulu+ to get Hulu on your TV.

No need for battery draining, data stealing chrome when desktop IE does the same thing with Miracast.

Chromecast doesn't support Miracast, but if you're one of the lucky few who have a Miracast-capable device, that works too!


On the other hand, if you're one of the unlucky few who have a Chromecast, you may find it to be nigh unusable. Chrome eats my SP3's battery in 2.5 hours, and local videos play more like a slideshow.

I've uninstalled Chrome from my work desktop. It not only eats up battery on my SP3, but also eats up RAM on workstations. I don't like using IE that much, but for me it is a better alternative to Firefox. I can't wait for EDGE! I tried it on a VM and it's promising.

With the microsoft miracast dongle you can mirror anything that is on the surface, not just websites on the chrome browser. Chrome is piss poor when it comes to touch and is infamous for it's using up resources and draining batteries.

I think this article was meant for Surface 1 and Surface 2 owners. In case you don't know, chrome is not available on these models.

I would suggest Nextgen Reader also

Flip Board came installed on my Surface 3. Perhaps since its part of the OEM install they didn't mention it

I wouldn't say must have apps, but apps that most people will probably drop on there without thinking.

Is that charms bar is available on win10

no, the charms bar was only on Windows 8 and 8.1

I wouldn't call Hulu Plus a must have. I will never use that ad-ridden garbage when Netflix and Amazon Prime do it better with no commercials.

Thanks! I just installed instapic! Now I can do my grams on my laptop.

can we install third party apps on surface like windows 7 or older PCs?

On the Surface 3 and all Surface Pro tablets.

Of course. And the term you are looking for is Win32 or x86 apps.

thanks for the information.

I will reccomend MSN NEWS.....A fab app by MS

Tubecast is soooo good. Credit to this site for introducing me to it. Use it every day and it is awesome at sending videos to the Xbox One. Works much better than Miracast and the new Wireless Display app for Xbox One preview members.

If you use Redbox to rent DVD's, try Movie Marquee, it's better than the buggy official Redbox app

Nextgen Reader deserves a place on that list. Also, I'd replace Tubecast with Hyper, and Hulu with Plex.

who is still using facebook?

Is the most used app after Whatsapp, and don't forget Whatsapp and Instagram are now part of Facebook. Now that there are rumours that Facebook will purchase Here maps from Nokia is a good time to say that Facebook's partnership with Microsoft is more important than ever, and now that Android/iOS code can be compiled we may see the same Facebook app for iOS/Android on Windows platform when Windows 10 is released.

Share to Speech - app lets you share from an application to a text to speech reader that's controlled by the standard system level media player controls. And it's universal, so buy it for your tablet and you can load it on your phone too. I often use it to listen to longer articles from the Windows Central app while on the go. Admittedly, I use it more often on my phone, but I occasionally use it on my Surface too.

I'll also add 2 more apps 1) Spotify web player - this is not the mobile app which plays songs randomly, in the desktop of a Surface RT you can listen the song you want or listen your playlists in sequential order. 2) Xbox music + One Drive integration which now lets you stream or download your songs from your cloud storage.

Some of my favorite apps on my Surface 3 : Clock Tile (free), Insteon for Hub (free), Kindle (free), and Teamviewer 10 (free for personal use).

I appreciate that we are not made to click for each item in the list only for the browser to crash from ad overload half way through.

It's funny, I've been using Surface for almost two years now, and I have barely ever used Metro apps.

I prefer hyper over tubecast. Hyper is still my favourite youtube client of. The ability to watch and download videos ( to any user specified folder) up to 4k is very handy. No other youtube client can come close

Xbox Music and OneDrive should be added.

I don't thik there is a single app here I would bother with. Why would you use an app for Facebook/twitter/instragram when you can access them from your browser? I really don't see the point. The existence of Clipboard simply shows how deeply flawed teh whole app model is in teh first place. Again, if you were using your browser, you'd just CTRL+C, then CTRL+V. Photoshop Express is a joke, you'd be much better off with a proper image editor like GIMP. I suppose Hulu and Netflix would be OK if you actually subscribe to those services. I've had VLC installed for ages but I can't recall ever using it as Zune or WMP have all my file types covered. Lastly, MSN Weather might work well in teh US but I can assure you ti is hoeless in Australia. You reall yneed to find a weather app that uses local data for your area because global systems like forecast.it and Weather Underground might have remote stations everywhere but their forecast models are heavily skewed toward North America. I once had a weather app powered by forecast.it tell me it was 34C at 1am, when my thermometer said 19C. Looking at the apps I have installed, I'd say there is not a single one I would describe as "essential" that doesn't come pre-installed with Windows, except maybe for the Windows Phone app.

With Windows 10 the clipboard charm will be gone right? Since there is no charm menu.

One of my gazillion reasons I hate Windows 10.

I don't think these apps exactly put the capabilities of the Surface to its limits somehow...

NextGen Reader, Flipboard , and CBS News are my go to news apps. Drawboard PDF is a really cool app for editing PDFs. I personally like KVAD Photo+ for photo editing. There is a free version and a paid Pro version in the store. Everyone will have a different opinion on what are essential apps based on individual wants and needs. VLC has potential if the developer keeps adding features and working out the bugs.

1. I find the FB app annoying to use compared to, believe it or not, the straight up website. 2. Tweetium - agreed, on both the PC/table and the Windows Phone. 3. I have an Instagram account. And I have Instagram Beta and 6tag on my Lumia 1020. I can count on one hand the number of times I've sent things to Instagram. Just don't see the point. 4. I hate all things Adobe. Their software is bloated and slow. And who wants to spend a year learning the ins-and-outs of photo manipulation required by Photoshop when many other faster, easier to learn, apps exist? 5. VLC - again, agreed. I don't use it a lot, and it's been a bumpy road to get here, but when I do I'm reminded why I'm glad I have it. 6. YouTube clients are a very subjective animal. I prefer SuperTube on my Lumia 1020and MetroTub on my tablet/PC. 7. Netflix - yes, although becoming more and more limited in any entertaining selection (Daredevel notwithstanding) compared to the MUCH better Hulu Plus, but Netflix is still holding on. Just wish THEY WOULD FIX THEIR HORRIFIC XBOX ONE APP! It's completely useless. 8. Hulu Plus - hands down, the best service on any platform. 9. Clipboard - I just don't see the point of this one. I right-click or press-n-hold to copy to the device clipboard and paste it where I need to. No magic. 10. Dear heaven, I had all the Microsoft apps initially...until they rebranded them MSN. Then I dumped them all. I refuse to use anything branded MSN. I don't care if it was the last app in the store.

Don't get me started on Adobe software. Their software is vastly overpriced in addition to being bloated and slow. The cost of Adobe software make Office 365 look like a bargin.

Thanks for the great summary. It is good to see some one who knows what they are talking about providing some objective critique.

TouchMe Gesture Studio is a must have for an enhanced touch-friendly experience.

Thanks for the Instagram and clipboard apps. Now my Surface 3 is complete. As a Surface user from the first generation, I'm surprised that I never heard of these two great apps, but as always Windows Central helps.

An app I'd really like to see is one that would let a non-LTE surface 3 get location info over bluetooth from a phone, so that Here maps etc would behave pretty much as they do on a Windows phone. Having the two bt-linked so that either could be used to find the other nearby seems like it might be useful too!
Windows Central Newsletter
Get the best of Windows Central in in your inbox, every day!
Thank you for signing up to Windows Central. You will receive a verification email shortly.
There was a problem. Please refresh the page and try again.