10 Xbox games perfect for gifting this holiday season
If you're looking for some tips on what Xbox games to get for your friends and family this holiday season, look no further!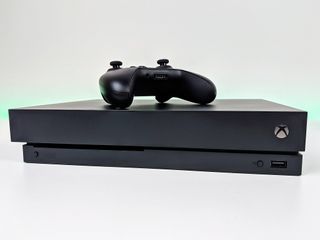 As we near the end of autumn and brave the crisp and frosty embrace of winter, Christmas yet again finds itself on the radar of people everywhere. Xbox users are sure to be hoping to receive some new games to play on their consoles this holiday season, so we put together a list of 10 of the best titles around that are sure to bring smiles to the faces of friends and family. Each one is Xbox One X Enhanced, so they're perfect for anyone who owns the snazzy new machine.
Assassin's Creed: Origins
Assassin's Creed: Origins is one of 2017's biggest gaming hits. We think it's fantastic; boasting an ambitious new combat system, an expansive open world, strong narrative, and arguably among the best visuals ever achieved in a video game when played on an Xbox One X, Origins is a must-have for any fan of the Assassin's Creed series. This is, without a doubt, one of the best games you can gift to someone this holiday season.
See at Amazon (opens in new tab)
Agents of Mayhem
Ever wondered what would happen if you crossed the art direction of Overwatch with the free roam gameplay of Saint's Row? Agents of Mayhem is your answer. In this game, your goal is to cause a copious amount of, well, mayhem in order to draw out the enemies within futuristic, high tech South Korea. Pistols, shotguns, rifles, grenades, cars, and more all are able to be used in order to achieve this objective. Overall, Agents of Mayhem is the perfect title for casual gamers looking for fun ways to blow stuff up.
See at Amazon (opens in new tab)
Fortnite
Fortnite is a unique blend of a shooter and a tower defense game. Using your trusty pickaxe, you have to mine cities, forests, and mountains for wood, stone, and metal. Then you must use your imagination in order to construct powerful forts around a vulnerable objective in order to protect it from zombies. Traps, walls, automated turrets, and more are just the tip of the iceberg of what you can build. Of course, you also take the fight to the zombies directly with various firearms of your choice as well.
Also included with a purchase of Fortnite is Fortnite Battle Royale, a free-to-play PvP mode in which players shoot and build to compete to be the last one standing. Overall, Fortnite is perfect for players who love creative, strategic gameplay.
See at Amazon (opens in new tab)
Wolfenstein II: The New Colossus
After the incredibly popular Wolfenstein games The New Order and The Old Blood launched in 2014 and 2015, respectively, fans knew more games were coming. And come a new game did, in the form of Wolfenstein II: The New Colossus. In The New Colossus, players take part in a brutal and violent story in which resistance fighters push back against the Nazi military, which, in this universe, won World War II and dominated the world. Bloody, action-packed and over the top, The New Colossus is right up the alley of players who enjoy intense shooters and brutal violence.
See at Amazon (opens in new tab)
Resident Evil 7: BioHazard
Resident Evil 7: BioHazard radically alters the formula of the series but in a positive way. Taking elements from other popular horror games and combining them with those of Resident Evil, RE7 is an ambitious experiment that ultimately paid off. A great blend of horror, stealth, combat, and strategy, it's the perfect game for people who want to immerse themselves into a nightmare and fight their way out of it with guns, crafting, and a sharp mind.
See at Amazon (opens in new tab)
Call of Duty: WWII
After a string of advanced movement, futuristic style games over the course of the last few years, Call of Duty has made a firm return to the franchise's roots with Call of Duty: WWII, a title that brings back "boots on the ground" gameplay that classic CoD fans love. Featuring a fun, solid campaign and a highly enjoyable multiplayer, CoD: WWII is a great choice for players who love fast-paced shooter gameplay and simple mechanics.
See at Amazon (opens in new tab)
Gears of War 4
Set an entire quarter of a decade after Gears of War 3, Gears of War 4 delivers a rich and quality story in which Marcus Fenix's son, James Dominic Fenix, has to fight a devastating new foe. Complete with a brand new protagonist, the game is intense, emotional, and touching. Gears of War 4's story perfectly compliments the game's refined cover-based third-person shooter mechanics, and any player who likes strong character writing and tactical gameplay will be more than satisfied by Gears of War 4.
See at Amazon (opens in new tab)
Forza Motorsport 7
Forza is considered by many (including our very own Richard Devine) in the gaming industry to be the "king of racing", and for good reason: Forza titles have always delivered an authentic and immersive racing experience. The recent Forza Motorsport 7 is no different. Featuring improved handling of cars, dynamic weather, and a staggering 700 vehicles available, Forza Motorsport 7 is without a doubt the most quality driving experience available to gamers. Anyone who loves to race will really love this game.
See at Amazon (opens in new tab)
Halo Wars 2
After almost a decade of patiently waiting, Halo Wars fans were ecstatic to learn that Halo Wars 2 was on the way to shelves. When it launched, the number of improvements made to the original game's formula was overwhelming. Gameplay was both more dynamic and more balanced, with many more mechanics added such as height advantage and artillery spotting. Pair this with a solid, entertaining singleplayer campaign that tests the player's skill and wit, and Halo Wars 2 is a fantastic real-time strategy title that will definitely impress.
See at Amazon (opens in new tab)
Life is Strange: Before the Storm
Building off of the massively successful Life is Strange from 2015, developer Deck Nine has crafted a phenomenal and faithful prequel that gives powerful insight into the events that occur within Arcadia Bay prior to the original game. Jam-packed with meaningful choices, beautiful songs composed by the band Daughter, a warm and soft pastel art style, and incredibly competent writing, Life is Strange: Before the Storm is absolutely a great game for anyone who enjoyed the first title and wants to visit this universe once more.
See at the Xbox Store (opens in new tab)
Your thoughts
Are there any Xbox games that you feel we've missed on this list? What games are you planning on buying for friends or family this holiday season? Are there any that you're hoping to receive?
Windows Central Newsletter
Get the best of Windows Central in in your inbox, every day!
Brendan Lowry is a Windows Central writer and Oakland University graduate with a burning passion for video games, of which he's been an avid fan since childhood. You'll find him doing reviews, editorials, and general coverage on everything Xbox and PC. Follow him on Twitter.
Star Wars Battlefront 2. Definitely a top 10.
Windows Central Newsletter
Thank you for signing up to Windows Central. You will receive a verification email shortly.
There was a problem. Please refresh the page and try again.