10tons worth of games now in the Windows Phone 8 Store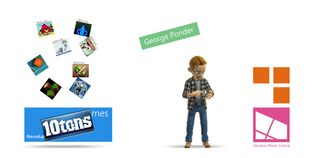 Windows Phone Central Roundup: 10tons Games
10tons isn't new to mobile gaming development with successful titles over on the Android and iOS stores. Over the past few weeks (or has it been months) 10tons has released a handful of games for the Windows Phone 8 platform that should be just as successful.
This week's roundup focuses on a handful of 10tons' games from the action/adventure to the challenging puzzle games. Each game is uniquely challenging, has great graphics and a very nice addition to the Windows Phone Store. Hopefully, what we can find now in the Windows Phone Store is but the start of a beautiful relationship between 10tons and the Windows Phone platform.
Tennis in the Face (trial/$2.99): Tennis in the Face is an adventure game for your Windows Phone 8 device where you play the role of Pete Pagassi who is battling the evil presence of Explodz, a soda pop company.
Armed with a tennis racket and exploding soda cans, Pete travels throughout the city tackling over 100 levels of game play. You have a set number of tennis balls to take out a wide variety of enemies including riot police, clowns, soda company executives, evil scientist, and more.
Tennis in the Face supports multiple player profiles to let others play the game without messing with your game progress. Graphics are fantastic, game play challenging and Tennis in the Face is a nice time waster of a game.
There is a free trial version of Tennis in the Face available with the full version running $2.99. You can find it all here in the Windows Phone Store.
Joining Hands (trial/$2.49): Joining Hands is a puzzle game of sorts where you are tasked with connecting Peablins, curious little creatures that just don't feel right unless they are holding each others hands.
You have a playing board with an assortment of hexagonal grids. You have to move the Peablins into position where they are all holding hands. The challenge comes into play with some of these little critters having multiple hands.
You have no time limits, no enemies that will appear and gobble up the Peablins (although that might not be a bad option) and no penalties for making too many moves. Joining Hands has a relaxed pace but isn't shy of challenge.
There are over one hundred levels of play, nice graphics and sound effects plus multiple player profile support. All totaled, Joining Hands isn't a shabby Windows Phone game. It's entertaining enough to be attractive to kids and challenging enough to keep the older crowd interested.
There is a free trial version of Joining Hands with the full version currently running $2.49. You can join hands with Joining Hands here in the Windows Phone Store.
King Oddball (trial/$2.49): King Oddball is an oddball sort of a game that is full of challenges, has fantastic animations and has an addictive quality that is typical of 10tons games.
You play the role of King Oddball, a disembodied head that hurls boulders from his tongue. The game has over 120 levels of play spread out across the game map where the King must wipe out the armies of the world. The game map is divided into grids and you must wipe out all the armies within one grid before the adjacent territory becomes available for destruction.
King Oddball, as with most of 10tons games, supports multiple player profiles. This is really a nice feature to let you share your game without jeopardizing your game progress.
There is a trial version for King Oddball with the full version running $2.49. You can find King Oddball here in the Windows Phone Store.
Sparkle (trial/$2.99): Okay, admittedly Sparkle looks a lot like the Nokia Xbox Windows Phone game Zuma but there's enough differences to set the two games apart.
With Sparkle you are tasked with banishing the orbs of darkness by completing combinations of three or more orbs of the same color. You have to wipe out the strings of orbs before they reach the center of the screen and enter the abyss. Each level has multiple strings to banish that come in timed waves. If you don't banish the first string quick enough, the second string appears and makes the game really interesting.
Just like Zuma, you shoot colored orbs into the moving string from a slingshot (the orb slinger) and the next orb up to be slung is displayed at the base of the slinger. You have a handful of bonus items that when shot with an orb unleash powers to help you banish the orbs. One interesting feature is a colorblind mode in the settings. This mode adds symbols to the colored orbs to make them distinguishable.
While similar to Zuma, Sparkle is strong enough of a game to stand on its own. In playing Sparkle for the past few days, one can argue it's a better version of the gaming concept. There is a free trial version available for Sparkle with the full version running $2.99. You can find Sparkle here in the Windows Phone Store.
Boom Brigade 2 (trial/$2.49): Boom Brigade 2 pits you against an alien invasion that just won't go away. The game is part tower defense, part strategy, part run and gun.
Boom Brigade 2 has thirty campaign missions where you have to defend your bunker/base from waves of invading aliens. You control your troops by dragging a movement line and they blast anything that comes in range of their weapons into smithereens.
The aliens do fight back so your troops need to be constantly moving and firing to avoid getting taken out. As you progress through the campaign levels, additional survival levels become unlocked to add more game play to the Boom Brigade 2. The survival levels are rather challenging in that everything but the kitchen sink is thrown at you by the alien empire.
Boom Brigade 2 includes unlockable upgrades for your troops, bonus items to help you wipe out the aliens, multiple player profile support, and a tactical mode that you can use in the survival modes that freezes the action so you can better evaluate your movements. Boom Brigade 2 is a fast pace, action packed game that stands up nicely for short gaming sessions or when you're in the mood for lengthier sessions.
There is a free trial version available for Boom Brigade 2 with the full version running $2.49. You can find Boom Brigade 2 here in the Windows Phone Store.
There are a few more gaming titles from 10tons over in the Windows Phone Store and these five titles seemed to stand out to us. Dragon Portals is the latest and you can find the review on that 10tons puzzle game tomorrow. 10tons has done a really nice job of things and if you have a favorite game from the developer, speak up below in the comments.
Oh... and if you know of a 10tons game that hasn't been ported to Windows Phone yet, let us know in the comments. Who knows, 10tons may be looking over your shoulder to see what interest is out there.
Get the Windows Central Newsletter
All the latest news, reviews, and guides for Windows and Xbox diehards.
George is the Reviews Editor at Windows Central, concentrating on Windows 10 PC and Mobile apps. He's been a supporter of the platform since the days of Windows CE and uses his current Windows 10 Mobile phone daily to keep up with life and enjoy a game during down time.