11 improvements Microsoft should bring to Edge
Microsoft Edge received great new improvements with the Anniversary Update, but development must continue. Here we show you 11 improvements we'd like to see on Edge.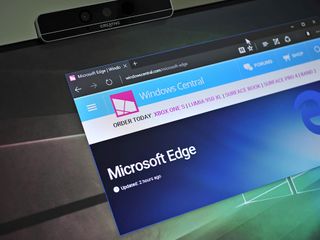 Microsoft Edge is your new default web browser on Windows 10, replacing Internet Explorer and bringing the modern web to all screen sizes with a clutter-free user interface.
With the Windows 10 Anniversary Update, Microsoft Edge received a healthy update that added a slew of improvements and changes, including support for extensions, which is perhaps one of the most-requested features from users.
The new update also brings a more power-efficient web browser on PCs and mobile devices. In addition, there are improvements for more web standards, and an extensive list of tweaks, such as swipe navigation gestures, download reminders, drag and drop for folders, the ability to pin tabs, and more.
Even with the big update, Microsoft Edge shows that has a lot of potential, but currently falls short in the number of features other browsers (e.g., Google Chrome and Mozilla Firefox) can offer.
Here is a list of 11 improvements Microsoft should include in the new Edge browser.
1. Improved settings menu
While the Anniversary Update brings a handful of new options, the way Microsoft Edge presents settings to users is not the best approach. Everything is arranged in a narrow flyout that sometimes can be difficult to access and understand.
On the other hand, Chrome and Firefox are the perfect example of how settings should be presented to users. As you can see in the screenshots below, both web browsers display their preference settings on a single page format with a navigation menu on the left, which makes settings more easily accessible.
Google Chrome Settings (left) and Mozilla Firefox Settings (right)
The flyout settings panel on Microsoft Edge is not as practical. The company should consider at least borrowing the design from other browsers and bring a better layout for settings. This shouldn't be difficult either, as many Windows Store apps, such as Maps and Groove Music, already feature a settings page instead of a flyout.
2. More context menu options
Currently, if you right-click anywhere on a web page, you'll get a limited set of options. For example, right-clicking on a textbox, you'll only get three options: "Select all", "Print", and "Paste". Other browsers let you quickly access to navigation controls, save and print options, paste as plain text, as well as an option to easily translate a web page to your native language without the need of an extension.
Microsoft Edge Context Menu (left) and Google Chrome Context Menu (right)
3. History for closed tabs
While the new version of Microsoft Edge allows you to right-click the back or forward button to access your recent history, the browser still lacks the ability to access to a list of recently closed tabs.
Quick Tip: You can always hit the Ctrl + Shift + T keyboard shortcut repeatedly to open previously closed tabs.
Microsoft Edge History without tabs (left) Google Chrome History with tabs (right)
4. Less confusing address bar
Microsoft Edge by default starts on the "Where to next?" page, when you launch the browser or when you create a new tab, which includes the address bar in the middle of the page disguised as a traditional search box.
This arrangement can be a little confusing to some people, as the majority of users are used to type a URL next to the navigation controls. (Yes, you can click the area at the bottom of the tab, but it's not intuitive.)
5. Mute option for open tabs
One of the most annoying things using a web browser is audio coming up from an open tab you're not using. Microsoft Edge includes a speaker icon for tabs making sound, but there is not an option to mute a tab like on most modern browsers.
6. Full-screen mode
On every modern web browser, you can quickly hit the F11 key on the keyboard to get into full-screen mode. Unfortunately, for some mysterious reason, Microsoft Edge doesn't feature a full-screen mode, considering that even the retired Internet Explorer includes such basic feature.
7. Better syncing capability
Microsoft Edge allows you easily sync your passwords, favorites, and reading list items seamlessly across devices when you connect to your Windows 10 device using a Microsoft Account. However, the browser still doesn't let you sync open tabs or history, which is something that can improve the user experience across multiple devices.
8. More extensions
Support for extensions is perhaps the biggest feature Microsoft Edge brings with the Anniversary Update. While there are some useful extensions, such as AdBlock, Translator For Microsoft Edge, Save to Pocket, and others, the list still very limited.
Technically, Microsoft Edge extensions are virtually identical to the ones for Google Chrome. Microsoft did this to make it easier for developers to port their existing extensions over to Edge, but it seems that the company has still some work to do to lure developers into getting more extensions on the Store.
9. Extension support for Windows 10 Mobile
Microsoft Edge extensions are currently only available for PC. Previously, Microsoft's roadmap for Windows 10 suggested extensions could also be coming to mobile devices, but the company quickly back down from the idea.
At this time there is no plans to bring extensions to Windows 10 Mobile, but there is a real demand from users, and there is always a chance that something could happen in the future.
10. In-browser compatibility mode
Microsoft built Edge from the ground up to be a lightweight web browser for the modern web. The problem is that during the development process, many features that helped to support for websites created with older technologies are not longer available, making the browser perhaps not suitable to view certain vintage sites.
Now when you come across an old internet site, you'll get a "You've stumbled upon some vintage web tech" message, which forces you to open the webpage using Internet Explorer instead. When you use Chrome or Firefox, such websites load with no hiccups, and without having to jump between different experiences to get to a web page.
Default Microsoft Edge compatibility mode (left) and Default Google Chrome compatibility mode (right)
Microsoft should consider building a feature that automatically detects a so-called "vintage" website and seamlessly load the page with a compatibility module inside of Edge.
11. Improve web standards support
Microsoft has always supported web standards, but in the past, the company had its own way to implement certain features, which wasn't always supported by every browser. This causes a lot of headaches among web developers as they needed code websites differently for each web browser.
With Edge, Microsoft is moving away from this approach and working on fully embracing web standards, so developers can code a website once and look consistently across web browsers. However, Microsoft Edge still falls a little short on supported features, compared to other browsers.
For example, if you come across a website using certain styling properties, such as filters to blur or change an image color to a grayscale, you'll notice that these properties do not work on Microsoft Edge.
Another example is "box-decoration-break", which is a CSS (Cascading Style Sheets) property that specifies how certain properties of an element are applied when the box for an element is fragmented. This property also doesn't work in the current version of Microsoft Edge.
Microsoft Edge rendering without box-decoration-break support (left) Google Chrome rendering with box-decoration-break support (right)
While these development features may be unknown for many users, they're important to developers, as they define how you see a website on your screen, and for that reason they're important for users because nobody wants to use a website that looks broken. Hopefully, in future updates, we'll see new versions of Edge with more support for web standards.
So, if a website looks a little odd, give it the benefit of the doubt, as it might just be a problem with the browser, not the web page.
Wrapping things up
Although Microsoft Edge doesn't include many features supported in other web browsers, slowly but surely, Microsoft has been proactively improving its web browser. We can already see this with all the new changes included in the Anniversary Update, and moving forward we can only expect the browser to get better.
Is there any other feature you would like to see on Microsoft Edge? Tell us in the comments below.
More Windows 10 resources
For more help articles, coverage, and answers on Windows 10, you can visit the following resources:
Windows 10 help, tips, and tricks
Windows Central Newsletter
Get the best of Windows Central in in your inbox, every day!
Mauro Huculak is technical writer for WindowsCentral.com. His primary focus is to write comprehensive how-tos to help users get the most out of Windows 10 and its many related technologies. He has an IT background with professional certifications from Microsoft, Cisco, and CompTIA, and he's a recognized member of the Microsoft MVP community.
Bookmarks management is just horrible in Microsoft Edge. They could take a lesson from the way OPERA does it.

I dunno if Opera's any good, but I sure as heck know Edge is really bad in that area.

Opera or Chrome are good examples of what is needed, at the very least!

Like seriously, Opera has the best implementation of bookmarks in the business. Simply dramatically more intuitive and powerful compared to anything else.

11 seems like A LOT of shortcomings, particularly when there are perfectly good browsers already out there--Chrome & Firefox. Once again, Microsoft is playing catch-up.

One of the reasons I'm still using Chrome.

You should try opera or Firefox tbh. Check this out http://m.imgur.com/0bwKxd7

That image is funny because comparing a newly open Firefox vs Chrome with several tabs is so fair. I was a vivid Firefox fan but the main problem with Firefox is performance, yeah sure it might behave dandy and good when you just start it and with just a few lightweight tabs but once you start loading more and more heavy sites Firefox will slow to a crawl is just painful to use, I switched to Chrome like 2 weeks ago and it works much faster.

Chrome blows chunks, and is a notorious resource hog, Add to that they refuse to support MS on anything even though they sorted out their litigation issues. MS has tried to be the bigger entity here and has supported Google by adding Word, Excel etc. to the Google Play store so Google should be polishing MS's knob. I closed down my Google account on saturday and can live without Google and their services. I hope they do get investigated for anti-competitve practices over the whole email thing a few days ago like Microsoft was over their browser in the 90's.

To be fair, 4 of those points are not that bad. For web standards, that's like a one in a million thing with the example they've given. Edge 14 has better web standards support than either Firefox 48 or Safari 10. Edge 15 in RS2 with dev stuff enabled is already ahead of stable Chrome/Opera/everything else. Most W10M phones aren't fast enough for extensions besides the browser. The Address bar is fine. Sync capability for tabs ... Only Opera has that really nailed down though really, via the Speed Dial. In-browser compatibility? That's why we have IE11 in the first place. For ActiveX, Java, legacy stuff basically.

Addressbar is indeed fine, I don't really see the real issue about it. If a user tries to click the area where the addressbar really is, it will simply work and allows you to type there, the "centered" addressbar will just animate up there to show that its the same thing. So the number 4 issue is really not a problem, heck even Chrome does this on Android and people seems not complaining about it. We are just used to having redudant addressbar. Tab syncing is really common among popular web browsers nowadays, even IE had this but they removed it on Windows 10. Opera is indeed nicely implemented, but Firefox also have the synced tabs on New Tab page if I remember correctly. On Chrome, it also used to have a dedicated menu on New Tab but for whatever logic Google did, its gone and only accessible through History menu. In-browser compatibility is indeed why we still have IE11 in the first place (though there is more reason why we still have it). Personally I haven't come across with this issue since well....I'm not even using Edge extensively. I agree that many W10M would encounter an issue having extensions, though it depends how is it really being designed to run efficiently. Heck, there is still issues on Edge that has yet to be fixed on W10M, many are performance and behaviour related. Web standards are really a difficult thing but achievable and really a critical thing to address always. The better the browser adhere to the standards, the better especially for web developers and for end-users. Browser compatibility and optimization is a real headache in web development. Gladly that MS is at least doing something about this which shows on early RS2 builds when enabling some settings under Flags. This is why I really hope that they will able to find a solution to make Edge updatable including the engine if practically possible. The only I can see is its more possible to update the higher-level components of Edge like the UI and some features not directly integrated to the OS. All depends how modular the components of Windows and Edge is and how easy to change them. I guess the issue why Edge implement things slowly is maybe because the team just way too small for a massive amount of things needed to be done. Edge is competing to more mature web browsers even IE, thus Edge has yet to implement even things considered basic to modern web browser such as Tab Syncing. Heck I can't even middle-click the navigation buttons to make new tab while I can do that in most web browsers except IE and Edge. Tab dragging is even horrible on Edge which brings me to question of the development team realize how important it is. Still I'm glad the existence of this article since it seems Microsoft just can't get these things right on Microsoft Edge and it "feels" that the Insiders are not enough to stress out things needs to be addressed first.

So only enable extension support on more powerful devices / those with more memory? Adblock for example is absolutely essential - it makes websites far less laggy and use less memory. It would be ideal for lower end devices. Sync capabilty for tabs was a great feature in Windows 8.x but it's even more needed than ever since getting a Windows Phone. I'm sure this will be coming back. I can't say that I disagree with you on some of the other points.

The comment on Edge re: bookmarks is a fair thing, its not Edge's strong suit, that being said Ihave had zero issues as far as Edge not being standards compliant, not a single one. Maybe its because I'm 45 I im not into vines and crap like that, but I do watch the odd imbedded video. It may also be the computer and its processing and power. One thing I noticed is that I recently got an HP Pavillion 27" touchscreen with an Intel Skylake processor. It replaced an old HP desktop with an old pentium with 8 gigs of ram max, and the Pavillion flat out flies....I just ordered 16 gigs of DDR 4 ram for it, and I'll be ordering a one terabyte SSD on the 15th of September, it'll be unstoppable!

The Favorites pane should be expandable like IE11. Many long address names are not visible as a whole and I have to open them to see what they are. I also like to see the Favorites to be moved to left side of the screen.

Hell, everyone should take a lesson from Opera's implementation. Freakin' amazing.

I wish for the resizing option there was Short Tiles just like in IE. Posted via the Windows Central App for Android

They should also make it so that when you move back (or move forward again) that it displays the page fast like other web browser. While better with the Anniversary Update, it still feels like Edge is reloading the page, and not using what it has cached in memory.

It's still a young browser, sadly not much people have time to wait until it matures enough to be daily used, specially in enterprises.

Many enterprises still use IE to run their web apps from their server for example. Or to log in to the terminal itself. Etc etc etc... For example, at my work place, we use TWO different versions of IE to run everything other than the website of the company, that must be seen how most of our customers see it, so it runs in a virtualized window of Chrome, accessible through the terminal, that can be opened through IE as well. So while Chrome had success as a consumer web browser, it still falls short when it comes to enterprise.

Glad that theory doesn't apply to the auto industry.
It's only a new product, so we'll fit brakes to the next one, OK?
They've been in the game for decades and are the largest software company on the planet, they should have the basics right by now!

Agree on 5, 8, 9, & 11.
Disagree on 1,2, & especially 10. That's what bloated IE.

Yep that's what ie11 is for

For 10 people can just, actually open internet explorer. It still exists in Windows 10, or di Windows central forget that?

I just prefer keeping simple and clean. It's not anything against any particular option, I just don't want it becoming cluttered with junk options you rarely use. Have extensions for stuff.

Yeah, I understand. It's flat, clean and SIMPLE. That's what we like about W10.

You're starting to sound like Apple fans. Posted via the Windows Central App for Android

Lol I know, well with Windows 10 Microsoft is taking a lot of elements from apple strategy. First making a brand, Apple has iStuff and MS now has Surface line. Windows devices used to be ugly and cheap looking,but Surface line now looks amazing. They also made some changes in advertising. Commercials are now more Apple looking. They took some "cool" Apple elements but keeping good old Windows functionality. Aaaand idk why am I writing this lol. I hope you get some point.

I get it. I just like functionality. I think it's totally possible to incorporate many things into Edge/Win10 without it being a mess. Posted via the Windows Central App for Android

I think the point author is making is to have more organized Settings menu or something like that. At the moment I don't even find much issue about the Settings UI of Edge, but it could've done bit better organanizing it and give it a Search bar to allow us to find specific settings faster. Some areas in Settings like changing Search Engine is rather odd UI design and the way we interact is bit difficult than when it shoudn't be. Extensions though needs to have its own Tab and better organization such as Alphabetical sorting especially when we got more Extensions in the near future. It will be a long hell list of Extensions if left unchecked (though I woudn't recommend people installing bunch of Extension just beceause we can, unless its all useful to the user).

Never seen, used or needed any of these mentioned... But would like a link to what I was looking at on my mobile to work

Agreed on bookmark/favorites management - it sucks. Also would really like to be able to open tab groups, I don't use Edge on my PC because of it. And edge is STILL a resource hog, I wish they could address this

Edge doesn't support editing URL in bookmarks!

I'd love it if they added "paste and go" and the ability to close Edge while saving the session.

Paste and Go is already in there. I would love to save Edge browsing sessions, though. They also need to implement Jump List support. I also want them to make it an option to change the UI more like IE 11, where the tabs are too the right of the address bar, rather than on top. It's a waste of a line. And they need to move the Favorites menu from the warped hamburger menu to the already-existing star, and make it so you can "bookmark all open tabs", and, why can't they prevent auto-playback?

Did that come with the Anniversary update? I don't have it yet.

Edge seriously needs session management and tab syncing, even IE previously (Windows 8.X and maybe even 7?) had this but they purposely removed it on Windows 10. Without this Edge feels disjoint experience between W10M and W10 PC, a downgrade experience we used to have from Windows Phone 8.1 and Windows 8.X. Jump List, gosh I don't why this is still missing though. Its one of the great Windows feature introduced since 7 and MS kept forgetting about it these days. As far as I know, its not even a limitation anymore since some 3rd-party UWP apps have this. Its a time saver having Jump List options. Manual Full Screen is oddly missing for whatever reason. Not to mention they seem to forget the UX they did for Metro IE which is good for tablet use, even for desktop its also good if you want more less cluttered UI which I wish to have it even for windowed state, like collapsing UI on OneNote for desktop.

Actually highlight right click paste and go is NOT in there idk where you are getting your info. This is still one of top requested features and makes NO sense as to why its not there. I have the most current fast ring build and it indeed is not there.

Both options are there in Edge 14. Except if by "same session" you mean something like Opera's implementation.

Talking about standards, Microsoft have already stated that Edge is a "pure" HTML5 browser. This means there will be no experimental or proprietary parts of HTML5 added.

I can work through bookmarks in Firefox by just hovering over folders and subfolders. In Edge, I have to click through each one. I'm also not crazy about the side placement of bookmarks.

I need webm support and a speed dial feature for me to use it as my everyday browser

I'd like to see if search for a site fails, search for string to continue just like in a search engine. ex.: Searching for bsod when hitting "filename.sys".

I like Edge's settings fly out and prefer it over a full page.

The fly out works for now because the are so few settings. So, in a way, it's good because it's bad.

Yeah, at the moment its not that bad really and I kinda like it this way for now. But they could've done bit better organizing the settings to be more logical and have better sectioning between the set of settings. It also needs a Search bar to easily find specific settings without hunt and scroll. But we can't have this UI for longer when Edge got more options and features, since this type of UI will easily overwhelming with long wall list of options.

I actually find that way that 3rd party browsers present Settings, as a web page on a new tab, is unnatural. It flouts common PC user interface conventions. They presumably do this because of the requirements of cross-platform support: minimizing the amount of native UI code is a benefit to the programmers. But a first-party browser should use user interface conventions native to the OS. We can have a different discussion about the organization of Edge settings, but I don't find them to be particularly hard to figure out.

#4 is clearly intentional. The average user will just type where the cursor is which, while it gets you where you want to go, also registers as a Bing search increasing usage stats. Very cleverly designed.

You know they actually added that. But it won't work with a standard video tag so it's rather useless for sites already using it.

Great list! That's exactly what I expect from this browser.

Also make it more touch friendly in tablet mode, like modern IE was... In this way, edge is still far behind modern IE from Windows 8/8.1

Ad block doesn't work properly, neither does lastpass

Why don't they give it to our mobiles too. It seems that MS is bent on killing the Windows mobile.

Most W10M phones have 1 GB ram and a SD400 at 1.2 GHz. They barely run Edge 14 at adequate speed. Extensions would be overkill.

You think Android has all high end phones? Firefox on Android supports extensions. If your phone can't handle them, you don't have to use them. Choice is good.

How did this get downvoted? You're right - if your phone runs badly with them you can turn them off but for the others we desperately want them.

"Most" What about me? My 950XL has 3GB of RAM. Extensions like adblock would make browsing faster, not slower.

Add a drop-down for recently typed URLs.

Extensions in private mode. Ability to drag texts from webpage to address bar or new tab.

i've read the article, read coments and i'm thinking people forget one thing comparing edge to other browsers - the speed and resource consumption. i may be in the minority or even the only one who realy liked metro ie in windows 8 (and i'm still hating the desktop ie). i don't want to wait several minutes while my browser loads all that features when i just want to quick serch for some info on wikipedia or read some news while having some coffe. if you need all that power user features you should go with chrome or firefox. if you want just to read some news on the web i think edge is the best. the only feature i miss is full screen mode. i really hope they keep edge as lightweight as possible.

Lol edge freezes on everything for me. Posted via the Windows Central App for Android

Middle-click to open and close tabs. I'm so used to doing this in Chrome and Firefox, that it feels odd when it does not work in Edge. It's a small feature, but goes a long way in usability for users like me.

When you click the middle mouse button / scroll on a tab in Edge AU it closes it, so here you go.

Middle-click to on links to open in a new tab and middle-clicking tab to close it is already here before Anniversary Update. What's not working is middle-clicking Back and Forward buttons which is indeed inconvinient on the workflow. Tab dragging though needs to be drastically improve, its seriously "broken" and odd to use. Its way too easy to drag-out tabs but its difficult to put it back since you can only drag it back within the currently opened Tabs but not on blank area of Tabs. Not to mention draggin the tab doesn't tear properly and it takes time for to UI render the tab dragged that it feels like the tab is gone or closed but it will surprise you sometime that you just opened a new window. The experience is really poor in this area which needs improvement.

#1 Improvement - make it better.

My list: Bookmarks manager (import/export and ability to edit urls). Better right click menu (open link to InPrivate Window). Ability to select what extensions you run in InPrivate mode. Better ability to import bookmarks, passwords etc. from other browsers. Ability to sync your bookmarks to Microsoft account when you are using local windows account.

You forgot making it more stable! Out of all the browsers it's the one that locks up or crashes the most often. The only resolution is rebooting. And yes I did a clean install of the anniversary update last week. The browser is buggy...FACT.

They should include speed mode and ability to pause a download for phones.

For mobile browsing: in iOS you can long-press the reload icon, and it will offer to reload the desktop version. Much more convenient that digging in the settings menu. Please steal this MS!

honestly, just copy and paste all chrome code and improve it's performance on touch screen and power usage. that's all. chrome is the absolute perfect browser other than the two points.

My list: 1. Mute option for open tabs
​2. Edge should remember its windows size since it was last open
​3. Webpages pinned to the Start Screen should keep their InPrivate mode when launched from there
​4. Webpages pinned to the Start Screen should display the website's icon and we should be able to edit a webpage tile's title
​5. Sync'ing bookmarks everywhere

Wow. +1 to every single suggestion and I want to add "better bookmark organization". I hope MS employees read this and are working on it.

Provide us with links to these suggestions in feedback hub so we can upvote

I have mixed feelings about this list. While some of these would be really great, others are just pure bullsh*t, or at least not the best. I strongly disagree with the first point for example. I think the flyout is way more convenient, than a full tab for settings. For example, if I watch a video on a tab, it will be still visible when I check "where the heck did I set up the downloads to be saved", so I don't have to pause it for that time. So instead of a full settings tab, I'd be happier with a resizeable settings flyout. Nr 2 is a "meh" for me. While Edge could use some context menu improvements, at least it doesn't show greyed out options, like cut or copy, if you have nothing selected. And why would anybody need a built in translator, if the extension is working as expected? I agree with nr 3, but disagree with nr 4. It looks better this way. 5 and 7 would also be great, but I can live without 6, because I never use it. 8 will improve, 9 is needed. But 10 is pure bullsh*t. Edge must be lightweight, and a built in compatibility mode would definitely make it heavy. 11 is right, but I'm sure it will improve just like the number of extensions. Other than that, the address bar should be at the bottom in tablet mode, more like in the mobile version. And extensions should work in InPrivate mode, if a user wants it so.

So basically be featured as other browsers. I agree to all these improvements. *Add download speed to download progress

Anniversary update got rid of the "Open" option for downloads as well. You can only save it. Posted via the Windows Central App for Android

I would like built-in text to speech, maybe through Cortana, but I imagine that is something most people do not use nearly as much as I do.

#4 is a must change thing .. it sucks whoever decided to use search and web url both in search box in the middle of the page.

I'm a simple man. Edge works perfectly for me. One day I'd like to see what a power user does in their browser so I can finally understand why Chrome is supposedly so much better than Edge. I have never had an issue with Edge, except for not being able to run Ad Blocker. Now I can do that. Yay Edge.

Re: #8. The list of Edge extensions is currently limited by design by Microsoft and is not necessarily due to developer disinterest. According to Microsoft's FAQ, the list of extensions is currently "locked". RoboForm support points to this as the reason they currently have no extension available.
https://developer.microsoft.com/en-us/microsoft-edge/platform/faq/#exten...

Another missing feature is bookmark management. I got a few hundred bookmarks on firefox and IE. I do not use Edge cause it won't even let you sort bookmarks alphabetically.

I have to say, I don't mind using Edge on my laptop, but the staggering lack of syncing things was one of the reasons I left W10M for example. I was more than willing to kiss Chrome goodbye and on my laptop Edge works fine, but I need one completely synced browser and Edge is not providing that (which is ironic, given that the whole W10 premise was one seamless experience across devices but a third party as Google can do it a lot better on different platforms and MS can't even on their own). So now I am back on Android, using Chrome on both my devices. Everything is Cloud First with MS except for (and certainly not limited to) their browser. It is a shame, edge on my laptop works fantastic and is faster than Chrome. Posted via the Windows Central App for Android

They could get the scroll bars for the folders on the left hand side of the Outlook webmail page to work again when using Edge to access it, seeing as the mail app is so lacking in features. It doesn't respond to scrolling with the touchpad any more on my Surface 3. Their own flagship browser and email service, you'd think they could join those dots...

One very simple improvement they could add is the ability to press the middle mouse button over the 'go back' button to open the previous page in a new tab. It seems like nothing, but Firefox and Chrome have it and it's really useful.

I know you mentioned more right click menu options. But the one you didn't mention which is the real question and biggest thing that Edge is missing is when will they add a proper right click and search function. Cortana doesn't count. It needs to search on being not show a currated response besides cortana doesn't always have a response.

It also fails in that it doesn't let you customize what websites show on your landing page. How is this not customize able like every other browser? Come on Microsoft.

Edge is fast, has good high res support, and great text rendering. Outside of that it needs to be rebuilt from the ground up. No advanced features, extensions that never work right, terrible ui, and a menu system that has no real options. They have a half decent engine, now they need to redo the rest of it to match.

The most important improvment is not even mentioned in this article. They should bring Edge to Windows Store so we don't have to wait 6 month for stable windows build updates or participate in insider program to update the web browser. It would be way better if it was possible to update Edge like other UWP apps.

I pretty much agree with all. #1 I partially agree.

Right now I just need adblock and lastpass on mobile, they should stop making useless excuses about performance and just do it already, it's all optional for the user anyway

Decent feature requests except for compatibility mode. I like that Edge is forward thinking only. It is what is needed to bring web sites into the modern age of technology.

I need a Greasemonkey equivalent before I can even think of using it regularly. I depend on too many userscripts.

• Need Data savings feature just like Opera mini to save mobile data
• Speed mode and Option to set images quality to low, medium or high
• Moving fast between webpages back and forward without reloading the webpages
• Night dimmer for easier on eyes while browsing night time.
• Stability and Performance improvements while browsing on 2G mobile data (webpages shouldn't reload when relaunched the browser from background

For security Reason Edge needs all what Opera Desktop can do.

I'll switch to edge once they port vpn app to it...

Apart from inability quite often correctly display contents of web pages on Lumia 950 Edge, I need ability to change Tab button function to other function - Bookmarks for example, for now Tab function is set permanently and is not changable. On Explorer was this feature, dont know, why they consantly reject previously approbate and good features..

What about adding a way to delete specific url/forms/login autocomplete entries?

All said and done, Edge will be replacable only when it can open all websites seamlessly legacy or html5
Till then It's just catching up

Menu in the settings = OK.
Settings on a page like Chrome = HELL NO, THE WORST, BURN ME ALIVE IF IM GOING TO SUFFER IT.

The new tab page, they freaking need to stop with the stupid habit of replacing my pinned sites with fkn ads for apps and office 365! I don't want those fukn ads in my new tab page!

l Just want a home page and home page button for EDGE Mobile.

There are only few context menu options in Edge, but after you open F12 Developer Tools for the first time, it will in future show additional options: Inspect element and View source.

I can't stand Chrome's settings! It seems so dumbed down...

Didn't know that there's no F11 in edge. Really embarrassing for MS.

Totally agree with this list.

On number 2, Chrome give an option to search the web on any text you highlight but edge doesn't

I agree with the suggestions. 3 and 9 for me are questionable. I think they can be resolved by pressing the mute button on the video or in the case of an annoying ad turn on adblocker. I don't see myself using extensions on mobile. Tools like website translations by translator and adblocker should be supported by default on Edge mobile. But if the argument is in light of Edge continuum, then yes, I think extensions should be a universal experience. I think compatibility and webstandard should have priority. Many websites have problems with Edge, that don't seem to occur in other browsers, even windows central. Mauro, have you got the feedback links for me for your feedback items so I can upvote them?

I would like to see Microsoft making it easier to put in saved password on W10M, because right now, it doesn't auto-fill in forms. Nor does it Work when you tap a field to select prevously entered values :)
Windows Central Newsletter
Thank you for signing up to Windows Central. You will receive a verification email shortly.
There was a problem. Please refresh the page and try again.