11 improvements Microsoft should bring to Edge
Microsoft Edge received great new improvements with the Anniversary Update, but development must continue. Here we show you 11 improvements we'd like to see on Edge.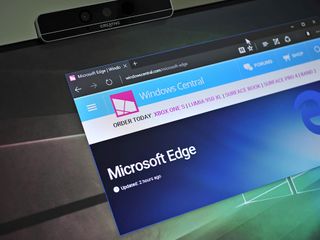 Microsoft Edge is your new default web browser on Windows 10, replacing Internet Explorer and bringing the modern web to all screen sizes with a clutter-free user interface.
With the Windows 10 Anniversary Update, Microsoft Edge received a healthy update that added a slew of improvements and changes, including support for extensions, which is perhaps one of the most-requested features from users.
The new update also brings a more power-efficient web browser on PCs and mobile devices. In addition, there are improvements for more web standards, and an extensive list of tweaks, such as swipe navigation gestures, download reminders, drag and drop for folders, the ability to pin tabs, and more.
Even with the big update, Microsoft Edge shows that has a lot of potential, but currently falls short in the number of features other browsers (e.g., Google Chrome and Mozilla Firefox) can offer.
Here is a list of 11 improvements Microsoft should include in the new Edge browser.
1. Improved settings menu
While the Anniversary Update brings a handful of new options, the way Microsoft Edge presents settings to users is not the best approach. Everything is arranged in a narrow flyout that sometimes can be difficult to access and understand.
On the other hand, Chrome and Firefox are the perfect example of how settings should be presented to users. As you can see in the screenshots below, both web browsers display their preference settings on a single page format with a navigation menu on the left, which makes settings more easily accessible.
Google Chrome Settings (left) and Mozilla Firefox Settings (right)
The flyout settings panel on Microsoft Edge is not as practical. The company should consider at least borrowing the design from other browsers and bring a better layout for settings. This shouldn't be difficult either, as many Windows Store apps, such as Maps and Groove Music, already feature a settings page instead of a flyout.
2. More context menu options
Currently, if you right-click anywhere on a web page, you'll get a limited set of options. For example, right-clicking on a textbox, you'll only get three options: "Select all", "Print", and "Paste". Other browsers let you quickly access to navigation controls, save and print options, paste as plain text, as well as an option to easily translate a web page to your native language without the need of an extension.
Microsoft Edge Context Menu (left) and Google Chrome Context Menu (right)
3. History for closed tabs
While the new version of Microsoft Edge allows you to right-click the back or forward button to access your recent history, the browser still lacks the ability to access to a list of recently closed tabs.
Quick Tip: You can always hit the Ctrl + Shift + T keyboard shortcut repeatedly to open previously closed tabs.
Microsoft Edge History without tabs (left) Google Chrome History with tabs (right)
4. Less confusing address bar
Microsoft Edge by default starts on the "Where to next?" page, when you launch the browser or when you create a new tab, which includes the address bar in the middle of the page disguised as a traditional search box.
This arrangement can be a little confusing to some people, as the majority of users are used to type a URL next to the navigation controls. (Yes, you can click the area at the bottom of the tab, but it's not intuitive.)
5. Mute option for open tabs
One of the most annoying things using a web browser is audio coming up from an open tab you're not using. Microsoft Edge includes a speaker icon for tabs making sound, but there is not an option to mute a tab like on most modern browsers.
6. Full-screen mode
On every modern web browser, you can quickly hit the F11 key on the keyboard to get into full-screen mode. Unfortunately, for some mysterious reason, Microsoft Edge doesn't feature a full-screen mode, considering that even the retired Internet Explorer includes such basic feature.
7. Better syncing capability
Microsoft Edge allows you easily sync your passwords, favorites, and reading list items seamlessly across devices when you connect to your Windows 10 device using a Microsoft Account. However, the browser still doesn't let you sync open tabs or history, which is something that can improve the user experience across multiple devices.
8. More extensions
Support for extensions is perhaps the biggest feature Microsoft Edge brings with the Anniversary Update. While there are some useful extensions, such as AdBlock, Translator For Microsoft Edge, Save to Pocket, and others, the list still very limited.
Technically, Microsoft Edge extensions are virtually identical to the ones for Google Chrome. Microsoft did this to make it easier for developers to port their existing extensions over to Edge, but it seems that the company has still some work to do to lure developers into getting more extensions on the Store.
9. Extension support for Windows 10 Mobile
Microsoft Edge extensions are currently only available for PC. Previously, Microsoft's roadmap for Windows 10 suggested extensions could also be coming to mobile devices, but the company quickly back down from the idea.
At this time there is no plans to bring extensions to Windows 10 Mobile, but there is a real demand from users, and there is always a chance that something could happen in the future.
10. In-browser compatibility mode
Microsoft built Edge from the ground up to be a lightweight web browser for the modern web. The problem is that during the development process, many features that helped to support for websites created with older technologies are not longer available, making the browser perhaps not suitable to view certain vintage sites.
Now when you come across an old internet site, you'll get a "You've stumbled upon some vintage web tech" message, which forces you to open the webpage using Internet Explorer instead. When you use Chrome or Firefox, such websites load with no hiccups, and without having to jump between different experiences to get to a web page.
Default Microsoft Edge compatibility mode (left) and Default Google Chrome compatibility mode (right)
Microsoft should consider building a feature that automatically detects a so-called "vintage" website and seamlessly load the page with a compatibility module inside of Edge.
11. Improve web standards support
Microsoft has always supported web standards, but in the past, the company had its own way to implement certain features, which wasn't always supported by every browser. This causes a lot of headaches among web developers as they needed code websites differently for each web browser.
With Edge, Microsoft is moving away from this approach and working on fully embracing web standards, so developers can code a website once and look consistently across web browsers. However, Microsoft Edge still falls a little short on supported features, compared to other browsers.
For example, if you come across a website using certain styling properties, such as filters to blur or change an image color to a grayscale, you'll notice that these properties do not work on Microsoft Edge.
Another example is "box-decoration-break", which is a CSS (Cascading Style Sheets) property that specifies how certain properties of an element are applied when the box for an element is fragmented. This property also doesn't work in the current version of Microsoft Edge.
Microsoft Edge rendering without box-decoration-break support (left) Google Chrome rendering with box-decoration-break support (right)
While these development features may be unknown for many users, they're important to developers, as they define how you see a website on your screen, and for that reason they're important for users because nobody wants to use a website that looks broken. Hopefully, in future updates, we'll see new versions of Edge with more support for web standards.
So, if a website looks a little odd, give it the benefit of the doubt, as it might just be a problem with the browser, not the web page.
Wrapping things up
Although Microsoft Edge doesn't include many features supported in other web browsers, slowly but surely, Microsoft has been proactively improving its web browser. We can already see this with all the new changes included in the Anniversary Update, and moving forward we can only expect the browser to get better.
Is there any other feature you would like to see on Microsoft Edge? Tell us in the comments below.
More Windows 10 resources
For more help articles, coverage, and answers on Windows 10, you can visit the following resources:
Windows 10 help, tips, and tricks
Get the Windows Central Newsletter
All the latest news, reviews, and guides for Windows and Xbox diehards.
Mauro Huculak is technical writer for WindowsCentral.com. His primary focus is to write comprehensive how-tos to help users get the most out of Windows 10 and its many related technologies. He has an IT background with professional certifications from Microsoft, Cisco, and CompTIA, and he's a recognized member of the Microsoft MVP community.