12 Deals of Red Stripe comes to Windows 8, save on Rayman Jungle Run and more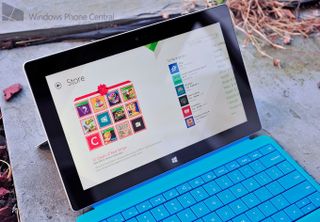 It's the holiday season, which is exactly why Microsoft is highlighting twelve apps instead of three as part their weekly Red Stripe Deals promo. Yesterday, we looked at the various 12 apps for Windows Phone taking part in the promotion. Now we've got the list for the apps on Windows 8 that are also on sale this week. Let's dive in.
PAC-MAN Championship Edition DX+
Fancy some Pac-Man on Windows 8? Then you'll probably want to grab this game. We've looked at the Windows Phone version and loved it. Pac-Man Championship Edition started out as an XBLA game, but worked its way down the Microsoft ladder to both Windows Phone and Windows 8. Totally worth getting. So get it in the Windows Store today. (Trial/$4.99)
Collins Learn – Thesaurus
Education is important, m'kay. While we know you're all learned peoples, you might want to still check out the discount on the thesaurus edition of Collins Learn. You get advanced flashcards and quiz features to grow your vocabulary. Get it in the Windows Store today. (Trial/$3.49)
Game Dev Tycoon
Have you ever wanted to grow your own gaming empire? You can with Game Dev Tycoon. This game for Windows 8 is all about starting your own game development company and replaying history as your company starts out in a garage in the 1980s. The game has strong reviews in the Store and looks like something we might just have to check out. Find it in the Windows Store. (Trial/$3.99)
Bejeweled LIVE
Can't get enough Bejeweled on all your devices? Then pick up this one for Windows 8. This version of Bejeweled comes with a handful of different gametypes and promises addictive gameplay. Pick it up in the Windows Store. (Trial/$1.99)
Sunny Hillride
This is the first time we've seen or heard of Sunny Hillride, but it looks like a keeper. It looks like one of those never ending travel games. The kind where your objective is to keep moving forward as much as possible. Check it out in the Windows Store. ($1.49)
Supermarket Mania 2
There's nothing like a time management game to literally suck up your time. Supermarket Mania 2 looks like one of those games where you can just sit back and relax as you stress out over making your virtual customers happy. Grab it in the Windows Store. (Trial/$2.99)
Rayman Jungle Run
This is one of my favorite games on Windows 8. There's nothing else to say. Just go buy it and thank me later. Windows Store. ($1.49)
Package Tracker
Speaking of favorite apps, Package Tracker is one of Daniel's favorites. He uses it to track all the gadgets and gizmos that arrive at his doorstep daily. They've got a killer Windows Phone app, but the Windows 8 one is just as awesome. It's also on sale today. Go get it in the Windows Store. (Trial/$1.49)
Draw a Stickman: EPIC
Draw a stickman and then guide him through this game on Windows 8. It features hours of gameplay and high reviews in the Store. So give it a shot by finding it in the Windows Store. ($1.49)
Disney Fairies Hidden Treasures
The majority of you won't be into this game, but why not pick it up for you kids? It's got Disney fairies in an adventure to find hidden treasure. Basically perfect for kids. Get it in the Windows Store. ($2.49)
Nextgen Reader
One of our favorite apps, Nextgen Reader, is on sale for Windows 8 with this 12 Deals of Red Stripe. Head to the Windows Store to get one of the best RSS readers around. ($1.49)
Sparkle 2
10tons is one of our favorite game studios. They've been putting out solid apps on both Windows Phone and Windows 8. You'll want to check out Sparkle 2 for some fun puzzle gaming. Get it in the Windows Store. (Trial/$1.49)
Which of these games/apps will you be picking up? Sound off below!
Get the Windows Central Newsletter
All the latest news, reviews, and guides for Windows and Xbox diehards.