12 Deals of Red Stripe for the Windows Phone Store is now live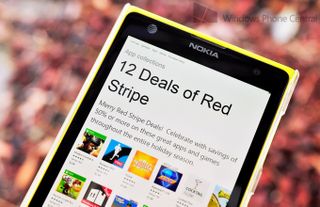 Microsoft is running a 12 Days of Deals for the Microsoft Stores and to match that, they've quadrupled their Red Stripe Deal from three apps to twelve. Starting today, users can head to the Windows Phone Store to grab these twelve popular apps, heavily discounted for next few weeks.
Which twelve get the discount? Head past the break to find out!
Modern Combat 4 – This is the second time this combat shooter drops to $2.99 (from $6.99) making it quite the steal. Fire up this action packed shooter on your Lumia 1520 or other Windows Phone 8 device with 1 GB of RAM or more. Find it here in the Store, read our review.
Runtastic Pro – Need to go for a run? Have Nokia's new Motion Monitor? Then grab Runtastic Pro for $1.99 (regular is $4.99 - right-hand QR code). We wrote up our experience with the app here.
Ruzzle – The popular word game akin to Boggle has had its price dropped again from $2.99 to a more affordable $1.49. Pick it up from the store.
Bejeweled LIVE – Bejeweled LIVE used to be a Nokia exclusive, but it lost that a few months ago. The super addictive puzzler previously fetched for $2.99 but now it's only $1.99. You can download it from the store right now.
Cocktail Flow – The most popular alcohol mixer app for Windows Phone (and Windows 8), Cocktail Flow set the bar for design way back when it was first released. It's still the go to app for cocktails and it seems perfect for the holidays. Regular price is $2.99 but now it's only 99 cents.
Sunny Hillride – This popular slider game, where you try to see how far you can get before time runs out, normally goes for $1.99 but is discounted to 99 cents for the holidays. We called it "the next big thing" and highly recommend it.
Rayman Jungle Run – Although we're still waiting for the follow up, Rayman Jungle Run is hands down one of the best games around on Windows Phone and Windows 8. It just got 20 new levels and is one of our favorite games around. Grab it for 99 cents instead of $2.99.
Package Tracker – If you're like us, you do a lot of online shopping. If so, you NEED this app. Package Tracker allows you to input the tracking code for UPS, USPS, FedEx and more and gives you Notifications (Toast, Lockscreen and Live Tile) when its status changes. You can even track it on the map. Have Windows 8? Grab the companion app (opens in new tab) as they talk to each other via SkyDrive. Must have for the holidays! Regular price is $2.49 but is now a steal at 99 cents.
Dr. Pickaxe – It looks like Pinball FX2 may never make it to Windows Phone, but Dr. Pickaxe is an interesting indie alternative. Normally priced at $1.99, the pinball game is just 99 cents this week.
Gravity Guy 2 – Departing a bit from its previous version, Gravity Guy 2 is still an addictive arcade/endless runner and one of the top titles on the platform. The game used to cost $2.99 but now you can have it for 99 cents! Read our review for more info.
Jack of Tools Pro – This all in one app has LED flashlight, compass, geographic camera, virtual level, your Earthly coordinates, your altitude, your speed and heading and even a sound meter all built in! Perfect in case you get stranded…with your relatives. The super tool costs 99 cents, down from its $1.99 price point.
Sparkle 2 – From the fantastic developer house 10Tons, who have won numerous awards, comes this excellent puzzler. It has outstanding graphics and great gameplay, making it one of our favorite games to date. Read our full review to get a better idea of why you want this fantastic time killer. Regular price is $4.99 but for this week, you can have it for $1.29. Do it!
All great titles and apps for your Windows Phone, we have to give Microsoft some credit here for some great choices. Hit the links above or scan the QR codes to grab 'em. Are you using our app? Then just swipe to the right to get the links on your phone!
Source: Microsoft (opens in new tab); Thanks, Sebastian K., for the tip!
Windows Central Newsletter
Get the best of Windows Central in in your inbox, every day!
Daniel Rubino is the Editor-in-chief of Windows Central, head reviewer, podcast co-host, and analyst. He has been covering Microsoft since 2007 when this site was called WMExperts (and later Windows Phone Central). His interests include Windows, laptops, next-gen computing, and for some reason, watches. Before all this tech stuff, he worked on a Ph.D. in linguistics, watched people sleep (for medical purposes!), and ran the projectors at movie theaters because it was fun.
Ehh, what about some free stuff?

The only free stuff is reading what apps you need to pay for.

Really??? How about if they pay you instead, is that good enough for you?!

They should make it free. This way the devs will be extra motivated to develope for WP. /S

Great list! Defintiely recommend Gravity Guy 2 and Modern Combat 4!

There's TONS of free stuff in the WP Store. What's the problem?

Sparkle 2 shows up as $1.29 for me.

Lol yea me too, I was just about to comment on that!

Sweet thanks for the list :)

USA only again...yup might have guessed!

Nice, but Europe may as well be a moon of Jupiter for all the love we get from Microsoft.

I'm the first to be really tired of US only perks but this time the price of the apps is also discounted in Europe, at least in Portugal. The only difference is the prices are the same but on euros (Modern Combat 4 US: $2,99 / Portugal: €2,99). No reason to complain. In fact, this is an excellent opportunity!

Maybe if the European Commission stopped fining the shit out of Microsoft all day long they would show some love... Lol

Windows Phone is really popular in parts of Europe at the moment - Microsoft need to nurture that by keeping it a level playing field, not having a bizarre location strategy, that fragments the users and leads to disharmony. Here in the UK none of those are 'deals', looking above it seems that in some places they might be, but why the difference?

The US is an influential market, I know when you buy something from the Microsoft store it ships from the states to Canada for free... Which personally seems retarded (considering it is express) but obviously in the grand scheme things of things works out better for them. Probably the same happening with Europe, because lets be honest, a couple discounted apps and contests isn't going to cause someone to switch platforms but it does force writers to do stories on it which puts it on more peoples faces. In Canada most people haven't even heard of a Windows Phone or knew Microsoft makes phones.

Apple has 12 days after christmas with special discounts for apps and I'm pretty sure Android had holiday discounts last year too. So MS has to offer something too or else people will start wondering "Why should I change to WP where there are fewer apps and have to pay for the few I get for free on Android?". Cause let's face it: the biggest argument against WP in nearly every phone review is the small app store. And image/ads is everything. Apple has its "exclusiveness for everyone who can afford it", Android its "away with uniformity, we have something for everyone". But both are like "look! look! my tech-phallus is bigger! mine has an octacore and 4GB of RAM".
So what's MS image? They need to get more known for their phones and fix the little things and improve to show that they are able to be taken serious when it comes to smartphones. Therefor it's good to show potential customers (and let's not forget about those who already have a WP device) that it's not all about money instead of "even when we are in a good mood you still have to give us money". And when it comes to competition like Android where most of the apps are free, this is the wrong way.

Wish it was Bejeweled Live + instead, as I already have this one. Hopefully they add more to the list. Nothing spectacular IMO, or that hasn't been offered before. Sparkle 2 is fun. Much better than Zuma.

Definitely recommend Cocktail flow to anyone! It is such a beautiful app, especially on windows 8!

That's the only one I want that isn't showing up as being discounted, which also happened last time it was supposed to be on offer :(

I really wish Cocktail Flow would get refreshed, I bought it a long time ago - seemingly never updated

Yeah, I also hoped they would add some new cocktails to keep it up to date...

Nothing for WP7.8 people.

Dr Pickaxe supports 7.8 Also, it is available on Windows 8/RT and it's on sale there too

Hummm... The ones that I like I already own, hehe. I'll think about 2 or 3 of those. Thanks for the heads up.

'three aps' I'm sure app has two p's

Sunny Hillride doesn't support phones with an 800x480 resolution...that is just stupid.

Ruzzle is priced at £364.49!!! Cool discount....

Let me say something here. The games look good. But I have a problem about one. Ruzzle. It looks good but for £369.49?! (UK price) That is an absolute rip off! You are paying nearly £350 for a simple word game! Outrageous! That is not right!

I want to buy rayman jungle run,but i am unable to buy that using my debit card,MSFT store accepting only credit card.I am from India.Any other way of buying that :P

Ruzzle seems a steel at £364 on my store at the moment!!!

Don't know why, but I was seriously laughing my ass off over this comment.

Because he's the only one who has a sense of humour about the obvious pricing error compared to the other idiots who think it's intentional? ;)

That and three exclamation marks at the end were icing.

This bejeweled live that is on sale was never Nokia exclusive and was near a launch game for windows phone. I also think it is normally $5, not $3. The one you think it is is bejeweled live + and was Nokia exclusive. Basically you are getting a better deal than the article states, but that version regularly costs more and has less content then bejeweled live plus which us not on sale and is better and $2.99 regularly.

Bejeweled Live was indeed a launch game for WP7.

Great useless crap, this and the crappy deals other than the Dell which wasn't available for anyone with a real job shows how much Microsoft sucks.

Games for real cheap. Seems good to me. But yea you mad

Aww, you poor thing. Mommy's here to help.

Damn I was hoping for a podcast app to go on sale

Really wish Bejewled Blitz was available for WP.

Package Tracker is a great app, was waiting for it to get discounted! A great moment to buy it too as I need it like NOW. Going to pick up Sunny Hillride and Dr Pickaxe too. I've just bought the original Sparkle, so going to wait until I finish it to get the sequel. Rayman Jungle Run is great. Highly recommend it. Although it seems to have a lot of bugs on my 520. Sometimes I end up in an empty level...

If you like to mix drinks or make shots, cocktail flow is a must have app and a steal for just .99

"Package Tracker allows you to input the tracking code for UPS, USPS, FedEx and more" That's quite an understatement. It supports about 80 carriers world wide. It an essential app.

Yes, and it syncs with the Windows 8 app as well. It's a brilliant app, although it finally let me down this week when I couldn't get Korea Post on it. It supports other Asian countries though, so I don't know why that one is missing.

I wished I bought this earlier - even at full price. Would have helped with all the holiday shopping I've been doing this past month.

Still no Singapore slings in Cocktail Flow :(

I remember hearing about problems with MC4. Are there any still?

Yay! Thanks for this! Finally bought Rayman and Sparkle 2! Got Halo SA on a red stripe deal some weeks back - so in all for the full price of Halo SA, I got Halo+Sparkle 2+Rayman!!
Windows Central Newsletter
Thank you for signing up to Windows Central. You will receive a verification email shortly.
There was a problem. Please refresh the page and try again.