Modern Combat 4 brings military shooting as the Xbox Windows Phone Red Stripe Deal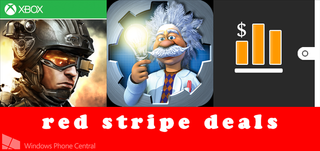 This has been a happy week for mobile Xbox gamers. Gameloft published the highly anticipated Six-Guns for Windows Phone 8, and it's a free game to boot. But more is always better where games are concerned.
The latest Xbox Red Stripe Deal has you covered then, gamers. Gameloft's Modern Combat 4 is one sale for $2.99, more than half off the regular price. It's a killer Windows Phone 8 game that has never been on sale before. Call of Duty and first-person shooter fans won't want to miss it.
Rounding out the Red Stripe Deals are popular puzzle game Crazy Machines Golden Gears from Viva Media and finance management app myMoneyBook from Tiziano Cacioppolini, both on sale for $1.49. Head past the break for details and Store links.
Modern Combat 4: Zero Hour (Windows Phone 8)
Regular price: $6.99 Sale price: $2.99 Download size: 1011 MB Store Link
Modern Combat 4 features an exciting single-player campaign as well as a robust multiplayer component. The campaign storyline revolves around a series of terrorist attacks as well as the kidnapping of the US president. Players will take on several different roles throughout the game, including not only heroic military operatives but even the lead enemy (who is a huge jerk)! It's an excellent campaign.
As you would expect in a game inspired by the Call of Duty series, multiplayer is a major part of the Modern Combat 4 experience. Multiplayer games support up to 12-player matches via local Wi-Fi or online. Don't expect to fill up a room too often – the matchmaking leaves something to be desired and there's no way to chat with other players, hence a tiny community. But this sale will provide new players. at least.
Also note that Modern Combat 4 suffers from one broken Achievement. Check out our full review for more details.
Crazy Machines Golden Gears (Windows Phone 8)
Regular price: $2.99 Sale price: $1.49 Download size: 53 MB Store Link
Did last week's Implode sale not fill the need for physics puzzles in your life? Then Crazy Machines is for you. This one highly resembles Amazing Alex in that players must combine various objects to create simple machines that will solve puzzles. It features:
60 different parts to combine including Lasers, Nitros, Dynamite, Explosives, and more
Dozens of Challenge levels (puzzles)
Puzzle editor
Share and download puzzles online
myMoneyBook (Windows Phone 7 or 8)
Regular price: $2.99 Sale price: $1.49 Download size: 3 MB Store Link
If I have one great weakness (sure, only one!) it's my money management skills. Totally runs in the family. Every month, my vast Windows Phone Central fortune is squandered away on tequila and señoritas, leaving me broke until the next big payday. That's why I should get an app like myMoneyBook (all one word, oi) to keep things in order.
Features:
Enter your daily receivables/payables in just few steps and set a monthly budget to track your spending.
Customize the categories to suit your needs.
Add the tiles to the start screen to streamline operations.
Customizable statistics charts!
Data backup via SkyDrive and csv export!!
Privacy settings
Live Tiles
Real Metro Style
Do any of our dear readers use myMoneyBook or a similar app?
Paul Acevedo is the Games Editor at Windows Central. A lifelong gamer, he has written about videogames for over 15 years and reviewed over 350 games for our site. Follow him on Twitter @PaulRAcevedo. Don't hate. Appreciate!
YES! I've been waiting for Modern Combat 4 to go on sale. Thank you, Jesus! Or Gameloft. Either one.

Same here. Just last night installed six guns. (had to make room) didn't want to uninstall modern combat. I will finally buy this game.

Anyone still play MC? I've had a difficult time finding any games. Is there a good time to jump on?

You mean in multiplayer mode? No idea. The only game I play on multiplayer is Uno. There I've noticed that the later in the evening to me (I'm on GMT) the more people are around.

Uno has a large multiplayer base because 1 - it's free so there's no barrier to entry and 2 - it's a simple game with simple controls. Modern Combat 4, while part of a popular gaming genre, doesn't translate nearly as easily to phones, so even some FPS fans don't care to try it.

Makes sense.
I was never much into multiplayer, even though I love FPS. Still, even though Uno has easier entry level, I've played a couple of times against the games AI for lack of online players.

Never even noticed there was an online option! Cracking game, gutted its now on offer but i bought it ages ago. I wasn't sure if it would be any good as a FPS on a mobile, but the screen on the 920 is quite big si works well. Everyone should try it

Team vs. @ evening probably on the weekend

Next week put Order and Chaos and Halo on sale and I will be happy ;)

I want Order and Chaos too...

But i end up touching the Back or Search button while playing a game..and i always loose interest playing the game.. ok ok i have fat fingers :-/

Looking for the Lumia 1520? :)

I have skinny fingers and the same happens to me. I've discovered that it helps to turn the screen buttons towards the hand that you don't "use" (meaning, if you're right handed, turn the screen so that the buttons are near your left hand and vice-versa)

Funny, I always put my dominant hand towards the speakers. It does keep me from pressing the power button though...

Man, I'm torn on Modern Combat. It's a great deal, but the game is such a pain to handle with smartphone controls...

You get used to it. Besides, the easy mode pretty much plays itself.

I wish MOGA or Xbox controllers were an option. :(

Moga is supported...
...i think.

It is I think (also) but no WP games support the moga x)

I'm really hoping that Modern Combat and Six Guns make it to the Windows 8 store so I can buy them for my Surface Pro an here's to also hoping that it will have Xbox 360 controller capability.

Six Guns has been announced for Windows 8. Modern Combat 4 hasn't.

We need them all! I don't play these type of games on my phone foe many reasons. Playing on my surface rt with Xbox controller is where its at! I take an Xbox controller with me permanently now for halo and asphalt 7, lol!

Why are all the good things happening when my phone is in for repairs. Oh well, all is not lost. Buy online, dl when phone returns :)

Hope it comes back soon, dude! :)

Thanks Paul. I have all fingers and toes crossed for a quick return and hopefully packing GDR2 as EE is killing us here in the UK. AT&T users believe when I say we understand your pain and frustration.

Me too with GDR1 Ativ S..

If you really want this game buy it on the computer then install it when you can.

He did say that he did that...

Damn, now to have some space.. Only 1,60gb free, with 5gb taken by apps and 5gb by 'other'.. Samsung Ativ S GDR1 here. I sure hope GDR2 fixes it.. Might buy this game now when it's cheap.

It fixes it. I wish other companies were as good with stuff as Nokia is. I switched from HTC Trophy to Nokia Lumia 822. Great phone so far. Maybe in the future upgrade to something around the 1020..

I know that in theory it should fix it (I was the one to ask it from @JoeBelfiore and got the answer :p), but do I really free enough space to download MC4?

I don't think you'll even be able to use the web store queueing workaround without at least 2GB of free space.

Dang, should try to find something useless to delete. But don't wanna get left without space again, and I think my other would grow to 6gb if I'd do this....
I hate my WP8 right now.

FYI....GDR2 does NOT fix it on HTC 8X

How much space do modern combat need? I have Lumia 720 and free space of 2.5 gb

Probably 4 gigabytes. But if you queue the down from the web store, you might be able to get it to bypass the 4x requirement.

Oh man. This is fantastic news. Have always wanted to play this. Buying this now. Thanks MS. Thanks WPcentral.

Wish I could pick this up now for the WP8 I'll be getting soon.

Although I can only blame myself for not having one now. I'm just cheap.

Me: "MC4 is on sale? Great, I will finally buy and install it so I can get some of that action and some achievements!!" My HTC8X w/GDR2 update: "Wait a minute cowboy, I have 4.5GB of 'Other' storage sitting in me. And with your modest amount of 2GB of music, 2.5GB of apps plus the reserved and system space, you cant install MC4, because you dont have enough free space. Maybe you need to delete some music or apps you use everyday so that you can play these high-end games." Me: "Arrrrrrggggghhhhh!!!!!"

Welcome all noobs!
I can't wait to play against some fresh players.
Please don't quit if you get killed a lot at first. Everyone did.

Look for me in the game. My name is Mr Lachey.

No love for the 521 but this was to be expected with a low end phone. Still enjoy it though.
Windows Central Newsletter
Get the best of Windows Central in in your inbox, every day!
Thank you for signing up to Windows Central. You will receive a verification email shortly.
There was a problem. Please refresh the page and try again.