Implode explodes as the Xbox Windows Phone Red Stripe Deal once again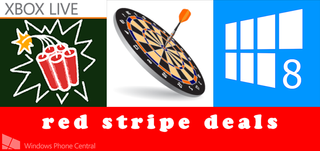 It's another sad week with no new Xbox Windows Phone game release – Tetris Blitz never showed up yesterday. As such, the Xbox Red Stripe Deal must provide hungry Windows Phone gamers with sustenance. Well, this week's deal game has gone on twice sale before, but more than a year ago and never for as cheap. Physics puzzler Implode from IUGO is now on sale for 99 cents, down from $2.99. Probably what it should cost all the time, but who are we to judge?
Rounding out this week's Red Stripe Deals are Darts Arena Online from E-Bouma and Week View 8, a calendar app from Hannes Biribauer. Both are on sale for 99 cents. Descriptions, free candy, and store links after the break!
Implode (Windows Phone 7 or 8)
Regular price: $2.99 Sale price: $.99 Download size: 15 MB Store Link
It's hard to believe that at one time we were all complaining that Xbox Windows Phone had too many physics puzzlers like Implode. These days, I'd kill to have a new Xbox-enabled physics puzzler every week. At least that would be something! Ah, 2010 and 2011 were better times for mobile Xbox gaming…
Implode takes place in a classroom setting with every puzzle drawn on a chalkboard. The subject on offer: blowing up buildings as efficiently as possible.
Over the course of 150 levels, you'll get to use a variety of different explosives and face a number of challenging conditions like wind, low gravity, and neighboring buildings that mustn't be harmed. As our review indicates, Implode's puzzles get quite tough sometimes, but it remains fun throughout.
Darts Arena Online (Windows Phone 7 or 8)
Regular price: $1.99 Sale price: $.99 Download size: 15 MB Store Link
Darts are best played in a bar or similar establishment, complete with booze and friends to populate the evening. If you don't have those things or Grand Ttheft Auto IV on hand, this online multiplayer mobile version will have to do.
It's got text chat, leaderboards, in-game achievements, and several different darts games to play (301, 501, Cricket, Round the Clock and Baseball). Plus a really ugly title font, but we'll let that slide. If you like darts but hate accidentally hitting other people with them and the subsequent lawsuits, this game might just be for you.
Week View 8 (Windows Phone 7 or 8)
Regular price: $1.99 Sale price: $.99 Download size: 1 MB Store Link
One of Windows Phone 8's advantages over 7 is its support for proper calendar integration in apps. Week View 8 provides a weekly calendar – necessary because Windows Phone only has that monthly view.
The app's calendar displays:
The appointments of the current week
Multiple, configurable Live Tiles
A detailed view of the events of a day
A month view with readable appointments
An annual overview
Other features:
A large live tile that shows the next four upcoming appointments, the current date and week number.
Native support for the HD resolution of your Windows Phone 8
An optional configurable live-tile back and more live tiles (week view, month view, day view, appointments as live tile)
Speech recognition: On the main screen of your windows phone hold down the windows key and say "start week view and show the next appointment" - week view 8 tells you the next appointment by voice output.
Creating appointments is possible directly in Week View 8 in all your windows phone calendars
Appointment search
That actually sounds tempting! What do you guys think?
Windows Central Newsletter
Get the best of Windows Central in in your inbox, every day!
Paul Acevedo is the Games Editor at Windows Central. A lifelong gamer, he has written about videogames for over 15 years and reviewed over 350 games for our site. Follow him on Twitter @PaulRAcevedo. Don't hate. Appreciate!
Week view is also available for 7.8. Can't confirm is the same version but it's also at a discounted $99 price. :)

Ios has game center,android has google play center but wp has nothing even close with such capabilities or no. Of games included shame indeed

We've got xbox which, from my experience, is way better.

one word.. HALO... sucks to be ios or android

That's just one game and I don't know any reasonable person who could say it cancels out the far, far larger number of big games on iOS and Android.

Not saying it cancels out, but it's a huge draw card..

I agree with you on that one mate, I think all games should be Xbox live (at least it could convert gamers, and maybe compete with ios and android) -- until then Xbox live on WP8 is a joke!

Nice. I've been waiting for Implode to go to 0.99€ which is the only fair price for it, IMO. Now I'll buy it ;D

It was $0.99 a long time ago, I remember the sale on WP7...I picked it up then...

No, the two previous sales were for $1.99. This is the first time it's hit 99 cents.

Paul, any idea what happened to the alleged release of Tetris Blitz yesterday?

Also, going to check out Implode, might be worth a buy for me.

Addressed briefly in the intro. But we did reach out to EA again and if they explain what's up with Tetris Blitz, we'll publish a new article on it.

Yeah, read that. I just figured I would ask if you had any additional information, just in case. Thanks for the info.

EA should fix/update the original Tetris for WP8 first, the damn game doesn't save my progress and stats after I played 1 game (and after I exit the game). The game works fine on WP7 thought, but I don't want to use that just for one game.

No Xbox Live game this week? On a side note... Have just played Halo and Asphalt both on my Surface RT and both with an XBOX CONTROLLER. Jesus Christ...what is Microsoft thinking? It turned both very good games into amazing games. It was like playing Xbox on the go! Someone tell them to get their heads out of their ass's, make more high end Xbox Live games for Windows 8 & RT, and make them all support Xbox controllers. I can't stress this enough...it becomes a poor man's portable Xbox. You get a huge library for this thing with quality games that support the controller, and they will come.

This is why I've been saying that they need to make a Bluetooth first-party controller with a mount, similar to the MOGA line. Windows Phone gaming would be awesome with it, and if they offered cross-platform compatibility, they could sell a load of that hardware to iOS and Android folks as well, I would imagine.

It took me 30 minutes, with two games, and a controller and I could see all the potential. Your telling me in a company that f'n big, they haven't figured this out yet? Most likely "yes". So then...what the hell have they been doing??? I've also said, make a hybrid Xbox controller with a docking tray for the phone, that manufacturers of phones and cases can make adapters for their phones and cases to fit in (just like the ipods use to do with their dock). Im starting to think no one at Microsoft has vision any more. Its all right their . People think they are getting a portable Xbox and they'll be all over it.

So, how did you get it working ? Does the game support a controller out of the box or did you need to do some config to it ? I have one of those PC/360 adapters and I did set it up on my Wp8 tablet....but, anything special I need to do with it ?

Ahhhhh i brought week view a few days ago!!!!!! Rage

Implode is a very good game but I don't have any intention to this game a second time after my playthrough a couple of years ago. If I wanted I could just reinstall it on my iOS device...

Disappointed "implode" on red stripe deal AGAIN! Come on MS must do better

Guys, is there a free WP8 app that allows me to search my calendar, in the past *AND* in the future?? Thanks.

Actually got this title confused with "Explode" :) which was last weeks. apologies :)
Windows Central Newsletter
Thank you for signing up to Windows Central. You will receive a verification email shortly.
There was a problem. Please refresh the page and try again.