2021 was the year of the pre-built gaming PC
It wasn't a great year to try building your own gaming PC. Will 2022 be any better?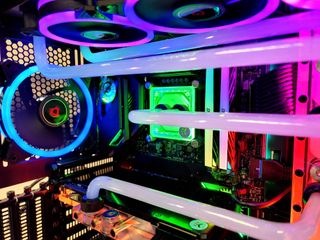 (Image credit: Daniel Rubino / Windows Central)
I doubt I'm alone in saying that 2021 has been a blur of revolving health orders, masks, and canceled plans. In a year where many people simply chose to stop most in-person socializing, free space on the calendar for personal hobbies was at an all-time high. And many of us filled that extra time with video games. More than half of people polled by Ipsos in 2021 — with data compiled by the Entertainment Software Association (ESA) — said they played more video games during the pandemic, while 90% of people polled said they would likely continue playing video games as we slowly return to normal.
Both sides of the gaming community, console and PC, have struggled due to ongoing stock shortages, and many people have yet to get their hands on something like the Xbox Series X|S or an NVIDIA RTX graphics card despite months of trying. It's frustrating, and it doesn't seem to be getting a whole lot better as we head into another winter.
Console gamers are unfortunately held mostly at the mercy of scalpers and stock alerts. I'm in Canada, and one of my friends finally was able to source a PS5 after months of trying. There's not really a fallback option for consoles, unlike the PC market. Laptops and pre-built gaming desktops have always been popular in the more casual sense, ideal for people who don't have the time to build their own or for those who want to hit the power button and start having fun.
But as one of the only reliable ways to actually get hands on the best graphics cards, pre-built PCs have also become a fallback for enthusiasts who are normally accustomed to buying everything separately and assembling themselves. This newfound attention hasn't all been positive, with plenty of manufacturers being called out for less-than-stellar practices. But attention is attention, and 2021 was certainly the year of the pre-built gaming PC.
The ongoing GPU shortage
I wrote an article about why you shouldn't build a PC in 2021 in July, and, unfortunately, most of the content is still accurate. I wish I could be writing something like, "Stores are offering discounts on the AMD Radeon RX 6800 XT; be sure to pick one up if you've been waiting." But just like six months ago, I'm here to tell you that GPUs aren't any easier to find.
The surge in cryptocurrency mining — with about 25% of GPUs going to miners and speculators in Q1 2021 — is still affecting the market, as are plant shutdowns and shipping issues due to the pandemic. Scalpers who see an opportunity to grift consumers by buying up any available GPUs they trip over, only to sell them at an enormous markup, don't help.
Our list of the best graphics cards is still populated by hardware that, in most cases, you can't buy without significant effort. At least some other PC parts aren't as hard to find. AMD's Ryzen 5000 desktop CPUs are plentiful, and Intel's new 12th Gen "Alder Lake" desktop CPUs can usually be found at at least one major online retailer. However, the new DDR5 RAM to pair with it is almost as hard to find as a GPU.
Uncovering the pros and cons of pre-built PCs
Hardware shortages have led people to investigate pre-built gaming PCs as a way to reliably get hands on the parts required for a build. Pre-builts have always moved a ton of numbers, but the significant uptick in gaming time has amplified demand. This year's Black Friday had absolutely no GPU sales worth writing about, but savings on pre-built gaming PCs were far more popular than any other year we've seen.
Massive manufacturers like Dell, HP, and Lenovo — as well as boutique PC manufacturers like ABS, CLX, and Maingear — have a direct line to PC part sources, making it much easier for them to get their hands on everything from CPUs to GPUs to PSUs. This allows them to continue offering up complete gaming PCs even during heavy shortages everywhere else. You pick the parts you want inside, it gets assembled at a factory, and it ships to your door ready to go.
But not all pre-built gaming PCs are engineered to the same standard, as many have been finding out in 2021. It's easy for manufacturers to overstate their pre-builts, assuming the majority of casual gamers won't ever disassemble or even look inside their new PC to see what's going on. It turns on, it runs games, and that's the end of it.
Sites like Gamers Nexus have been releasing in-depth reviews of pre-built gaming PCs that expose just how bad some of these PCs really are, with proprietary parts that remove any hope of future upgrades, overstated performance capabilities of OEM hardware, and shady subscription tactics. While many people still just want a PC that runs games without a fuss, it's great to see this sort of stuff being sussed out.
It hasn't all been negative. Boutique PC builders — smaller companies that use real retail PC parts instead of OEM stuff — have no doubt felt a rise in popularity as enthusiasts who know what to avoid have come knocking. Executive Editor Daniel Rubino went hands-on with the CLX Ra in May, noting an all-around positive configuring, buying, and shipping experience.
And you don't have to go as chic as that. Newegg's ABS house brand has a ton of options to choose from, assembled with retail parts that makes it feel a lot closer to a personal build. It's not going to quite match your own construction, but when you can't find a GPU any other way, it's a great alternative. Prices also remain fairly competitive with the bigger brands, and any enthusiasts who would rather avoid OEM parts will no doubt find the extra cost worth every penny.
What 2022 is set to bring
I have no idea what 2022 will look like; I've stopped trying to predict more than a couple of weeks ahead. New COVID variants, trade wars, and climate change can all impress their influence at any time, and telling someone to "wait just a bit longer to build a new PC" is no longer good advice. If you are going to go the pre-built route and care more than it turning on and playing your favorite games, be sure to check reviews, compare prices, and consider what hardware you already have lying around. You can always buy a pre-built, remove the GPU, and sell off the rest of the parts to make some of your money back.
Our Senior News Editor Robert Carnevale wrote an excellent article a few weeks ago detailing why, based on expert analysis, the global chip shortage should soon come to an end. The TL;DR there is that 2022 is likely going to be more of the same, with 2023 possibly flipping to an overabundance of chips. AMD CEO Lisa Su, speaking at the Code Conference, basically said the same thing: early 2022 would continue to be rough, though supply would level out later in the year. We'll have to wait and see what the year has in store for gamers around the world.
Get the Windows Central Newsletter
All the latest news, reviews, and guides for Windows and Xbox diehards.
Senior Editor, Laptop Reviews
Cale Hunt is formerly a Senior Editor at Windows Central. He focuses mainly on laptop reviews, news, and accessory coverage. He's been reviewing laptops and accessories full-time since 2016, with hundreds of reviews published for Windows Central. He is an avid PC gamer and multi-platform user, and spends most of his time either tinkering with or writing about tech.