How to disable synced notifications between your Windows 10 phone and PC
If having your phone notifications show up on your your PC isn't for you, here are three ways to turn off synced notifications.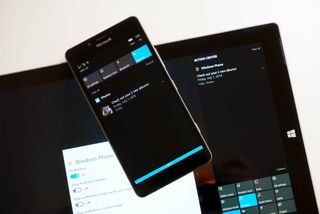 The Windows 10 Anniversary Update brings a slew of new features and improvements, perhaps one of the best is sync notifications. Changes introduced in Cortana allow the assistant to mirror notifications from your smartphone to your PC. The idea is straightforward, connecting the digital assistant on your PC to your Windows 10 Mobile handset (or installing the latest Cortana app on your Android device), system notifications, and notifications from apps and services will seamlessly sync to your computer.
While notification syncing is a great new addition to bring your gadgets a little closer together, it also may not be a feature for everyone. In this Windows 10 guide, we'll walk you through three different ways you can use to disable sync phone notifications to PC.
1. How to disable sync notifications using Cortana settings
If phone notifications syncing to your computer isn't something you want, one of the quickest way to disable the feature is using Cortana on your PC.
Open Cortana.
Click the Settings (gear) button from the left rail.
Scroll down and turn off the Send notifications between devices option.
Alternatively, if you only want to stop one of your devices from syncing notifications to your PC, then do the following:
Click the Edit sync settings button under "Send notifications between devices".
Click on the device you want to disable notifications.
Turn off the first option under the device name.
2. How to disable sync notifications using the Settings app
You can also use the Settings app to accomplish the same thing.
Open Settings.
Click on System.
Click on Notifications & actions.
Scroll down and turn off the notification option for the device you want under "Get notifications from these senders" section.
3. How to disable sync notifications directly from your phone
Alternatively, you can also stop notifications arriving in your PC by changing the settings on your Windows 10 Mobile or Android handset.
Windows 10 Mobile
Open Cortana.
Tap the menu button in the top left corner.
Tap on Settings.
Turn off the Send notifications between devices option.
Android smartphone
Open the Cortana app.
Tap the menu button in the top left corner.
Tap on Settings.
Tap on Sync notifications.
Turn off the notifications you don't want to sync to your PC.
Tap on Choose which apps to sync.
Turn off all the apps you don't want to sync notifications to your PC.
Wrapping things up
While having phone notifications sync to your PC has its advantages, there could be a number of reasons to opt out, such as to reduce the number of notifications on your PC or simply to avoid distractions. In this guide, we go through three different ways to disable the feature.
What do you think about this new experience? Are you disabling phone notifications to your PC? Let us know in the comments below.
More Windows 10 resources
For more help articles, coverage, and answers on Windows 10, you can visit the following resources:
Windows 10 help, tips, and tricks
Windows Central Newsletter
Get the best of Windows Central in in your inbox, every day!
Mauro Huculak is technical writer for WindowsCentral.com. His primary focus is to write comprehensive how-tos to help users get the most out of Windows 10 and its many related technologies. He has an IT background with professional certifications from Microsoft, Cisco, and CompTIA, and he's a recognized member of the Microsoft MVP community.
Disable? I can't even get them to work properly ☹

Same here, I started a forum thread to discuss how well it works for people.

in finland we dont have cortana enabled so this doesnt work for me at all :( i would like to have it synced

I may disable it. If im broadcasting on beam.pro It's irritating the popups. What I need is stremibg mode on pc. All notifications are muted. Hmm..quiet hours??

In settings on the PC there's an option "Hide notifications when I'm duplicating my screen" but I guess that wouldn't work for you.

Right click the Action Center icon on systray and you have the Do not Disturb option.

Same here. It seems like only some messages sync across which is basically useless. :/

It works for me, although the mechanism is weird. Seems like it only works if the phone is connected to different network than the PC. When I go home after going out, I would find the notification on my PC is full with the messages I got on my phone (I use cell data when going out). But when I'm at home, phone connected to the same wi-fi as my PC, none of the notification will be synced. I suppose it's better that way, it's annoying to hear the same notification twice, as I put my phone near my PC anyway.

I have the same wifi too but I get the same notification twice.

Yeah, totally inconsistent. Also, I'd like to be able to control whether each app then dismisses the notification on my phone or not. Mostly, if I have the same UWP app on both devices, I can just handle it where I'm working (mail, weather, news). But otherwise I'll want to take care of it on my phone (messaging - I'm looking at you!).

Is the synching supposed to allow you to clear a notification on your phone before logging into your pc and it be already cleared? I thought this was supposed to happen, but I am getting duplicate notifications still.

Hmm, think it's more the other way. You're on your PC and get notifications from your phone.

Ah, thanks... I guess I misunderstood and thought that it was supposed to stop the requirement of having to acknowledge the same notification on both devices. If I could synch my mail boxes between them that would alleviate a lot of the issues.

Check the forum thread that Joe920 posted above. I have a response at the bottom of page 2 that made it work for me. It doesn't work in every scenario (Messaging app, Skype) but using Cortana it has worked every time for me.

Still waiting for this Anniversary Update on my Lumia 930! :(

I just want it to work right. I LOVE using 3 different computers and having to clear the same notifications on each.

Wish the PC would honor my phone's quiet time settings.

I think you can set them up on your PC as well, can't you?

Yes, but it would be nice if I set one device and they all change. Who wants to change their phone, PC, tablet, and band? I want to set my band to sleep tracking and then all of my devices do not disturb me until I wake up.

I think its absolutely great, love how it all works! Seems so quick as well

If anyone here has been trying out notification sync, please share how well it's working in this thread: http://forums.windowscentral.com/windows-10/434961-how-notification-sync... It's great when it works, but it seems erratic, at least for some.

I actually like the feature, but I'm trying to figure out whether it is possible to "direct" notifications based on where they enter. I have WhatsApp on my PC and would like to be able to click WhatsApp notifications and go directly to the app (right now they send me to the store since the AppID is linked to the mobile app which isn't available for PCs).

WhatsApp only available on Phone. So you are getting redirrected to store if you click on notification. Viber supports both PC and Phone and you can directly respond in notification on your PC.

@sunil He's talking about WhatsApp.exe application for PC.

I wish the Instagram app was on win 10. Then when I click the notification it would do something. 6tin I clicked and replied over the notification.single ladies keep me In mind :)

Fantastic! The PC at home is used by the whole family so I'm happy to not have all my calls, texts and other notifications poping up on there.

Sync notifications works really well for me. I don't have any of the issues others mentioned.

Great to hear. If you read a text on your phone, does the notification on your PC disppear? Or do you have to dismiss the text on both devices?

So, the notification sync is only available in markets which have cortana?? If that is the case... HOW THE F***K IS IT POSSIBLE TO ENGINEER IT SO INCREDIBLY STUPID!

It is like that in order to sync Android and iOS as well.

I like the feature I just don't like turning on my PC or tablet in the evening and dismissing all the notifications from the day that were already dismissed on my phone hours earlier. Needs better dismissed synching.

someone along time ago from MS said that notification sync would be confusing to the user. It's more consfusing having to see things you already have seen.

Exactly! I thought that was the purpose. I did need the ability to see my text messages on my PC.

I would like this to let me to text from my phone but it errors.

Upvote if you still can't use Cortana in your Windows devices in 2016! Another upvote if Bing is still useless and lacks features on your country!

2017 I want to see texting/sms from my pc!! I have it with Android and mighty text app and need it!! Once you have this and some updated phones I will once again buy a Windows phone, I just need uber app, chrome app, gmail app, real estate calculater and spotify.. Make a durable carbon fibre plastic, gorilla glass 4 or 5 light phone 5 to 5.2 inch scrren

We had it once in the messaging app but it's been redacted. Hopefully it will return in the new Skype bundle.

I would like to see the notifications completely merged and not listed under "Windows Phone". What happens if I have more than one windows phone with some apps installed on both?

Does this notification sync work if Cortana not available in my country?

Sync notifications are very irritating, for example, when Windows PC displays notifications for an App than doesn't even exist for PC. This feature is not for me. Another useless feature from Microsoft (<< At least for me).

You are being asked to check your phone because a notification has arrived. --maybe it's helpful this way!

I can't even get Cortana to send me Interests notifications for anything anymore! Only reminders. BOOOOO!!!!

Sync great, but where promised global dismiss? I really hate when I turn on tablet, and receiving bunch of notification that were dismissed on phone :(

Disable it! Never. I love the feature. Discovered it when I recently updated my laptop. Very useful when phone is kept far away for example when charging. At such times I can check messages I got on WhatsApp and some other notifications. Plus it keeps me off my phone.

When I click the edit sync options button Cortana locks up and have to X out of Cortana. I sent a feedback to Microsoft.

This has gotten me in so much trouble with the ex. "who is that B****!".... Ufh

I just want to know how to Enable sync notification in my region!! (Hong Kong)
Windows Central Newsletter
Thank you for signing up to Windows Central. You will receive a verification email shortly.
There was a problem. Please refresh the page and try again.