32GB Microsoft Surface RT without keyboard out of stock in US [update]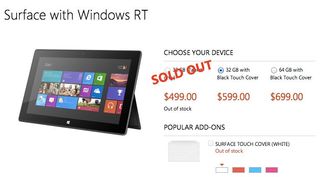 The Microsoft Surface has been selling well since it was launched with pre-orders making alerts appear on the company's online store - "Out of stock". This has applied to models across the range, and in a number of markets. The tablets were unavailable in the UK and Canada only a week ago.
It's interesting to see the model that comes without a keyboard of any kind selling out frequently. Either consumers are saving pennies by going for the cheapest option or they plan to purchase a Touch Cover sporting a different colour. We suspect both are factors when progressing through checkout.
Microsoft has banked on creating its own hardware to go with the launch of its newest version of Windows. Windows 8 has also been experiencing positive signs of sales with a consumer number in the millions upgrading to the latest version of the popular desktop operating system. Coupling this with Xbox marketshare in the console industry and strong Surface sales, Microsoft's three vision plan is progressing as planned.
We're to take this as the product running out of stock, but has the company actually produced enough of the tablets in the first place? That remains to be seen. With stores across the US opening up with Surfaces, not to mention the mass crowd that gathered in New York for the launch to get their own, it's looking more likely that the Surface simply has the potential to become a popular tablet.
Update: It appears as though the Surface RT tablet has sold out across the markets where its available. This is displayed on the Microsoft Stores for the UK, France, Germany, Australia and Canada. Looks like the tablet is extremely popular across the board and not just in the states. If you're looking to pick up the cheapest model it looks as though you'll have a slight wait to go through.
Source: Microsoft; thanks, Kyle, for the tip!
Windows Central Newsletter
Get the best of Windows Central in in your inbox, every day!
Rich Edmonds was formerly a Senior Editor of PC hardware at Windows Central, covering everything related to PC components and NAS. He's been involved in technology for more than a decade and knows a thing or two about the magic inside a PC chassis. You can follow him on Twitter at @RichEdmonds.
I hope it overtakes the iPad.

Steve Balmer is lighting the incense and chanting with you....

Developers, Developers, Developers!!!!!!!!!

blah, I ordered one when it was delayed for 3 weeks and then I go to a holiday store on Saturday around 5pm and they had plenty. lol I bought it there and then went home and canceled my online order. While i was there people were excited but not about being forced to buy a black cover.

I was upset about that too, wanted the 64GB model. Oh well.

FYI, make sure they really cancelled your online order. They screwed my cancellation up and im still waiting for refund.

thanks for the warning. I did take a look and it has "cancelled" right underneath the Surface photo.

Wow is right! It is probably sold out because it was endorsed by Oprah on her "Favorite Things": http://www.oprah.com/gift/Microsoft-Surface-Tablet?editors_pick_id=40387

Thanks for the link. Wow I can't believe Oprah used these beautiful words about the Surface and MS isn't capitalizing on it for a major marketing opportunity. Im definitely bookmarking it to show to some fandroids and isheep Surface naysayers

Why did you post this? Now that I know Oprah likes it I am reconsidering wanting one myself.

+10,000 lol
Oprah...ugh...

Does WPCentral know about this? That's news worthy of a post right there!

Anyword on a 64gb without a cover?

I have been told it won't happen.

Yeah its official on one of microsoft's site, they specifically say that only 3 SKU's will be available on launch. Now this could change of course, but my guess would be they introduce new options once the Pro is launching watch :)

well lets all hope this is a indication of real positive and actual sales growth that result in increasing market share. We're coming for you Mr. Ipad and you are going to need a pad for your tears when we reclaim glory! :D

There's a new guy in the forums who got a Surface and liked the UI so much that he's now considering moving from his GS3 to Windows Phone ;)

I'm glad to hear we're have more people in our ecosystem.

Same thing in Germany and France.

I'm just waiting for my pre-ordered 32GB with black cover to arrive in Australia.. not due till Nov 6 (for some strange reason)

Yeah, I think we're all in the same boat.I saw the demo centre at Westfield Garden City yesterday and thought "If those five surfaces are here then why can't mine be!". Oh well only four more days for us!

microsoft should really iron out all bugs FAST, this can be a turning point for them

What's the status of using a Surface with internet? WiFi only or Tethering/Mobile Hotspot?

You can add usb modem to it from what was told

Why pay another 30 bucks a month plus another hundred bucks for hardware when you can just share your phones internet? Tablets with their own internet subscription has never made sense to me...

I do have a brand new 32 with a keyboard which I packed up after I got the 64 one (they gave me a free Xbox music for a year too)

Anyone know if they are available in stores?

I don't know where you're located, but down here in Souther California, the MS Store said they have a bunch in stock, both with and without the case. Im going to pick one up tonight after work!

When the kiosk in Sydney they said it was sold out for 3 weeks. Alot question ppl were asking if it was 3g enabled.

They have some at the Microsoft Store in Atlanta! Just saw it tonight

Sounds like the Surface is doing well; and for good reason!

I just ordered the Surface by itself, but only lasted for 2 days before ordering a Touch Cover to compliment it. Completely worth every penny!! I was a bit iffy about it after having read that a few people didn't like it. I was up and typing basically as fast as a normal keyboard in less than an hour! The fact that it is a cover is just icing on the cake. Folding it against the back when holding it feels great. Also kicking out the kickstand and flipping the cover under it makes a makeshift table, that the Surface can sit on, to use it on your lap. And last but not least the Cyan color is absolutely beautiful!!!!!

Also, I just tried out the Type Cover at my local Microsoft Store. I really like it as well. It has a somewhat rubberized surface that feels great on the fingers!

I really think MS missed the boat by not just letting people pick which color touch keyboard they want. There's no reason for how they're doing it, and it creates annoyance for those who see the great colors and want them.
Also, the black cover's felt is just strange... not durable, easy to stain. I don't understand that at all.
Other than that, LOVE our Surface RT. I have no problem whatsoever with not being able to install other desktop apps... after Office, there just isn't much else I need them for.

Which IMO, is probably the exact reason the $499 sku is sold out. I didn't any part of that weird looking felt on the back of the black touch cover and instead opted for Cyan
Does the $599 Surface and Black Touch Cover come in the same box, or are they still separate? If they're separate, then that certainly is better for MS in terms of sales numbers.

The black type cover comes in the same box, but different compartment than the tablet.

Whoa... Didn't they say before the launch that Microsoft was planning on having 5 million on hand at launch time? or did I 100% misunderstand that?

they said 5 millions for the quarter

super glad people are warming up microsofts products that is truly awesome

This is just the beginning. Apple knows whats coming, thats why they released another new new iPad 6 months after the original new iPad was released, and will have a new new new iPad in may along with a retina iPad mini lol. More of the same!

They should never have gone with two SKUs for the 32GB. Only offer 2 SKUs, 32 & 64, and touch kb of choice for $99. They might have 100k 32GBs sitting in boxes coupled with black kbs right now. Wasted opportunity.

Its still selling regardless, stop trying to naysay

This doesn't surprise me. I'm currently typing this on a Nexus 7 with an iPhone in my pocket. I've been complaining about the iPhone since about 3 weeks after I got it and was really looking forward to switching to the Galaxy SIII when I could, but since then I started looking at reviews and videos of the Surface. Since then I've decided that I'm getting the Surface Pro when it comes out and will be switching to Windows 8 (either the Lumia 920 or HTC 8X) as soon as they have the chance to.
I've loved what I knew was coming with Windows phones since I first saw the switch from WinMo, but it wasn't close to ready for me yet. I know it would hit the sweet spot if they continued to refine the platform, providing they didn't drop the ball too much on their way.
Well, they've hit my sweet spot now. I'm sold and I can't wait.

yeah buddy, I'm an early adpoter, but glad to see people jumping on the bandwagon!

My 32gb has a flaw on the back. Took it back, and got 64 gb for the same price of 32gb. They ran out of 32gb, so they gave me the 64gb. MS, you win me on your service, and your hardware. Will be getting my family surface for the holidays.

I do think Microsoft prefers to sell them in their physical stores than online store, probably to avoid returns, since they can have more explanations done in a real store. When I biught mine in their Bridgewater store, I was told they have "a lot" of inventory and they don't appear to worry about selling out. That was the Friday before Sandy, I assume Bridgewater store still has plenty now. It was very nice to buy it from a store though, if you can find one. They'll tell you it doesn't run old Windows apps, explain the gestures to you, help you set it up, etc. And you'll see their amazing thing to facilitate the transaction, which btw is powered by Intel Core i7 processor. Kind of surprising to me.

Now I'll need to save another $100! :(

Not sure how real this report is. I walked into a MS store today in Seattle and bought one (with the cover). They were there.

The San Jose, CA store was the same way. I traded my 32 in for a 64, no problem.

Online orders are different than in store orders. Allocations are made for each physical store and separate allocations for the online operation. The online allocation of the 32Gb model is sold out. They won't take inventory from a physical store to sell online just like they wouldn't take online inventory to sell in a physical store. If the physical stores are not running out of particular SKUs, the online store will be given priority for restocking of the sold out model. Microsoft only has about 60 physical stores (including the pop-ups), so much more of the population needs to use the online store to acquire product.

A little late posting, but are the customers who bought a RT device really happy with it?

Can't speak for others, but this customer is very happy. Every time I use the Touch Cover I am amazed at how good it is.

Good to hear friend. I was thinking of Paul Thurrotts words and got to thinking. We talk a lot about sells, but its a brand spanking new OS and how are people adjusting to it, how is the reaction to absence of Apps?

I am super happy, and trust me I'm pretty hard to make happy especially with my tech toys. Turns out I am discovering more cool things about the surface everyday!

I can imagine why the version without keyboard is sold out in the US. If you e.g. compare the German price (479€) against the US (599$ = ~386€ at the moment) it is worth to buy the version without the keyboard in the US and get a keyboard according to your region separately. The Microsoft store is not shipping to europe so you need anyone in the US to sent it to and then ship it to your location. In my case I paid inclusive VAT 400€, so I saved 80€! A colleague in the US will receive it and bring it to Germany on a business trip.
I would say that is a very good deal.

Well that really sucks.... My only option is ordering from either Germany, France or Great Brittain and all of these don't offer a US QWERTY touchcover. This means that only the coverless version is a real option. I hope they restock really soon!

Wall Street Journal gave a pretty decent/respectful review of the Surface as well:

http://live.wsj.com/video/mossberg-reviews-microsoft-surface-tablet/EDEB...

Most people who are reviewing it love the UI, the quality build, and the keyboard options. The only thing they seem to knock is the amount of apps and not being able to run your old Windows apps on it. Uh, how many OS X apps could you run on the iPad when it was released? <crickets chirping>. Yeah, cry me a river and find something else to harp on...

Techiedude

10 Years of Microsoft offering tablets running full fat O.S.
= Microsoft doesn't get; no one wants full O.S. tablets. Screens too small to run applications properly. atrocious battery life. crappy design.
Now Windows RT:- Great innovative design. top-notch hardware fluid O.S. great battery life. forward looking architechture
= Microsoft is confusing people. no backwards compatibility/legacy apps. innovative stand not adjustable. touch cover isn't a full proper keyboard
WTH??
Sometimes you just can't win!



+100. Trust me, regardless of what the haters and the whiners are saying, Surface surely is a winning device. Only time will prove it.

I ordered the 32Gb model myself. I actually wanted the 32Gb with Touch Cover, but the order page kept showing the tablet only option. Tried twice! I thought, oh well might as well get what I can, rather than run into addtional issues, since there are no B&M location to fall back on!

Its nice but its too expensive..... Ipad got much better display.

iPad does not look like a better display. I know I have one. Compare them side by side, pixel count is not everything. The screen on the Surface looks like it is right under your fingers and the type presentation using cleartype is so crisp. Whereas the iPad (2012 model) although it has a higher resolution, the screen looks like it has been buried deep under their glass, and the type looks like it needs the extra resolution because it only looks as good as the Surface's. -- But don't believe me just do an A-B comparison yourself.

I already got my surface, but p0rn sites like youporn and xvideos didnt work. Cant stream the videos. That sucks -.-
Windows Central Newsletter
Thank you for signing up to Windows Central. You will receive a verification email shortly.
There was a problem. Please refresh the page and try again.