5 must-know Alcatel IDOL 4 Pro tips and tricks
Got a brand new Alcatel IDOL 4 Pro? We've got some tricks that you should know about.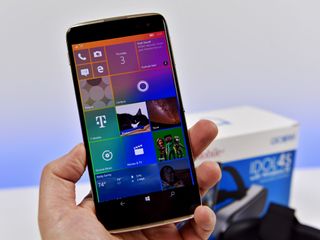 If you went out and grabbed yourself a new Alcatel IDOL 4 Pro with Windows 10 Mobile, these tips will help you get more from your purchase.
Related: Alcatel IDOL 4 Pro review
Buy a case that prominently outlines the fingerprint reader
The fingerprint reader on the Alcatel IDOL 4 Pro isn't great. It's hard to find on the back of the phone, and as a result, it's incredibly inaccurate when using it to authenticate yourself. More often than not, the phone will misread your fingerprint and lock you out of the phone. It's also just really slow compared to other fingerprint readers.
If like me, you have a hard time trying to find the small fingerprint reader on the back of the phone when not looking, you might want to invest in a case for the phone that better outlines the fingerprint reader. You'd be surprised at how much this improves the success-rate when using the fingerprint reader to log in to Windows Hello.
If you need ideas for cases that fit the IDOL 4 Pro, we recommend the Suensan ultra-thin case for just $8 (opens in new tab). It's a thin, light and protective shell that outlines the fingerprint reader really well. Check out our review of the case for more.
Improve finger recognition in the software
Windows Hello on Windows 10 Mobile only allows you to add a fingerprint once on each finger, and there's no option to improve that recognition once it's been added to the system. Improving fingerprint recognition can help increase the success rate of the fingerprint reader when using it to authenticate. There should be a button to improve recognition, but luckily, there's another way.
Although Windows Hello will stop you from adding the same fingerprint twice, if you keep trying, slightly changing the orientation and position of your fingerprint, Windows Hello will eventually accept it as a new fingerprint. As a result, this allows you to vastly improve fingerprint recognition with Windows Hello. I ended up adding my two index fingers multiple times, using different angles and orientations.
Speed up Windows Hello
The fingerprint reader, combined with Windows Hello on the IDOL 4 Pro, is incredibly slow. It's almost embarrassing when compared to fingerprint systems on Android and iOS devices. There is a way to speed it up a little bit, however, and that's by simply double-tapping it rather than just placing your finger down.
You have to do the double tap a bit slowly, but this method improves authentication speeds with Windows Hello. Sometimes I'd be waiting three or four seconds before Windows Hello wakes up and logs me in when just placing my finger on the fingerprint reader. When double tapping, it takes two seconds to three seconds, sometimes even less.
Get the Windows 10 Mobile Creators Update right now
If you're a new IDOL 4 Pro owner, you may have noticed that your device isn't receiving the Creators Update just yet. Microsoft is aware of this and says it is working with Alcatel to bring the update to IDOL 4 Pro customers soon. If you can't wait, however, there is a way to get it right now. Just join the Windows Insider Program!
Oddly, the Creators Update isn't available for the IDOL 4 Pro in the Release Preview ring, which means I suggest hopping into the Insider Slow ring to receive build 15063.2. Once that build is installed, you can either factory reset your phone or leave the Insider Program, and from there your device will be serviced like normal with production builds of the Creators Update.
It's worth mentioning that right now Alcatel doesn't have any recovery images for the IDOL 4 Pro available in the Windows Device Recovery Tool, which means if you opt to get the update early and something goes wrong, there's no way to recover your device. Microsoft says that it is working with Alcatel to get this sorted. But in the meantime, proceed at your own risk.
Enable Glove mode
Like some of the older Lumia devices, the Alcatel IDOL 4 Pro has a special glove mode that enables the ability to interact with the touch screen while wearing gloves. The feature is hidden inside the extras area in Settings and is off by default. Enabling the function will make your touch screen more sensitive, and as a result, will allow you to wear gloves while interacting with your phone.
You can also enable and disable double tap to wake the screen in the Extras area too.
Your tips?
That's our list of tips and tricks you might not know about with the IDOL 4 Pro. If you have any more tips and tricks to share, make sure you let us know in the comments.
See Alcatel IDOL 4 Pro at Microsoft (opens in new tab)
Windows Central Newsletter
Get the best of Windows Central in your inbox, every day!
Zac Bowden is a Senior Editor at Windows Central. Bringing you exclusive coverage into the world of Windows on PCs, tablets, phones, and more. Also an avid collector of rare Microsoft prototype devices! Keep in touch on Twitter: @zacbowden.
These are the kind of stuff I want to see more on Windows Central and I even made mention of it in the Mobile Nations Survey. We don't need to shift the prime focus..even if mobile is dead. More mobile stuff like these will keep me around.

Yes, substitute reality for speculations!

No way! You can stick horrible reality right up your trumpet. More Windows Phone articles instead, please. That'll show reality what for.

Yeah let's make 50 articles on3 phones...

Or you can go back to lagdroid central and join your other trolls there in a circle jerk.

Better to have more than one phone with 50 articles.

hmmm does the phone still lock up? because I know that the unlocked version that I had but gave to my brother did. I did not want to deal with Alcatel TS anymore and my brother did. He finally got back a working device but now it does not locked up or at least from what I can tell...I wondering if it still does it on the unlocked and US versions.

The adding of the same finger twice is something I figured out too. It definitely helps. But Alcatel needs to come with a FW update to get anywhwere near the HP's ability on their FP reader. The Elite X3 is way more accurate and can read the finger more easily. Maybe since it is a bigger reader but I also attribute their efforts to improve it over time. Alcatel has had their Windows 10 phone the IDOL 4 out there since November and has not even got all the Recovery images correct yet. Doubt they will come with a FW update at this point, but there is always hope.

A questions to discuss:
Since both IDOL 4S/Pro share the exact same hardware (well except quad/full HD display) why can't we flash Android to Pro version or W10M to S version ?

It's an interesting thought. It would give us other options. Some of us are starting to make the transition from Windows Mobile to Android. And for some of us with the 4S (especially the T-Mobile variant) wouldn't get a firmware update even if Alcatel woke up and produced one. So we have a great device, tied to the Insider Program for life support, which apparently dwindle over the next year. Another solution could be to ideally flash the DTEK60 Rom onto a Pro or 4S. Obviously a pipe dream. But it would be nice. Anyway, on topic, speaking of the DTEK60. There are a few nice cases out there for DTEK60 that are a perfect fit for the Idol 4S /Pro.

Because the bootloader is locked. Plus a number of other securities are in place that do not allow that to easily just happen.

They absolutely do not share the same hardware. Couldn't be more different. I have both in front of me right now. Look at GSM arena. And even if they did, do you realize how technically difficult that is?.... Edit: Nevermind I thought you meant Andoid Idol 4S vs W10M 4S. My other points still stand.

Even the display is the same. It is the same device with just a different marketing name.

#1 Tip: you are probably still in the return period. Return it and get something that is still relevant today and won't be totally abandoned in a couple months.

Or go eff yourself in your mom's basement.

Didn't I tell you to visit a psychiatrist?! Please mention your obsession with your mom's basement and circle-masturbation.

I detect Oedipus complex. LOL!!

Wow! I can tell you're the life of the party.

i have alcatel idol 4s and it is great phone. only camera are like sony phones.. hope alcatel make it better like Microsoft phones

If the camera in the alcatel is like sony phones...I consider that a complement. Sony cameras are really good. Could be worse, could be like an older samsung or apple camera.

It's interesting. I know WP is going away...but I am intrigued by this phone...

How is it NOT going away Rodney?

Thanks for the article since I just got one of these phones I'm happy to see it!

Bonus tip Go on fast ring. 15240. So your Camera will work properly. Other wise the black screen garbage will hamper your experience.

Bit premature on that recommendation / tip there Gemini5150. Considering the new fast ring breaks fingerprint recognition. I would hold off going on any of the sucker.....I mean....insider builds!

Yes I have a tip: don't buy it.

Another good article, Zac. You're on a roll.

My tip would be: Do not buy this phone. Alcatel offers no support of any kind and this platform has a minimal life span and any apps left are dropping like flys. If you go onto the Insiders with it and something goes wrong, bye bye phone due to no recovery for this version only T-Mobile version.

It's too expensive right now. But i'd give it a chance if my Nokia 930 goes side ways.