5 high-capacity power banks that can easily charge more than one device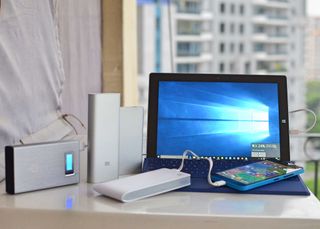 Portable chargers or power banks are pretty common these days relieving smartphone users from the everyday battery anxiety. There are some that can charge a smartphone to full capacity and also ones that are compact to carry.
However, in the last few months, even casual users are often picking up high-capacity power banks with over 10,000 mAh capacity – over three times of a usual smartphone battery. You can charge a smartphone more than once and also add juice to your tablet while on the move. And you'll always be that friend in the group, who wouldn't hesitate in sharing the power bank to charge somebody else's phone.
On a regular work day, I carry two smartphones and a Surface 3, and a regular power bank doesn't suffice. In fact, after getting a Surface 3, I gave up on lower capacity power banks, and a high-capacity one is always with me when I'm out and about.
Here's my pick of five such high-capacity power banks. This is by no means a definitive list, but a selection from the ones I've used. All of the five, and some others in the market, are high-quality products. Unlike the early wave of portable chargers, these have solid build quality, reliable current supply, and are relatively inexpensive. Some of these might not be available in your country, so you could choose among the ones that are available.
In any case, I'd recommend never to buy those unbranded ones with dubious quality since they could damage your phones or tablets on frequent usage. Also, if you're buying a high-capacity power bank, again make sure you have a high-quality USB cable that allows optimum charging.
TYLT Energi 10K
TYLT has been one of my favourite brands for accessories, and the Energi 10K was the first high-capacity power I got for myself. Packing 10,400 mAh, the charger includes two 1A and one 2A USB ports, and the 4.2 Amp circuit allows rapid charging of up to 3 devices simultaneously. It's nicely designed and looks very stylish.
One could say that the Energi 10K is a generation older. It's a tad heavy than the others, and the retail price of $99.99 is very steep compared to others. Thankfully, you can pick it for $59.99 on Amazon (opens in new tab) these days, but of course, a product refresh is due.
Mi Power Bank
The Chinese company, Xiaomi, has revolutionized how smartphones and mobile accessories are priced in the markets that they are present in. At $13.99, the 10,400mAh Mi Power Bank is one of the cheapest ones available and has redefined the category.
Housed in a nicely textured aluminium casing, the power bank features smooth edges and is very ergonomic to grab. The surface is resistant to fading, water, and corrosion. Xiaomi claims that the Mi Power Banks have better charging conversion rate and stabilize discharging voltage with advanced resistance-capacitance sensors to optimize efficiency and durability.
You can order a Mi Power Bank from here (opens in new tab). There's also a 16,000 mAh variant if you don't mind the extra weight.
Honor Power Bank
The 13,000mAh power bank from Honor, the new brand from Huawei, is almost identical to the Mi Power Bank in looks although it's smaller and packs in more juice. The Honor Power Bank includes intelligent sleep and energy saving features for lower power consumption. The Intelligent control chip housed in the power bank waits for 6 seconds and automatically shuts down when there is no connection charge detected. This puts it into sleep mode to reduce power consumption and loss of power when static.
You can check out more details of the Honor Power Bank here (opens in new tab). It's available in India for ₹1,399 ($21), and that's quite a bang for your buck.
Intocircuit Portable External Battery Charger
This stylish portable charger features an aluminium alloy shell and a blue LCD that displays the current charging status and the battery status. Intocircuit is a HisGadget brand and offers mobile accessories and novelty gadgets.
The 11,200 mAh charger packs in two USB ports – a 5V 1A one for most smartphones and another 5V 2.1A one for tablets – and can charge two devices at full speed simultaneously. The Intocircuit charger stands out from the others in a couple of ways. There's a built-in flashlight, and it includes a pretty good carry pouch in the box. You can buy one for $22.99 on Amazon (opens in new tab). There's a 15,000 mAh variant as well.
OnePlus Power Bank
The OnePlus Power Bank is what you'll find in my bag these days, specifically because it's compact and lightweight. The 10,000 mAh portable charger has a minimalist design, and the gentle curves make it easy to tote.
Available in Silk White and Sandstone Black, the soft glow of the power bank's battery indicator LEDs is awoken with a gentle shake. There are two USB ports – 5V 1A and 5V 2A - and a multitude of safety features prevent overcharging and overheating.
The OnePlus Power Bank doesn't cost much, and at $14.99 is a great buy. You can pick one from here (opens in new tab).
Power banks are almost an essential accessory in anyone's bag these days, and the high-capacity ones are great if you carry multiple devices, are out in the field through the day, or are travelling. Which one do you lug around? Let us know in the comments.
Windows Central Newsletter
Get the best of Windows Central in in your inbox, every day!
No Anker batteries?!! How have you not included the market leaders??
Also, that Tylt battery is far from stylish...and way over priced.

In my experience Anker is very hit and miss. I've got a few of their batteries that are absolute garbage.

I find that VERY hard to believe. I've had 4 Anker batteries over the years....never had an issue with any of them. They are also the only backup batteries I have found that can add charge to my Asus T100 when it is switched on.
I can't see why you would keep buying such batteries if you thought they were garbage. Also, the hugely positive Amazon reviews don't back up what you are saying.

And tripadvisor has lots of bad hotel reviews for good hotel, what's your point? I bought about 4 at once and there's no way that three of them performed like their apparent capacity would indicate. Just because you think they're amazing doesn't mean everyone has the same experience. I mean...you read the comments here, right? Different people have different experiences.

I had a 10000 anker battery and in 3 months went bad, but anker replaced it with a brand new one with little trouble. That was 4 years ago. I'm still using that charger. Posted via the Windows Central App for Android

"Here's my pick of five such high-capacity power banks. This is by no means a definitive list, but a selection from the ones I've used. All of the five, and some others in the market, are high-quality products." Also, design and style is subjective.

Check out the Pronto 5/12

I have a power bank, it's an ANKER 16000mAh with 1 charging input and 2 outputs all for £20 from Amazon.

I have that one too. It's nice, but sometimes it overcharges my phone :(

I've not had that happen yet, but that is because I haven't used it yet lol, but I'll let you know if it does.

Anker Astro E7, and forget everything else. Reasonably "pocketable" (large pockets tho) and it packs 25,600 mAh (!!). It will set you back around $70 in Amazon

What about Asus zen bank??

I hate that xiaomi sells many product as a part of limited sale. Or its just something to create hype.

no qc 2.0 unfortunately.
Have an old Samsung that I bought on sale from blueshop(1 of mobile nations storefronts) it worked well for my ativ s but wasn't easy to carry alongside my l929. Recently I opted for a mugen for my l929 it was well worth it though I lost the screen protection that the otterbox provided(but it need to be replaced anyway due to scratching/nicks etc. etc.) anyone know of a decent tempered glass screen protector?(that will ship to Canada & is still in stock)

What about the Aukey 12000mAh power bank?

Got the kmashi 10000mAh for $10. Works as it should.

Lumsing 10400mah isn't too bad, looks nice and comes with a bag carrying case. 1.5v input (takes a while to charge the unit itself) and 1v & 2.1v output, can use both simultaneously. Posted via the Windows Central App for Android

Mi power bank is the cheapest and best build quality in my opinion

I've got the Xiaomi Powerbank 16000mah myself. Works like intended, with two 2.1A USB ports that can supply 3.8A total when two devices are connected. Really, really good price/quality ratio. Also, for people looking for a powerbank, don't fall into the "it has twice my phone's battery capacity so it will charge my phone twice" trap :P. It's an easy mistake to make.

That's why I go for the "It has three times my phone's battery capacity so it will charge my phone twice" line of thinking ;-)

I've got a 9000mAh battery charger. I also have a couple of 1600mAh chargers too, I generally use them for my headphones or pocket WiFi, occasionally I'll slip one of them in my pocket if I'm not taking my backpack somewhere, just in case I need a little bit to my phone during the day (not often, but it happens). I'm really annoyed that there is no portable charger for the SP3 as that thing chews through the battery is you actually use it for anything.

Xiaomi, one plus and Asus zenbank are the most quality and value for money products in the power bank segment.

For the last couple of years I've been using the EasyAcc 12,000mAh battery, can charge up to three devices at once (http://www.amazon.com/gp/product/B008YRG5JQ?psc=1&redirect=true&ref_=oh_...). But now I've found the one that will replace it, the ZeroLemon 20,000mAh Solar Juice (http://www.amazon.com/ZeroLemon-SolarJuice-20000mAh-Portable-Technology/...).

Good set of reviews. I'm on the hunt for one that can charge my items, and act as an emergency jump starter for my car. I know they exist, it's just a matter of finding a good one lol

http://m.campingworld.com/shopping/item/battery-jump-start/84662&affilia... We use those for camping all the time. Amazing. Not necessarily that model, its just the first result I saw. Posted via the Windows Central App for Android

I have used one of those before, and they are excellent. I'm hoping for a decent unit that is more portable and can fit in my back pack (I don't mind a little extra weight for the piece of mind) I've seen some but I can't seem to pull the triger on any of them. Hoping that USB-C brings some cool innovations and maybe a decent power pack along with it.

Waiting for USB type c powerbanks with smart power delivery as power hub for all devices

This!! Hope type c becomes the standard really soon..

Not holding my breath on that still have a decent ivybridge laptop.

What exactly is type c, I know what usb is just don't quite know what is meant by type c.

To fix a problem they could've solved some other way

I bought the Asus ZenPower 9600mAh a few weeks back. Small and compact (credit card size), a bit heavy (215g) but easily fits the side pocket of my shorts.
At full charge, it can charge my Lumia 830 for two and a half times (first charge was when the battery of my phone was at 10%, second time about 8%. 3rd time was 15% i think).
It comes in various colours as well, and the aluminium finish makes gives a premium feeling to it.
Do check it out peeps :)

Please friends advice me which is cheap and best power bank for Lumia 535

Anything that's not Nokia, they tend to be lower in power and higher in price.

After trying a couple I will have to go for the one plus now. Moat of mine have either been over heating or design leaves me wanting more.

Anything for a surface pro 3?

It is a laptop with nearly 36watt charger.. Nothing except laptop external batteries can feed it and it is not advisable to use battery packs for laps unlike mobiles!!.. Correct me if I am wrong.

You need a lot of power, reason why its a wall plug, and comes with a power brick

Seem to have found one... Check for RAVpower Xtreme 23000mAh battery pack.. It has dc out so you can buy a cable and hook it up to surface pro 3.. Reviews seem to be good.

Limefuel batteries have worked great for me. Good customer service too.

What about the EC Tech 2nd gen 22400 mah power banks?? Anyone with those, are they recommendable.. Currently having a xiaomi 10400mah bank, but looking at ectech for the more Usb ports and variable colors(cyan) and apparently more juice..

Why not just carry the lighter SP3 charging brick and a USB cable to charge your phone?

Because it has to be plugged in to an outlet, whereas these don't.

One, because I don't have a SP3. Second, power banks are useful when you are not near a power outlet.

Someone has never left his room. lol

LMAO You are missing the point of power banks itself.

Where is the Microsoft's promised power bank where is it..has it got sunken...

I have a 1800 mah nokia power bank it does the trick most of the time if i need to jump start my devices and there is no adaptor in my bag down side is it's pink the best and the worst gift ever

I'd like a list of power banks that can charge my Lumia and my Windows tablet (19V)

How do you guys get your Surface 3 charged without the genuine charger? I tried using a USB cable connected to a PC's USB port, and a USB cable connected to a wall charger that comes with a Lumia (don't remember which Lumia), but neither method charges the tablet (plugged in, not charging), even when I totally shut down (not sleep) the device.

PC usb poets generally aren't powerful enough, and it's also possible neither is your phone plug (although they can sometimes charge tablet devices, just incredibly slowly). Power banks with 2amp output can handle tablets.

No wonder... So it's time for me to update my power banks for the 2 amp output.

I purchased the myCharge Amp Max Rechargeable 6000 mAh Battery (AM60K-A) for my husband about a year ago, and it has been a huge help for him. I've been eyeing newer models, so this article is very timely for me. Thank you!

My brother has the Intocircuit one, I love my Oneplus Power Bank, it probably charges the fastest out of all the power banks I've used. I also have the 1st generation of this: http://www.amazon.com/EC-TechnologyAE-22400mAh-Capacity-Flashlight/d... I would buy that if I got another one, it has 3 usb ports and is 22000mah for less than $40. I think I paid $50 for the 1st generation which only had 2 usb ports. Also have this one which has a laser and flashlight, it is expensive though, it is $55, it ws $40 when I bought it 3 years ago: http://www.amazon.com/New-Trent-Smartphones-built--flashlight/dp/B0013G8...

Perfect timing for this. Going to the US for a month soon and needed a new power bank cause last one died. Just ordered the Mi 16000 as it was cheapest available in Australia. Hope it goes well.

Ordered the OnePlus kind. Hopefully it won't catch fire since I ordered it from eBay with free shipping from China.

With the sizes of batteries in points note, I assumed that 20000 mah battery packs would have been included Posted via the Windows Central App for Android

Go with uimi power banks bettery get with long life of your mobile power try instant.......

I owned a lot of portable chargers and most after 3 months start to not holding up as much power compared to when I first bought them. Maybe these other brands might be better I will have to give them a try. However, ill suggest the Powergo ss 5000 from tech get go. Its not put on the list here. I have owned this product for about 5 months now and I must say its my new must have portable charger. Its recharges so much more faster then the previous power banks I owned. It recharges itself so quick that I can feel its like 15 times faster charge speeds then any other portable chargers I have owned including my new Qualcomm Q.C. 3.0 portable charger I also bought from amazon to give it a try. the power bank pretty much finished charging itself in like under 15 minutes. When I use it to recharge my iPhone it recharges not as fast but I can tell it charges much faster then my wall charger. I would have to recommend the powergo ss 5000 to anyone who wants a really quick charging power bank. surprisingly
Windows Central Newsletter
Thank you for signing up to Windows Central. You will receive a verification email shortly.
There was a problem. Please refresh the page and try again.