5 high-capacity power banks that can easily charge more than one device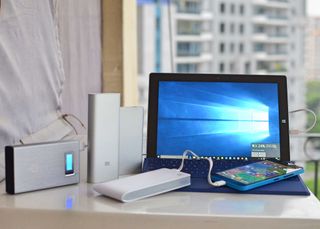 Portable chargers or power banks are pretty common these days relieving smartphone users from the everyday battery anxiety. There are some that can charge a smartphone to full capacity and also ones that are compact to carry.
However, in the last few months, even casual users are often picking up high-capacity power banks with over 10,000 mAh capacity – over three times of a usual smartphone battery. You can charge a smartphone more than once and also add juice to your tablet while on the move. And you'll always be that friend in the group, who wouldn't hesitate in sharing the power bank to charge somebody else's phone.
On a regular work day, I carry two smartphones and a Surface 3, and a regular power bank doesn't suffice. In fact, after getting a Surface 3, I gave up on lower capacity power banks, and a high-capacity one is always with me when I'm out and about.
Here's my pick of five such high-capacity power banks. This is by no means a definitive list, but a selection from the ones I've used. All of the five, and some others in the market, are high-quality products. Unlike the early wave of portable chargers, these have solid build quality, reliable current supply, and are relatively inexpensive. Some of these might not be available in your country, so you could choose among the ones that are available.
In any case, I'd recommend never to buy those unbranded ones with dubious quality since they could damage your phones or tablets on frequent usage. Also, if you're buying a high-capacity power bank, again make sure you have a high-quality USB cable that allows optimum charging.
TYLT Energi 10K
TYLT has been one of my favourite brands for accessories, and the Energi 10K was the first high-capacity power I got for myself. Packing 10,400 mAh, the charger includes two 1A and one 2A USB ports, and the 4.2 Amp circuit allows rapid charging of up to 3 devices simultaneously. It's nicely designed and looks very stylish.
One could say that the Energi 10K is a generation older. It's a tad heavy than the others, and the retail price of $99.99 is very steep compared to others. Thankfully, you can pick it for $59.99 on Amazon these days, but of course, a product refresh is due.
Mi Power Bank
The Chinese company, Xiaomi, has revolutionized how smartphones and mobile accessories are priced in the markets that they are present in. At $13.99, the 10,400mAh Mi Power Bank is one of the cheapest ones available and has redefined the category.
Housed in a nicely textured aluminium casing, the power bank features smooth edges and is very ergonomic to grab. The surface is resistant to fading, water, and corrosion. Xiaomi claims that the Mi Power Banks have better charging conversion rate and stabilize discharging voltage with advanced resistance-capacitance sensors to optimize efficiency and durability.
You can order a Mi Power Bank from here. There's also a 16,000 mAh variant if you don't mind the extra weight.
Honor Power Bank
The 13,000mAh power bank from Honor, the new brand from Huawei, is almost identical to the Mi Power Bank in looks although it's smaller and packs in more juice. The Honor Power Bank includes intelligent sleep and energy saving features for lower power consumption. The Intelligent control chip housed in the power bank waits for 6 seconds and automatically shuts down when there is no connection charge detected. This puts it into sleep mode to reduce power consumption and loss of power when static.
You can check out more details of the Honor Power Bank here. It's available in India for ₹1,399 ($21), and that's quite a bang for your buck.
Intocircuit Portable External Battery Charger
This stylish portable charger features an aluminium alloy shell and a blue LCD that displays the current charging status and the battery status. Intocircuit is a HisGadget brand and offers mobile accessories and novelty gadgets.
The 11,200 mAh charger packs in two USB ports – a 5V 1A one for most smartphones and another 5V 2.1A one for tablets – and can charge two devices at full speed simultaneously. The Intocircuit charger stands out from the others in a couple of ways. There's a built-in flashlight, and it includes a pretty good carry pouch in the box. You can buy one for $22.99 on Amazon. There's a 15,000 mAh variant as well.
OnePlus Power Bank
The OnePlus Power Bank is what you'll find in my bag these days, specifically because it's compact and lightweight. The 10,000 mAh portable charger has a minimalist design, and the gentle curves make it easy to tote.
Available in Silk White and Sandstone Black, the soft glow of the power bank's battery indicator LEDs is awoken with a gentle shake. There are two USB ports – 5V 1A and 5V 2A - and a multitude of safety features prevent overcharging and overheating.
The OnePlus Power Bank doesn't cost much, and at $14.99 is a great buy. You can pick one from here.
Power banks are almost an essential accessory in anyone's bag these days, and the high-capacity ones are great if you carry multiple devices, are out in the field through the day, or are travelling. Which one do you lug around? Let us know in the comments.
Get the Windows Central Newsletter
All the latest news, reviews, and guides for Windows and Xbox diehards.