5 intriguing apps for Windows 10: October 2, 2015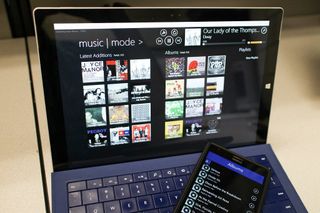 With the ever-growing number of apps and games in the Windows Store, it is becoming increasingly difficult to keep up with what's out there.
For that reason, every Friday we showcase some apps that have piqued our interest. They may have been in the news recently, they may be new to the Windows Store, or they could simply be old apps that we just stumbled upon.
They are the 5 Intriguing Apps of the Week.
Oh Clock
Oh Clock is an all-in-one universal app for everything time-related. First and foremost, it is a world clock, displaying your local time front and center. You can add at least one city from any country in the world to your view to keep track of what the time is there.
Do you have varying work schedule? There is an alarm clock that can handle multiple entries, so you can set it for the week, or even longer.
Oh Clock also has a countdown timer for timing the blinds in your weekly poker game or keeping track of that bunt cake in the oven. Every alarm and counter you create can be named, making them easy to track.
You will also find a day counter and the obligatory stopwatch.
But it isn't just the collection these standard functions that make Oh Clock worth checking out. Oh Clock has a streamlined interface suited for Windows 10. It is simple, fast and without clutter.
Plus, it is available on Windows and Windows Phone.
The free version is fully-functional with some limitations on the number of alarms you can set, etc. The upgrade to pro if free for the time being, so grab it while you can.
Music Mode
Music Mode is an alternative to Groove Music player on Windows and Windows Phone, that has recently been optimized for Windows 10. It uses a beautiful, sleek dark theme to display your albums as tiles.
On the app's start screen, you can view your music by artist, album, genre, newly added, and decade. These categories can all be added or removed in the options.
Music Mode's "Auto Pilot" function lets you set up sort of a one-button playlist, so if you play a song, you can have it automatically choose what will come next. For instance, you can have it play all albums by that artist, shuffle the genre, randomize all of your music, etc. There's even an option to have your tunes start up automatically if the app shut down mid-song.
There are a bunch of other cool features and customizations as well. Music Mode will fetch metadata from the internet and let you sort your music collection and playlists simply by dragging and dropping.
You can also have it show notifications for each song that plays if the app is running in the background.
This is one of the better third-party music apps I have used for Windows. It is fast, stable, and feature-rich.
Music Mode is free, but there is a Pro version that adds streaming to DLNA devices, FLAC and ALAC playback, and some other perks. All of these are free for 30 days in the free app.
Latermark
Latermark, formerly known as Read It Later, is a third-party Pocket client for Windows and Windows Phone. If you aren't familiar, Pocket lets you bookmark webpages so you can read them later offline.
Latermark gives you full access to your Pocket account, letting you add, delete, or archive entries from your list. You can also use it to create tags to categorize them or mark items as favorites for quick access.
Because it is linked to your online account, Latermark will sync changes nearly instantly between devices.
Additionally, any pocketed URL can be displayed in the built-in reader or opened directly in your browser. They can even be downloaded for offline access.
Latermark has integrated lockscreen support and the ability to pin individual items to your Start menu. They are also sharable directly to and from other apps.
It is free, with some optional in-app purchases available.
AlphaCore
Occasionally, we come across an app that the vast majority of users will never use, but we highlight them anyway because they deserve some recognition. AlphaCore is just such an app.
AlphaCore was developed by a speech pathologist to aid those who are speech impaired due to ALS, MND, or other conditions communicate with loved ones and caregivers. The app uses four different keyboards that have letters, numbers, symbols, words, phrases, and emoticons and use intuitive prediction. The app can then convert the text to speech.
AlphaCore supports several types of controller inputs, including keyboard (wired or Bluetooth), mouse, trackpad/trackball, joystick, touchscreen, and even head or eye trackers.
Like I said, it is not an app that the average Windows 10 user is going to purchase, especially at $149.99, but it is inspiring to see the platform being used in such a way.
Eyefi Mobi
Eyefi Mobi is the official app for the company of the same name that manufactures SD cards with built-in wireless capabilities for digital cameras. The purpose is to connect to a smartphone or computer to transfer photos.
The app, which already existed for Windows Phone 8.1 has been updated as a universal app for Windows 10.
With Eyefi Mobi, simply opening the app will connect to your camera's Eyefi Mobi card in your camera. Don't have a camera with a card? That's OK, you can use it between your smartphone and computer directly.
The app lets you create photo albums, view EXIF data, and see photos from all of your devices all at once.
Eyefi also offers a cloud service that will sync your images on all of your devices, as well as manage and edit them.
Whether you're a novice photographer simply snapping pics on your phone or a serious shooter, Eyefi Mobi has a range of helpful tools and services.
Be sure to check out our other selections from previous weeks. Have a great weekend!
Do you have an app you want us to highlight? Drop us an email at tips@windowscentral.com with "5 Intriguing Apps" in the subject line.
Get the Windows Central Newsletter
All the latest news, reviews, and guides for Windows and Xbox diehards.