5 intriguing apps for Windows 10: October 9, 2015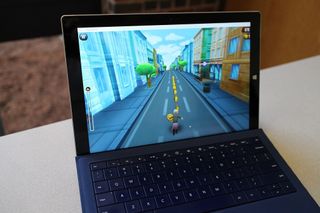 With the ever-growing number of apps and games in the Windows Store, it is becoming increasingly difficult to keep up with what's out there.
For that reason, every Friday we showcase some apps that have piqued our interest. They may have been in the news recently, they may be new to the Windows Store, or they could simply be old apps that we just stumbled upon.
They are the 5 Intriguing Apps of the Week.
Ring Video Doorbell
Ring has released an official app for Windows 10. If you aren't familiar, Ring is a smart doorbell system with an integrated camera that you can view on your computer, tablet, or smartphone. Ring also has audio, so you can chat with your visitor, even when you aren't home.
The doorbell uses four different motion-sensing zones to alert you when someone is on your property, even if they don't ring the bell.
As for the app, it brings all of this functionality to your Windows 10 device. You can manage your device, as well as stream audio and video.
While there are still some features that the app doesn't provide, like deleting and sharing, the developer says that there is more on the way.
They are also working on a Windows Phone version.
Whether you're looking for convenience or added security, Ring is a value-add.
Newser
Newser for Windows and Windows phone is a digest for current events. But it's not just the top stories of the day that everyone should know; it's also the funniest, weirdest, and most intriguing news from around the world.
Every day, 45 items are neatly arranged in tile form on a grid, so you can get a snapshot of what's going on. Each story is condensed into about two paragraphs, so the "tl;dr" folks can get the details without devoting too much time to reading.
Stories can be arranged by date, popularity, section, importance, and more. You can also vote them into categories, like Brilliant, Hilarious, Depressing, or Scary, so readers can immediately get to what they are interested in.
Newser features media galleries and a Live tile that displays your unread story count. Share your favorite bits to social media and other apps.
Newser is quick look at the important happenings of the day and a great source for all of the "other" news out there.
The Weather Channel
The Weather Channel, one of the best and longest-running weather apps, has been updated as a universal app for Windows 10 PC and Mobile. From one of the most trusted names in weather, the already comprehensive app has also added even more features.
You can now customize your push notifications:
Severe Weather Alerts: Stay safe with notifications of severe weather from your national weather service and know when the next big storm is going to impact your area (USA and Western Europe only).
Rain Alerts: Never get caught in the rain again with real-time alerts for your GPS location and morning rain reports for your favourite Locations.
Pollen Alerts: Know the pollen counts near you (US and UK only). It's easy and free!
The maps feature has also been upgraded. Now you can view your saved locations on the map. You can also the see current weather for any location just by touching it or zoom out for global conditions.
Whether you're a weather junkie or just someone looking to stay dry on your way to work, The Weather Channel is one of the top weather apps out there.
Bricks Crash 2
Bricks Crash 2 is a cubed version of a bubble shooter game. Much like Disney's Inside Out Thought Bubble and others of its ilk, Bricks Crash 2 has you launching a projectile to chip away at the slowly-creeping ceiling before it crushes down upon you.
Different bricks have powers that will either help or hinder your progress.
The graphics are reminiscent of Arkanoid, complete with glossy bricks and dynamic brick destruction.
Bricks Crash 2 is a straight-forward, addictive bubble shooter, just like the others you have played.
There are 60 levels of play, or you can play the endless mode to see how long you can go.
The game is normally $1.99, but is on sale for $.99 this week. There's also a free trial, so you can try before you buy.
Angry Gran Run
In Angry Gran Run, you play a sweet old lady who is forced to get physical in order to escape the Angry Asylum.
This endless runner has you running through the streets dodging road work, sliding under buses, and leaping over giant tea cups and bowler hats in the middle of the road. Not to mention the tracksuit-clad ruffians who are up to no good.
Collect coins and gems to buy power-ups and new costumes. There are also daily and weekly challenges that you can run for extra perks.
Angry Gran Run is a funny twist on the runner genre, sporting cartoon-like graphics and an amusing soundtrack.
The game is free, though in-app purchases are available. Like the description in the Store says, "if you love grandma games, you will love this..."
Be sure to check out our other selections from previous weeks. Have a great weekend!
Do you have an app you want us to highlight? Drop us an email at tips@windowscentral.com with "5 Intriguing Apps" in the subject line.
Get the Windows Central Newsletter
All the latest news, reviews, and guides for Windows and Xbox diehards.