Inside Out Thought Bubbles game for Windows Phone ties into Pixar's latest movie [Update: Windows 8.1 version launched]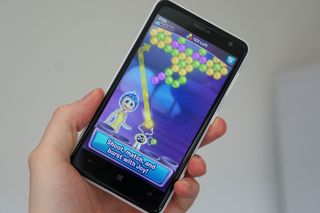 The newest animated movie from Disney's Pixar division is Inside Out, and it's already getting great reviews. Now Disney has released the tie-in game to the movie, Inside Out Thought Bubbles, for Windows Phone.
The movie centers on an 11-year old girl who has all of these sentient emotions in her head who try to control her actions. The Inside Out Thought Bubbles free-to-play game lets players interact with all of these emotions in a arcade puzzle-shooting title. Here's the skinny:
SHOOT & MATCH memory bubbles for each emotion
UNLOCK characters as you explore 125 levels, each with a challenging new puzzle
UNLEASH POWER-UPS unique to each Emotion - Create a sunburst with Joy, let the rain pour with Sadness, and light a fireball with Anger!
CHALLENGE yourself with 4 different game types
OVERCOME obstacles like Brain Freezes and JUMP AHEAD using boosters like Brain Storms
CONNECT to the world of the film through stunning 3D animation and gameplay featuring voice actors from the film!
If you are wondering, yes, this game is compatible with 512MB Windows Phone devices. The description shows a Windows 8.1 version of the game but so far it has yet to be released. Update: It's now live.
Download Inside Out Thought Bubbles from the Windows Phone Store (Free)
Download Inside Out Thought Bubbles from the Windows Store (opens in new tab) (Free)
This movie looks cool. I like the approach of trying to describe mental illness or mental processes in a cute and approachable way for kids (and even adults) to easily understand.
The game look cool? But honestly I usually only get Xbox WP games to play. =/

BEST FILM OF 2015! I just came back from seeing it and Pete Docter has struck gold again.

Other movies by Pete Docter?

Bridge of spies will b the best, just wait, starring tom hanks, directed by steven spielberg nd written by the coen brothers!!

Replace the incredible with monsters inc. Still a great film.

it's a puzzle bobble clone!!!! WOOHOO! wait, why does my 920 struggle? ugh

I thought the movie was good. To be expected of PIXAR, they have a talent for putting adult themes into cleverly disguised childrens films. It's one of those movies kids will see and watch again when they're older and realize its a different, more fulfilling experience.

Off topic: Critical update for my L620 that fixes reboot issue now available :)

Match three, seriously?!
How come this is still a thing?!

Because matching four would explode the internet.

This is not a match-3 game... I would only apply that term to games like Bejeweled where you have to move tiles. This is more like Puzzle Bobble / Bust-a-move as you fire balls from a cannon. These type of games have been "a thing" for the last 25+ years, so I doubt they'll stop being so anytime soon. I dare say the rise of mobile phones & tablets has made them even more wildly popular than they were before. My wife plays such games every day!

Download & watch inside out movies online >>http://rewatchmovies.com/movie/1187/Inside+Out

I don't like bubble games but this is cool and amazing!

hi. Some hours after i did that small wi fi update on windows phone 8.1 I had the game progress of this specific game back to the beginning. Anyone had this issue?
Windows Central Newsletter
Thank you for signing up to Windows Central. You will receive a verification email shortly.
There was a problem. Please refresh the page and try again.