5 intriguing apps for Windows 8.1: March 20, 2015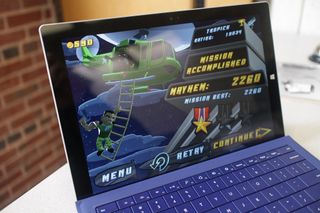 With the ever-growing number of apps and games in the Windows Store, it is becoming increasingly difficult to keep up with what's out there. For that reason, every Friday we showcase some apps that have piqued our interest.
They may have been in the news recently, they may be new to the Windows Store, or they could simply be old apps that we just stumbled upon.
They are the 5 Intriguing Apps of the Week.
Media Center
Media Center is a powerful audio/video player for Windows 8.1. It is capable of using just about any format of music and video files that you can think of. You can add countless media folders, build playlists, and customize equalizer settings.
What's more, Media Player also has built-in searching for SoundCloud audio and YouTube video. These search results can be cached on your device so you can listen to them while offline. If you are a Last.fm user, you can also log in and use Media Center to scrob music.
Media Center also gives access to online radio streams.
Though some of the controls and options are not as intuitive as I would like, the overall interface is well-designed. Not to mention that the sheer amount of supported file formats cannot be beaten. That is unless you buy the VIP version for $10.99.
For the next two weeks, you can save a buck and get Media Center VIP for $9.99.
Major Mayhem
Gear up for some not-so-serious action with Major Mayhem, a tap and shoot runner for Windows. When ninjas threaten all that is good, Uncle Sam calls in the Major.
In this cartoon action game, you side scroll your way through different settings, ranging from jungle to the city, shooting star-chucking ninjas out of trees and windows.
Major Mayhem is packed with 48 fun-filled levels that let you take cover to avoid injury. When the coast is clear, pop out and lay down some fire. But be careful not to kill any hostages during the firefight.
As you clear out the ninja threat, you gain coins that can buy you different outfits, power-ups, and bigger and a better armaments. You can also use in-app purchasing to equip your character.
Major Mayhem combines great artwork and simple controls to bring you mindless enjoyment.
Phototastic
Phototastic is a free and easy way to turn your photos into collages. With a bunch of different templates, you can customize your memories the way you want them.
The free version also includes many frames, borders, backgrounds, and stickers to personalize your collage. There is also a built-in camera app that can take burst photos. You can choose how many pictures it takes and how long it waits between taking them.
Phototastic is ad-supported and buying the Pro version not only removes the advertisements, but adds many more options. You can also buy different features a la carte from within the app.
Wunderlist: To-Do List & Tasks
Of the many to-do list apps out there, Wunderlist: To-Do & Tasks looks to be one of the most comprehensive. More than just a simple list, Wunderlist lets you create tasks and categories with sub-tasks underneath them, so you can break them down into individual steps.
And if you are working on something with someone else, you can invite them to collaborate with you. Participants can chat from within the app, or attach pictures and documents.
Wunderlist is a universal app and is available across just about all mobile and computing platforms, so you can be sure you will never be without your to-do list. Wunderlist: To-Do List & Tasks is free, but requires a login, which can be tied to Microsoft and Google accounts, if you choose.
Sports Jeopardy!
We first told you about Sports Jeopardy! a couple of days ago. This official app from Sony Entertainment brings the excitement of the popular TV game show to sports fans everywhere.
Whether you are on your computer or your phone, you can test your sports knowledge on your own or match wits with other players online.
As you drop trivial knowledge on your opponents, you will gain power-ups to help you out and open up accessories to customize your avatar. And if you really know your stuff, you can shed your starting title as Waterboy to become a Legend. You know you're a champion, now it's time to show the competition.
Be sure to check out our other selections from previous weeks. Have a great weekend!
Do you have an app you want us to highlight? Drop us an email at tips@windowscentral.com with "5 Intriguing Apps" in the subject line.
Windows Central Newsletter
Get the best of Windows Central in your inbox, every day!
What does the VIP version of Media Center get you?

As far as I can tell, it gets you all of the available file format support without having to purchase it in-app.

Indeed, I love the feature to import the to-do and tasks calendar as iCal and then add it on my Microsoft account

@cholo: Can you do the iCal thing in the Windows Phone app? I can't find it. To clarify, you add the task to your Microsoft calendar?

Check this link
https://support.wunderlist.com/customer/portal/articles/1710196-how-to-show-wunderlist-items-in-google-calendar-ical-or-outlook-beta You don't have to do it on the WIndows Phone app but on the Web Wunderlsit App and in your web Microsoft account The other thing, you add the tasks to your wunderlist app and they will appear in your Microsoft Calendar for easy check

I agree. I have it on every device and use the collaboration feature a lot.

Major Mayhem is also available for windows phone

Was going to point this out but you beat me to it ^

I think it's too hard to get hit streaks on the smaller screen, unless you use a stylus. Even on a 10.1" it's difficult without one. Great game though!! I like the bazooka, shotgun & sniper rifle the best...

Duly noted, thanks! I added the download info.

Off topic but the windows update I installed this week on my laptop made it unusable, windows won't boot...... I have 8.1.1 no tech preview at all.

You're right, that is indeed off-topic.

I keep look for a media app that gets the artwork for your tv shows and movies and organizes them nicely. The best so far is Mediabox and Movie Premier. But it is so hard to go through the media players, because two or three clowns republish their same media player 25 times under different names. Ridiculous.

Yeah that's pretty annoying indeed!

the use of 'intriguing' on this blog is like 'sustainable'... In two years every third word will be intriguing, in five years all sentences will only consist of intriguing...

'sustainable'.. Here it is:http://xkcd.com/1007/ ​ ​ ​

Major Mayhem all the way!! :D

Try my new app Mo'BetterKaraoke