5 intriguing apps for Windows 8.1: March 27, 2015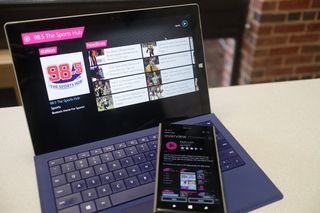 With the ever-growing number of apps and games in the Windows Store, it is becoming increasingly difficult to keep up with what's out there. For that reason, every Friday we showcase some apps that have piqued our interest.
They may have been in the news recently, they may be new to the Windows Store, or they could simply be old apps that we just stumbled upon.
They are the 5 Intriguing Apps of the Week.
Radio.com
The CBS' Radio.com popped up a few days ago as a universal app for Windows and Windows Phone. With it you can listen to live streaming radio from over 300 stations across the United States, including talk, sports, and various genres of music.
Listen to national broadcasts or use your location to find nearby stations wherever you are. You can view show schedules and browse entire music catalogs. CBS is a big player in national radio, and the Radio.com app gives you access to a ton of their content.
Fhotoroom
Fhotoroom is not a new app by any stretch, but it remains one of the best photo-editing apps out there, especially for touch-based devices. It was recently updated with new features, like High Dynamic Range (HDR) Filter and Tiny Planets integration.
Fhotoroom is a powerful editor in its downloaded form but can be augmented by purchasing additional features, like filters and other tools from within the app. However, it doesn't stop at editing. Fhotoroom lets you share your images with social media sites like Facebook, Twitter, VK and Flickr via the Share Charm. They also have an ever-growing community of their own that can be accessed through the app. There you can see other's photo streams, like photos, follow users, enter contests and share filter recipes.
What's great about Fhotoroom is that it is as much or as little as you want to make of it. It's a simple photo editor, an advanced tool, or a gateway to an online photography community.
For a more in-depth look at Fhotoroom, be sure to check out the full review by our very own George Ponder.
Link Sync
Link Sync is an app that helps you share URLs between devices. It is more or less a stripped-down version of Kopy with no login, history, or options. Therefore, it is incredibly quick to use.
Upon using the app for the first time, Link Sync creates an identity for you (presumably based on your Microsoft Account login). Once this is done, simply paste your link into the provided field, and Link Sync throws it into its cloud repository.
When you open Link Sync on a device logged in with the same account, you will see a list of the things you had previously saved. You can then open, copy, or delete the URL of your choosing.
Though it is designed specifically for sharing web links, Link Sync will save any text you input. It's a fast, easy way to sync info between devices.
Splashtop Personal - Remote Desktop
Splashtop Personal is a remote access application for PC, Linux, and Mac. The thing that makes Splashtop Personal appealing is that you can access your computer from just about any other device, regardless of platform.
Splashtop Personal - Remote Desktop is the app that makes this possible for Windows and Windows Phone users. Anything that you can do on your computer you can do remotely using Splashtop, including play games and watch videos.
It's as easy as signing up for an account and installing their Streamer software on the computer you want to control.
The free version of Splashtop Personal allows you to connect to computers on your local network, similar to Remote Desktop, but with some added features like audio streaming and Wake on LAN. For $16.99/year, you can get the Anywhere Access package, which makes your device accessible over any internet connection.
If you are looking for a way to access your computer while you are traveling, at work, or just in the other room, Splashtop Personal is a perfect place to start.
GIFicious
Anyone active on social media or on websites like Reddit has doubtless come across plenty of animated GIFs. If you have ever wanted to make your own, but don't know how, check out GIFicious.
GIFicious walks you through creating animated images using pictures or videos. If you don't already source material that you want to use, you can snap photos or record videos right from the app.
When combining pictures into an animated GIF, simply select the files you want to use, apply any of the built-in filters that you want to use, then combine them. For videos, just play the video in the app and pause the movie on any frame to extract it. Combines the stills that you have created, and voila!
GIFicious lets you tweak your GIF's size, animation speed, and whether or not you want it to loop. It's extremely easy to use, and it's free!
Be sure to check out our other selections from previous weeks. Have a great weekend!
Do you have an app you want us to highlight? Drop us an email at tips@windowscentral.com with "5 Intriguing Apps" in the subject line.
Windows Central Newsletter
Get the best of Windows Central in your inbox, every day!
98.5 The Sports Hub. Where we pretend the New England Patriots didn't win the Super Bowl and bitch about things that didn't happen. That might as well be the name of the station. Especially those 2 morons Felger and Mazz.

Yeah, but Toucher and Rich are great.

What about Gresh??? Oh wait....

Thank you, I'm going to get Gificious ;)

I don't get the link thing

For example, if I have Link Sync installed on my phone and come across a website I want to check out later, I save the link to Link Sync.
Then later, I open the Link Sync app on my Surface, and the web URL I saved from my phone is there, so I can read it on my Surface.