5 Microsoft technologies to be thankful for this Thanksgiving
Though Black Friday is casting its shadow of consumerism over the Thanksgiving Holiday, there are many Microsoft technologies for which we can (and should) give thanks.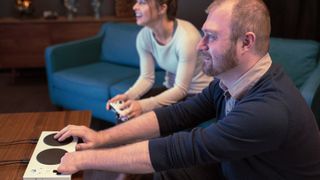 Microsoft has impacted the world with technologies that have improved the lives of millions. Though Microsoft and other companies are pursuing profits and seeking to satisfy investors, there is a level of altruism guiding many of these companies' pursuits.
Many Microsoft technologies have made things better for countless people. Here we talk about five of those technologies.
Microsoft's Immersive Reader
Microsoft's Immersive Reader helps improve reading fluency, confidence and provides text-decoding tools for children with dyslexia, a language-based learning disability that affects millions of people worldwide.
Immersive Reader is a product of a 2015 hackathon where it debuted on Microsoft's OneNote. It is now accessible on the web, Windows, iPad, and Macs via Word, OneNote, and Outlook.
Microsoft's Principal Project Manager for Education Mike Tholfsen's passionate embrace of education fuels his pursuit to ensure Microsoft's inclusive design mission is part of his approach to implementing Microsoft technology. Many educators have brought Immersive Reader to their classrooms, positively impacting children with dyslexia as well as children without literacy challenges. Reading is fundamental to learning and academic success.
Microsoft's Immersive Reader tackles Dyslexia
Windows eye-tracking
Millions of people worldwide live with immobilizing conditions such as Amyotrophic Lateral Sclerosis (ALS), or Lou Gerig's Disease. Sadly, individuals with quadriplegia, who are unable to move their hands, arms, and legs are not able to navigate a computer (or the world) like those not living with those challenges.
In 2016, Microsoft partnered with former National Football League (NFL) great Steve Gleason to help him combat the mobility-limiting effects of ALS. Microsoft outfitted Gleason with a motorized wheelchair, allowing him the mobility to play with his son.
Microsoft also developed technology that enables Gleason and others to navigate Windows 10 using just their eyes. Microsoft's eye-tracking technology even lets users write entire articles as (demonstrated by our Senior Editor Zac Bowden. Windows eye-tracking is a life-changing tool that includes previously excluded people (opens in new tab) in the world of desktop computing.
How Microsoft used tech to help people regain mobility
Seeing AI
Microsoft software engineer Saqib Shaikh, who is also blind, demonstrated artificial intelligent (AI)-enhanced glasses that could recognize facial expressions, activities, and text and narrate what it "sees" to the wearers. Shaikh created this technology to help blind people "see" the world.
Seeing A.I. eventually became an iOS app that has received praise and recognition for how it benefits those with visual challenges. It helps blind people "read," recognize unspoken visual cues, see scenes, and more.
How Microsoft helps blind people 'see'
Microsoft AI and Health
Microsoft's Healthcare NExT (opens in new tab) leverages Azure cloud and A.I. to support healthcare providers, organizations and biotech companies in bringing innovation to the industry.
Azure provides data analysis, security, and collaboration tools. Microsoft's Project EmpowerMD monitors, listens to and securely synthesizes doctor-patient interactions. Among its functions is the automatic recording of doctor-patient interaction notes with the goal of increasing patient-doctor face-to-face conversations. This is an improvement to the impersonal way doctors take notes with their backs toward patients and faces toward computers.
Additionally, using machine learning and computer vision, Project InnerEye helps clinicians personalize treatments, increase time with patients, and it reduces hospital costs.
Xbox Adaptive Controller
Millions of people around the world are avid gamers, and millions more would be if they could use the complicated controllers necessary to participate. For those of us without physical challenges, the button-inundated controllers designed for fine motor manipulation can be difficult to operate. Imagine how difficult they are to use for someone with cerebral palsy.
Microsoft upended the gaming world with its inclusive design Xbox Adaptive Controller. Microsoft's Adaptive Controller is a large, port-laden peripheral that can be modified to "adapt" to users' specific needs.
The Xbox Adaptive Controller certainly benefits Microsoft's gaming business, but it also makes millions of people a part of a pastime from which they were previously excluded or had limited access.
Happy Thanksgiving
As Black Friday begins to overshadow our collective expressions of gratitude this Thanksgiving, maybe we can ponder these five Microsoft technologies and perhaps pause to consider a few more things for which we can give thanks this year.
Windows Central Newsletter
Get the best of Windows Central in your inbox, every day!
Jason L Ward is a columnist at Windows Central. He provides unique big picture analysis of the complex world of Microsoft. Jason takes the small clues and gives you an insightful big picture perspective through storytelling that you won't find *anywhere* else. Seriously, this dude thinks outside the box. Follow him on Twitter at @JLTechWord. He's doing the "write" thing!