5 reasons to consider buying a laptop running Windows 10 S
Unlike Windows RT, Windows 10 S is actually rather good. Here are a number of reasons you should consider it on a laptop.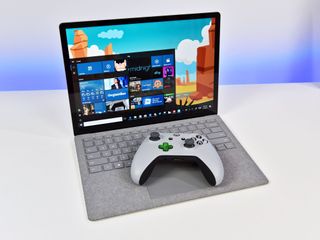 Microsoft's Windows 10 S launched last year to take on Google's Chromebooks in the education market. Redmond is attempting to tap into a market where price is everything, but there are a few valid reasons why you might want to choose this version Windows 10 over the full-featured Windows 10 Pro.
It actually is Windows 10 Pro
Windows 10 S is a little locked down compared to standard Windows, so you can't just go crazy and install whatever you want. But it does still have most of the features that everyone uses, including access to awesome games in the Windows Store, stylus support, BitLocker, Xbox Anywhere, Remote Desktop, and the latest security and feature updates.
And if you do decided to unlock it, you're getting Windows 10 Pro with all the features and not just Windows 10 Home.
A safe and secure app store
While limiting Windows 10 S to the Windows Store does also limit the selection of what you can install, it also means you're less likely to install something nasty. Apps in the Windows Store are screened for malware and viruses, and are also limited in how much access they have to your system. Sticking to Windows Store apps ensures your PC will stay secure and perform well.
Add in an ever-growing app selection in the Windows Store and Windows 10 S should be more than enough for most.
It's better than Windows 8
Windows 10 S is everything that the Windows RT experiment should have been. It's fast, has an app store with great apps from top developers and independent coders, and it's stable and reliable. It's easy to laugh at Windows 8 and RT, but Windows 10 Pro and 10 S are actually really good.
Edge is edgy
Microsoft's latest web browser is a solid experience and a vast departure from the clunky, unsupported, and slow Internet Explorer. There are even extensions that are available in the Windows Store to expand the functionality of the browser.
Microsoft Edge ultimate guide
Upgrade to Pro at anytime
The good part about Windows 10 S is you're not stuck with it. If you want to install software outside the Windows Store or tweak locked settings, you can upgrade to full Windows 10 Pro. It'll cost you $49, which isn't absurdly expensive, and the option is always there if you want it.
More on Windows S
Windows Central Newsletter
Get the best of Windows Central in your inbox, every day!
Rich Edmonds was formerly a Senior Editor of PC hardware at Windows Central, covering everything related to PC components and NAS. He's been involved in technology for more than a decade and knows a thing or two about the magic inside a PC chassis. You can follow him on Twitter at @RichEdmonds.
I ran 10S on my Surface Pro 4 that I used for work and it was a solid experience. Battery life was slightly extended and all the apps I needed for work are on the store.

One thing I have not seen mentioned anywhere is driver issues. You can not manually install drivers for anything. I tried to install 10 S on a spare laptop, last weekend. It was basically being recycled, and it had Win 7 on it. Just as a test, I installed 10 S on it. The install went fine, and I was looking forward to playing with it. But it came up with several drivers missing, the most important of which was the video driver. This was nothing exotic, just standard (old) Intel HD 3000 video. But using the "basic video driver" at 1024 x 768 is useless. So I did the standard "search the internet for drivers" thing. It found the driver, downloaded it, then sat there and did nothing for 30 minutes. No error message, just grinding the hard drive. So I canceled it and tried again. Same thing. OK, time for plan B. I had already partitioned the drive and installed 8.1 on it. It of course came up fine. So I pointed the 10 S device manager to the path to the video driver on 8.1. Same thing, just sat there and did nothing. At this point I gave up and threw 10 Pro on it instead of the 10 S. Of course that also worked fine. Only then did it occur to me that the issue was that I was trying to install something manually, not from the store. I have no idea if drivers are even on the MS store, but some sort of error message would have been nice. So the lesson is, don't use 10 S if you ever expect to have to download and install a driver for something you plug into a USB port, for example. It will not work. Worse, it won't even tell you WHY it won't work.