5 apps you need to try on Windows 10: Mobile banking, free flicks, and mapping the stars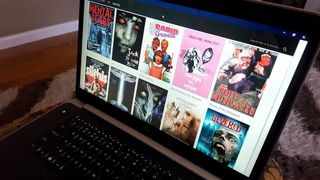 With the ever-growing number of apps and games in the Windows Store, it is becoming increasingly difficult to keep up with what's out there.
For that reason, every Friday we showcase some apps that have piqued our interest. They may have been in the news recently, they may be new to the Windows Store, or they could simply be old apps that we just stumbled upon.
They are the 5 Intriguing Apps of the Week.
Wells Fargo
After announcing that they would no longer be supporting their Windows Phone 8.1 app, Wells Fargo has released a new one for Windows 10 Mobile with a brand new user interface.
Log into your Wells Fargo account to view your bank, credit card, or brokerage account information.
Check your balance, see your transaction history, pay bills, and transfer money between accounts. You can also deposit checks using your phone's camera and send money just by entering a mobile number or email address.
The app has a built-in bank locator that helps you find the nearest branch or ATM.
The credit card section gives you access to your balance, transaction history, and gives you access to financial tools like My Spending Report.
And Wells Fargo takes security seriously, with 128-bit SSL encryption and alerts about suspicious account activity. They are so serious, in fact, that it is backed by their Online Security Guarantee.
Wells Fargo has done a great job with their latest mobile app. It is a must-have for any customer.
Available for Windows 10 Mobile.
Download Wells Fargo for Windows 10
Popcornflix
Popcornflix, the free movie and TV streaming service, have released an app for Windows 10 computers and smartphones.
The app mimics the Popcornflix website nearly identically, offering a banner across the top of featured television and film titles. Below are even more, displayed as tiles and divided into categories, like New Arrivals, Action, Horror, and even some Netflix-esque ones like Bros Movies.
Just click on a title and start watching in the built-in media player, which can be set for full-screen mode.
Being a free service, you won't find the latest and greatest titles, but Popcornflix has an eclectic mix of classics, cult movies, educational programming, cartoons, and straight-to-video stinkers, as well as some real gems.
It is a great way to find a quick fix for the kids, a long-time favorite, or some movies off the beaten path. And it's all free.
Available for Windows 10 PC and Mobile.
Download Popcornflix for Windows 10
Newspapers
Newspapers is a handy little app that delivers digital newspapers from around the globe right to your Windows 10 computer or smartphone.
With over 4000 local and national sources in 25 different nations to choose from, simply select which country you want and Newspapers will present you with a list of publications and websites divided into various categories.
When you click, you will be transported to that organization's website using the built-in browser, or opt to use your own external one. Mark your favorites for quick access to your go-to media outlets. And with RSS and Live Tile support, you'll always be up to date.
Newspapers' design feels a little dated for a Windows 10 app, but it's still a great resource for keeping up with current events and getting perspective from around the world.
Available for Windows 10 PC and Mobile.
Download Newspapers for Windows 10
Star Walk 2
Star Walk 2 is the follow-up to the popular constellation finding app of the same name. Previously available on iOS and Android, the app just landed on Windows 10 for PC and Mobile.
Star Walk 2 will show you a map of the sky with all of the stars that are visible to you based on your location. As you move your phone, the map will change to accommodate.
The app points out individual stars, planets, and any constellations, overlaying pictures of the characters that they represent. You can zoom in on each to see a 3D model and data on them as well.
Star Walk 2 continues to improve on the innovative functions of its predecessor, adding even more features and information in a user interface designed for Windows 10.
You can also purchase additional content from within the app to unlock more data about the planets, solar system, constellations, and deep space objects.
Available for Windows 10 PC and Mobile.
Download Star Walk 2 for Windows 10
AFTERLOOP
AFTERLOOP is an adventure puzzle game made by the folks over at Game Troopers. The game has you playing Pr8, a cute robot resembling Wall-E from Pixar's movie, who has been stuck for 50 years.
One day a strange change occurs and Pr8 figures out that he can now move about by shifting different blocks around.
The gameplay exactly that, figuring out how to move the blocks to get your robot buddy through the labyrinth. The catch is that different types of block move in different ways. There are also stars on each level that you can collect for even more of a challenge. And it only gets more difficult as you progress.
AFTERLOOP features imaginative design and vivid environments brought to life with cartoon graphics. There are various modes of play with over 300 puzzles, so you won't get bored easily.
Available for Windows 10 PC and Mobile.
Download AFTERLOOP for Windows 10
Be sure to check out our other selections from previous weeks. Have a great weekend!
Get the Windows Central Newsletter
All the latest news, reviews, and guides for Windows and Xbox diehards.