5 Windows 10 apps you should try: Stream home media, message your friends, and race for the end zone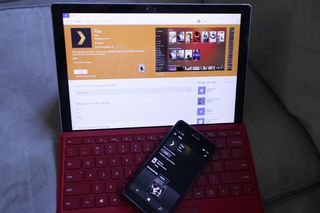 With the ever-growing number of apps and games in the Windows Store, it is becoming increasingly difficult to keep up with what's out there.
For that reason, every Friday we showcase some apps that have piqued our interest. They may have been in the news recently, they may be new to the Windows Store, or they could simply be old apps that we just stumbled upon.
They are the 5 Intriguing Apps of the Week.
Monocle Giraffe
Monocle Giraffe is an Imgur app for Windows 10 computers and phones, with a sharp design and plenty of features for the internet enthusiast in all of us.
The app gives you access to every gallery on the site, as well as on Reddit. Browse the latest images from around the net arranged by popularity, view by topic, or search using keywords.
Download individual pictures or entire albums at one time, or share them with friends through other apps. Log into your Imgur account to edit and upload pictures of your own, make and reply to comments, and more.
If you're an avid Redditor or just like to catch the latest memes, check out Monocle Giraffe. Available for Windows 10 PC and Mobile.
Download Monocle Giraffe for Windows 10 (opens in new tab)
Plex
Plex (opens in new tab), the home media streaming platform, just released their Windows 10 app for PC earlier this week.
If you aren't familiar, Plex lets you set up a media server on your computer using their Plex Media Server (opens in new tab) and then enjoy your pictures, videos, and music from any device on your network using this client app.
Plex organizes all of your media into one slick, easy-to-use interface, complete with artwork, descriptions, and more. Your streaming media will be converted as it streams to a format that you device can support.
You can take it all to the next level with a Plex Pass subscription (opens in new tab) that will give you even more flexibility. Plex Pass will not only let you sync media to popular cloud storage services, but also to your devices for offline consumption.
And that is just the tip of the iceberg. Plex is an amazing way to organize and share all of your digital media.
Although this is a universal app, you can only get it for computers and tablets. But fear not, there is a Windows Phone 8.1 app, and a Windows 10 Mobile app is on the way.
Available for Windows 10 PC.
Download Plex for Windows 10 (opens in new tab)
Viber
The widely popular messaging company Viber just took their Windows 10 app out of beta status on both PC and Mobile.
Viber allows you to send messages across just about any platform for free using your device's internet connection.
Whether it's with just one friend or in a group of up to 200 people, send texts, photos, videos, contacts, and audio recordings. There's also a plethora of stickers, emoticons, and animations to jazz up your messages.
You can go traditional and dial up your buddies on a VOIP audio call as well. The Windows 10 app also introduces a ton of new features, the biggest being video calling, so now you can talk it up face to face.
The latest version also brings with it the ability to like messages in group chats, share from Viber to other apps, and quick reply to messages without opening the app.
Viber's Windows 10 app makes the most of the operating system's capabilities, with built-in support for Cortana to place calls and send messages. The app integrates with your phone's Contacts for convenient calling. You can also pin chats to your Start menu as Live Tiles.
And Viber is secure, sporting end-to-end encryption to ensure your privacy, as noted by the padlock icon on your chats. It's a better time than ever to get on Viber with their new universal app.
Available for Windows 10 PC and Mobile.
Download Viber for Windows 10 (opens in new tab)
Multi Messenger
There is a slew of apps and websites that all have their own messaging platforms, and it can be a messy venture to keep up with them all. Multi Messenger aims to make it much easier by wrangling all of your points of contact into a single user interface.
Multi Messenger connects you to 23 different platforms using an encrypted HTTPS connection.
There are messaging apps, like WhatsApp, GroupMe, Slack, and Google Hangouts. You can also connect your social media accounts, including Facebook, Twitter/TweetDeck, Instagram, and VK. There's even access to popular websites, such as Reddit, Tumblr, YouTube, and more.
Multi Messenger lets you pare down your start page in the app, so only the sites you choose show up when you open it up. Icons for each show up in the bar at the top, and all you need to do is click on whichever one you want view.
You'll get notifications whenever a new message arrives on any of your accounts.
Multi Messenger even has a built-in browser to open up external links without leaving the app.
If you are active on several messaging fronts, Multi Messenger may just be for you.
Available for Windows 10 PC.
Download Multi Messenger for Windows 10 (opens in new tab)
Touchdown Hero: New Season
Game Troopers is hitting the gridiron with their latest title, Touchdown Hero: New Season, for Windows 10 PC and Mobile.
In this retro endless-runner, you are the star running back trying to rush through the opposing defense for the goal line. Use your mouse or onscreen controls to juke and dodge the enemy as you race for glory.
But one touchdown isn't enough. Just when you reach the end zone to score, the field changes and you're off to square off against the next team. Click or tap for a slow-motion "X's and O's" view of the field so that you can plan your route.
Like all good rushers, you are also equipped with some sweet moves. You can spin, push, or fake your way through the tacklers, but only once until your power meter recharges.
With its throwback graphics, Touchdown Hero is reminiscent of the football games you used to play on your old game consoles. You can customize your player and unlock new characters and teams.
Touchdown Hero: New Season is free to play, but offers in-app purchases for removing ads, buying boosts, and unlocking teams. Available for Windows 10 PC and Mobile.
Download Touchdown Hero: New Season for Windows 10 (opens in new tab)
Be sure to check out our other selections from previous weeks. Have a great weekend!
Do you have an app you want us to highlight? Drop us an email at tips@windowscentral.com with "5 Intriguing Apps" in the subject line.
I use Universal Media Server on PC along with Smart Player app (8.1) in my Windows 10 mobile.

I want multi messenger in mobile.anyone like me?

I was so eager after reading the summary for Multi Messenger that I tried to download it on my mobile without reading the last sentence saying it was only available on windows 10 pc. Why is it that some developers aren't taking advantage of the UWP concept and releasing apps to all platforms? How much additional work is needed?

The biggest issue is creating a UI that functions properly on mobile and scales well. There may also be api's that are more restricted on mobile but not sure of that one.

Thanks for that. So it seems from what you are saying that some minor 'tweaks' would be required before porting it across to mobile. It seems as though they just aren't seeing the likely returns on these efforts given the really really low usage of Windows 10 on mobile relative to other platforms. But they need to be encouraged more by Microsoft I think, because it is 'chicken and egg', if the apps are there the people will come ("build it and they will come"...field of dreams).

I also use the Plax Xbox app to access my server in the basement.

Somehow Viber doesnt support my Hp laptop running Windows 10. I cant install it off the store

Plz make link to download the app open in new tab.

Click on it with the middle mouse button.

GroupMe is also another app that's cross platform and easy to use.

Plex is the most amazing media server I have ever used, and I have used them all. Once you figure out how to name TV episodes with the s01e01 format, it is wicked cool.

Those looking at media options I'd also recommend EMBY (native apps available, plus WebGUI). There are still no suitable WMC replacements (6 foot experience, UX, family friendly, etc.) but Emby comes closest with new (built-in) LiveTV, PVR and guide functionality. PLEX still nice, but after hefty testing of Kodi, xbmc, plex, nextpvr and other options Emby definitely came top for my family/home media setup - auto-naming, sorting and meta for new files is a huge bonus, while plug-ins for WMC tick all our boxes. (No downing on Plex - just giving another option and recommendation)
Windows Central Newsletter
Get the best of Windows Central in in your inbox, every day!
Thank you for signing up to Windows Central. You will receive a verification email shortly.
There was a problem. Please refresh the page and try again.