5 Windows 10 apps you should try: Steam, stream, snap photos, and stick fight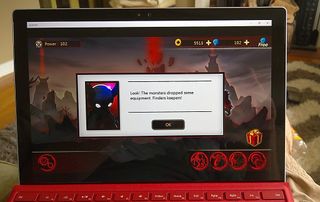 With the ever-growing number of apps and games in the Windows Store, it is becoming increasingly difficult to keep up with what's out there.
For that reason, every Friday we showcase some apps that have piqued our interest. They may have been in the news recently, they may be new to the Windows Store, or they could simply be old apps that we just stumbled upon.
They are the 5 Intriguing Apps of the Week.
Steam
Valve launched their official Steam mobile app a little more than a week ago, recruiting the developer of the Unofficial Steam Authenticator to create it for them.
Though it is technically a Windows Phone 8.1 app, it works just fine on Windows 10 Mobile, so you can get the latest news on games, sales, and promotions.
With Steam, users can generate access codes using the Steam Guard so they log into their accounts using multifactor authentication.
They can browse the store, purchase games, and even kick off remote installations to their PC right from their mobile device.
Users can also send trade offers and confirm those sent to them, as well as sell in-game items from your Inventory in the Steam Community Market. The bottom line is that the official Steam companion app is an extremely useful tool for any gamer.
Available for Windows 10 Mobile.
Zonos
Zonos is a third-party app for controlling your Sonos sound system with your Windows 10 PC or smartphone.
Compatible with all Sonos players, the app will automatically work out of the gate without any pairing or configuration. It lets you group all of your devices into zones for easy organization.
Effortlessly browse your media collection and create playlists or connect to your streaming services like Pandora and Amazon. You can also manage alarms, sleep timers, and other features.
And since it's built for Windows 10, Zonos has Cortana integration so you can control your system with the sound of your voice.
With its sharp design, ease of use, and wealth of functionality, Zonos is a prime candidate to fill the gap left by the lack of an official Sonos app.
Available for Windows 10 PC and Mobile.
Formula 1
The Formula 1 racing league has released an official app for Windows 10 computers and phones that helps you track your favorite drivers and all of the action.
The app has the complete racing schedule for 2016, along with current team and driver standings. You'll get the latest news on the sport via written and video reposts.
During races, Formula1 delivers live leaderboards, with highlights to follow when the action is over.
The ideal way to enjoy the app is with a F1 Access subscription, which you can get on a monthly or annual basis.
When you log in with your account, you will get access to live timing, complete with sector times and pit stop data via the Formula 1 app. But that's not all. The app displays live maps, speed, gear, and more.
Formula 1 brings you real-time audio and text commentary and even radio transmissions from the teams themselves.
And all of this comes on a customizable dashboard that can be tweaked to display or hide whichever information you choose.
The official Formula 1 app for Windows 10 is a must, especially if you are a F1 Access subscriber.
Available for Windows 10 PC and Mobile.
Download Formula 1 for Windows 10
Pix Casa
Pix Casa is a third-party stand-in for Google's Picasa photo service on Windows 10.
Built for both computers and phones, Pix Casa allows you log into your Picasa account and access all of your pictures and albums.
The search function helps you find the images you are looking for by keywords, locations, or objects contained in the pictures themselves. Download your photos to your device's local storage or share them to your other Windows apps.
You can also quickly share to the app simply by dragging and dropping, or share directly to your account from other apps.
Pix Casa's camera backup feature will automatically upload photos that you take on your device to your Picasa account, letting you decide what resolution to use.
With Google's disdain for creating native Windows apps, Pix Casa has really stepped up to fill the need, offering a well-designed, feature-rich Picasa interface.
Available for Windows 10 PC and Mobile.
Download Pix Casa for Windows 10
League of Stickmen
If you are looking for a fun arcade style game for your Windows 10 computer, tablet, or phone, then check out League of Stickmen.
This side-scroller has you playing one of many heroes as they battle the evil Shadow Minions with steel and spell. Part action game, part RPG, League of Stickmen has you hacking and slashing through enemy creatures, picking up gold and other items along the way.
As you fight your way across the dark world, you will obtain new weapons and equipment to arm your hero with. You can buy upgrades with the gold you gather from your fallen foes and level-up with experience points, which will let you choose new skills and abilities.
League of Stickmen features fantastic silhouette characters and beautifully illustrated backdrops to battle on. Throw in epic music and button-mashing gameplay, and this arcade game is a winner.
League of Stickmen is free to play, but you can make in-app purchases to boost your hero.
Available for Windows 10 PC and Mobile.
Download League of Stickmen for Windows 10
Be sure to check out our other selections from previous weeks. Have a great weekend!
Do you have an app you want us to highlight? Drop us an email at tips@windowscentral.com with "5 Intriguing Apps" in the subject line.
Get the Windows Central Newsletter
All the latest news, reviews, and guides for Windows and Xbox diehards.