5 Windows 10 apps you should try: TV, movies, books, and hoverboards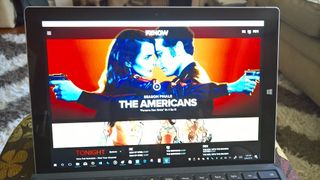 With the ever-growing number of apps and games in the Windows Store, it is becoming increasingly difficult to keep up with what's out there.
For that reason, every Friday we showcase some apps that have piqued our interest. They may have been in the news recently, they may be new to the Windows Store, or they could simply be old apps that we just stumbled upon.
They are the 5 Intriguing Apps of the Week.
FXNOW
FXNOW was recently updated as a universal app for Window 10. The app brings streaming television and movies from FX, FXX, and FXM to your computer, tablet, and smartphone.
Just log into the app using credentials from your TV or cable provider and gain access to episodes of your favorite shows, like Archer, The Americans, and It's Always Sunny in Philadelphia. You'll also be able to watch live programming, as well as movies that are airing on the family of networks.
Also, FXNOW features Simpsons World, a special section where you can watch every episode of the iconic animated series ever aired.
With the Windows 10 version of FXNOW, not only do you get a revamped user interface but integration with some of the operating system's most popular features. Live Tiles show you the latest featured shows, while Cortana can launch the app and take you to the newest episode with a simple voice command.
Being a new app, FXNOW has its moments of running choppy, but overall, it is an excellent way to access everything the networks have to offer.
Available for Windows 10 PC and Mobile.
Download FXNOW for Windows 10 (opens in new tab)
Bookviser Reader Premium
Bookviser Reader is a powerful eBook reader for Windows 10 for PC and Mobile.
Capable of supporting EPUB, TXT, and FB2 file formats, Bookviser offers plenty of options to enhance your reading experience. Choose between light and dark themes, change colors, adjust font style and size, and control page animations.
But it does far more than just let you flip through your book. Create bookmarks, highlight passages, and write notations. You can share snippets via the Windows Share function, look up word definitions in Google, or get translations right from Bing.
Feeling too lazy to read? Then let the text-to-speech feature read it to you.
What's especially great about Bookviser is all of the ways you can access reading materials using it. The app opens local files on your device, but it also has a built-in OPDS catalog browser, so you can access a wealth of online resources, like Feedbooks, ManyBooks, and Smashwords. Bookviser's browser integration also makes it easy to download eBooks from the web.
Bookviser Reader Premium is jam-packed with just about everything you could want in a book reader. There is a free version, but it come with fewer features than the full version.
Available for Windows 10 PC and Mobile.
Download Bookviser Reader Premium for Windows 10 (opens in new tab)
CCPlayer Pro
CCPlayer Pro was released as a universal app back in late May and has proven to be an impressive media player.
The app can play any audio or video file type that Windows supports, plus MKV, RMVB, and FLV files. It also supports popular subtitle formats SMI, SRT, ASS, and SSA. Subtitles can be customized with different fonts and adjustable speeds.
The player itself has a clean UI that is intuitive to use. Load up any folders and files to see a list of playable media. You can adjust picture brightness, volume/balance, and video speed. CCPlayer Pro has a few other notable features as well. First, the app has a private mode, allowing you to lock it down with a password.
Even cooler is the Now Playing section, which gives you a snapshot of all of your recently viewed videos. Each is earmarked at the spot where you left off, much like you would find in the dashboard of a streaming service like Netflix or Hulu. Just hit play and start watching as if you never stopped.
CCPlayer Pro is a powerful, versatile media player that deserves a look when considering your options.
Available for Windows 10 PC and Mobile.
Download CCPlayer Pro for Windows 10 (opens in new tab)
My Calendar
My Calendar is exactly what you would think it would be judging by the name. Designed specifically for Windows 10 computers and smartphones, this calendar app grabs your events from all of your accounts that you already have connected with Windows.
Each calendar can be selected or deselected for inclusion in your view. Switch between day, week, month views quickly by scrolling sideways or scroll vertically to move from month to month. The Today screen gives you a snapshot of the current date/time, your outlook for today and tomorrow, as well as a tiny view of the month, complete with all of your events.
The Agenda view lets you scroll through a list every day's events, while the Tasks section keeps you focused on your to-do's.
There's also a Birthday view to see whose big day is coming up.
My Calendar has very clean layout that is easy to navigate and a decent amount of customization options. You can set up the range of your workday and work week, configure Live Tiles, set a background, and choose whether or not to sync your data to OneDrive.
My Calendar has a free version that is ad-supported and has fewer features, but the full version is much better. You can try it for free before you decide.
Available for Windows 10 PC and Mobile.
Download My Calendar for Windows 10 (opens in new tab)
Subway Surfers
After a brief hiatus from the Windows Store, Subway Surfers has returned. The Windows Phone 8.1 title was pulled earlier in the week and has come back with support for Windows 10 Mobile.
Subway Surfers has been around for a long time on Windows Phone and other platforms. It is an endless runner that has you grinding rails and dodging trains, collecting keys and coins along the way. This time, a skater named Jia joins the team as they travel to the tracks in Singapore. The new pack also includes an additional character outfit, as well as a new hoverboard.
The game lets you help your friends or challenge them through the subway and compete for weekly prizes against other online players.
Subway Surfers features brightly-colored HD graphics with exciting gameplay through amazing environments. It's free to play, but features optional in-app purchases.
Available for Windows 10 Mobile.
Download Subway Surfers for Windows 10 (opens in new tab)
Be sure to check out our other selections from previous weeks. Have a great weekend!
Do you have an app you want us to highlight? Drop us an email at tips@windowscentral.com with "5 Intriguing Apps" in the subject line.
CCPlayer is awesome. Though I did email the developer on some suggestions and he hasn't gotten back to me yet.

I think so too cc player is really great.

It would be great if WC could do a review and comparison of the various W10 calendar apps. I've seen you recommend Hope Calendar and now this one. I use One Calendar and like it a lot. The developer also has a uservoice set up for new features.

Why is Subway Surfers not an universal app for smartphone, PC and XboxOne? That's stupid.

Would be nice if you guys mentioned if the W10M apps support Continuum.

I got excited when I saw "hoverboards", thinking there was a built-in app to turn my laptop into said device. Turns out there isn't and now my screen is shattered after standing on it waiting for lift-off. #disappointed (I should have learned my lesson after buying a hot tub that ended up not being able to time travel.)
Windows Central Newsletter
Get the best of Windows Central in in your inbox, every day!
Thank you for signing up to Windows Central. You will receive a verification email shortly.
There was a problem. Please refresh the page and try again.