5 Windows 10 apps you should try: Photos, notes, Reddit, and motocross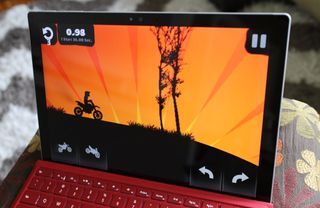 With the ever-growing number of apps and games in the Windows Store, it is becoming increasingly difficult to keep up with what's out there.
For that reason, every Friday we showcase some apps that have piqued our interest. They may have been in the news recently, they may be new to the Windows Store, or they could simply be old apps that we just stumbled upon.
They are the 5 Intriguing Apps of the Week.
ProShot
ProShot has been long-time photography favorite on Windows Phone, and now there's a brand new version for Windows 10 for PC and Mobile.
If you aren't familiar with ProShot, it can be used as a replacement camera app for your device. Built from the ground up, this new Windows 10 app gives you incredible control over your camera's controls as well as offers plenty of post-production features.
Switch between automatic, manual, and semi-manual modes for focus, exposure, flash, ISO, shutter speed and white balance. The camera offers an optional on-screen grid and three kinds of horizon leveling. You can also set your pictures to JPEG or RAW output.
ProShot features plenty of video recording features as well. Choose between 16:9, 4:3, and 1:1 resolution and HDR or auto-HDR modes. It can operate at multiple resolutions, frame rates, and at up to 4K and 60fps.
And that's just the tip of the proverbial iceberg. Anyone who knows their stuff about photography will appreciate all that ProShot is capable of.
Available for Windows 10 PC and Mobile.
Download ProShot from the Windows Store (opens in new tab)
Evernote
The folks at Evernote have delivered their newly-revamped note-taking desktop app for Windows 10 and is worth every bit of the wait.
Create notebooks with individual entries that can be typed, handwritten with your stylus, or recorded with your microphone and/or webcam. Snap photos or attach files to accompany your notes. You can make tags to associate with your entries to make it easier to search and organize your projects.
Or share them with a friend or coworker, so they can add their thoughts and make changes. There's even an in-app chat feature that lets you communicate with them directly, making collaboration a snap.
Your notebooks sync to your online account and then become accessible from any other device that you have Evernote installed on. It also ensures that your data is safely backed up in the cloud.
Evernote is a powerful tool for staying organized, taking notes, collaborating, and more. It's one of the most well-known names in the world of productivity tools, and now it's available for your Windows 10 device.
Available for Windows 10 PC.
Download Evernote from the Windows Store (opens in new tab)
Matissa
Photo effects apps are all the rage right now with people posting their Prisma and Vinci creations all over social media. Now you can Matissa's name to the mix of tools you can use to bring new pop to your photos.
Like other apps of its kind, Matissa is incredibly easy to use. Just choose a picture from your device or snap a new one with your camera. Then simply cycle through the different filters and choose the one you prefer.
Once your masterpiece is ready for the big time, you can either save it to your device or share it to Instagram, Facebook, or Twitter. You can also use the Windows Share feature to choose other apps from the list.
There's a lot to like about Matissa. Firstly, it offers more than twenty different effects options, with more being added regularly. It's also fast, taking literally about a couple of seconds to show you your augmented image.
And finally, it's free to download for any Windows 10 device.
Available for Windows 10 PC and Mobile.
Download Matissa for Windows 10 (opens in new tab)
Reddit Enhancement Suite
The Reddit Enhancement Suite isn't exactly an app, rather it's an extension for Microsoft Edge. But hey, you can find it in the Store and it's awesome, so we are going to count it.
The suite is a set of tools that makes the Redditor's browsing experience even better by making things more seamless and easy to use. For instance, the extension enables a host of keyboard shortcuts for efficient navigation without your mouse or trackpad. There's also a nightmode to reduce eye strain when Redditing in low light.
And RES offers even cooler features than that, including one-button toggling between Reddit accounts, color-coded tagging of users that you follow, and "never ending Reddit," which allows you to just keep scrolling through the next page of a subreddit without ever having to click the "next" button.
With the Reddit Enhancement Suite, you'll also get inline image viewing that incorporates posted photos and albums, including Imgur, into your current view without having to open them in a separate windows or tab.
The Reddit Enhancement Suite has been a favorite extension of Firefox and Chrome-toting Redditors for some time, and thankfully, Edge lovers can reap the benefits as well.
Available for Windows 10 PC.
Download Reddit Enhancement Suite from the Windows Store (opens in new tab)
Sunset Bike Racer
One of my all-time favorite games on the original Nintendo Entertainment System, and ever, was Excitebike, a side-scrolling motocross game that had you speeding and jumping over crazy obstacles in a race against the clock.
Sunset Bike Racer not only recaptures the fun of that classic title, but adds to it with better graphics, crazier terrain, and cool tricks that Excitebike players never got to perform.
Use your keyboard or touchscreen to speed your way through a silhouetted world by accelerating, boosting, and tipping your bike forward and backward to avoid falling victim to physics. But it isn't all about speed, as you'll occasionally have to strategically brake to stay upright.
The goal is to hit the finish line in a certain amount of time, earning up to three stars depending on how well you do. If you fail to make the mark, you'll need to run the course again, this time with a ghostly version of yourself running with you to show you how you stack up against your previous try.
Successful runs and in-air stunts will unlock levels and upgrades to your bike. You can also purchase these upgrades from within the app using real money.
Sunset Bike Racer brings old school arcade racing fun together with challenging reflex-based gameplay for a fun and frustrating freestyling free-for-all. Available for Windows 10 PC and Mobile.
Download Sunset Bike Racer from the Windows Store (opens in new tab)
Be sure to check out our other selections from previous weeks. Have a great weekend!
Do you have an app you want us to highlight? Drop us an email at tips@windowscentral.com with "5 Intriguing Apps" in the subject line.
Windows Central Newsletter
Get the best of Windows Central in your inbox, every day!
I've dropped evernote for onenote, evernote is restricted to have 2 devices for free version = fail anno 2016

What I don't understand is that they didn't make the new apo a uwp app... Not that I'd use it since I'm an avid OneNote user but still.

Don't forget about awesome Officelens integration. Whiteboard processing is so awesome with it.

Download appraisin! And realarm! And mytube! And Manga's universe!

Yes it's an awesome app U.U

Windows 10 store app for mobile again git updated with a lot of ui tweaks. WC didn't even mentioned it I've tipped them as well...

Reddit Enhancement Suite is an extension. The other 4 are apps.

As they mentioned in the article.

Houzz has an official app out but it's just a web wrapper.

What's the relationship between WC and proshot? I don't but Windows central keep pushing an half baked app on it's website 27/7. I just purchased and so far it a downgrade from proshot classic. They may have place the life filter somewhere else but it's no where to be found. Assist light focus and the grid are not working. With that much talking before the launch of this app, they didn't do the work.
I hope windows central is not going down the path of bet@news.

*The filters were delayed because of an OS issue, I believe.
*Grid works fine for me.
*Light assisted flash does seen to be disabled I wouldn't call it "half-baked". I'd say that the developer has things to offer in an upcoming update. I don't think your implication that ProShot is paying for coverage is fair. WhatsApp? Maybe. Not ProShot.

Ever-growing no. of apps? :-p

What are your favorite apps you use always?

Wunderlist • Readit • Poki for Pocket • Money Lover - Money Manager

mSecure, BaconIt, NextGen Reader, ProShot, BlueSkies, Windows Central, Tweetium/Aeries.

How do you make proshot the default camera?

Don't think you can. That would be a good option to have. Also, an option to change the app tile. Need to submit a suggestion to the dev methinks.

Marissa seems as fast as Vinci without the watermark. Now if one of then would allow something other than 1:1 squares, that'd be awesome. Evernote. No...just no. That's coming from a former paying Premium customer. When they pulled WP coverage, I downgraded to the free version. When they put in all of the limitations to free and then MS provided an easy migration tool to OneNote, I was gone. Funny thing is that after the move, I ended up liking OneNote better. Love ProShot - still waiting play with the video recording, particularly the audio. I'd love if MS would give then an option of being the default camera, though I'd likely leave the stock as default. I think the stock is great as a P&S, while ProShot is a tool for precision and control. At a party or event, I want that dynamic flash of the stock photo app.

Proshot looks to be what I need, (too embarrassed to use my camera, that's how bad I am). There are 2 choices in the store , which one to choose? How come you pay for them and still get ads?