The 6-port wall charger by iClever is a great addition to your workstation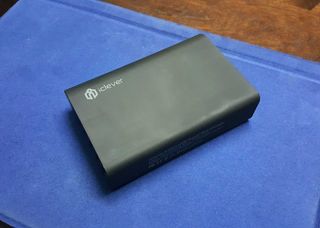 On an average day, I use several devices that need to be charged – sometimes more than once in a day. Even using a power-strip on my desk, I fail to find multiple chargers to go in that power-strip or enough power outlets. Sounds like most of us, right?
A few weeks ago, I got an iClever 6-port desktop charger for review. The device packs in six USB ports with an output of 50 Watts that allows you to charge any combination of USB-compatible devices like phones, tablets, speakers, and other USB-charged devices.
The wall charger is a solid feel to it and features sturdy design, yet is compact and easily portable. It measures 100 x 69 x 27mm, and is fairly pocketable, and weighs just 180 grams. The rubberized exterior gives it a great grip, so it doesn't fall off the table with a small tug when a cable is moved around. The downside to that functional exterior is that it does attract some dust.
The company claims that the safety is enhanced and maximized by the fire-proof material in its design and a full array of internal protection mechanisms - over-current, short-circuit, and over-temperature protection. The charger remains fairly cool on prolonged usage, and since I have it as a permanent install on my desk, I have never switched it off even when no devices are connected for charging.
The iClever wall charger features a unique SmartID technology that enables the USB port to identify a specific device and thus ensuring maximum charging efficiency and speed. The six ports have a maximum output of 10A and each can go up to 2.4A.
There are several similar products in the market, and you can pick one up based on the availability. Of course, like I always insist, make sure you don't buy one with doubtful quality as it may lead to damaging your devices.
The iClever 6-port 50W wall charger is available for only $19.99 from Amazon and for its price, makes for a great buy and a very useful accessory. It reduces the clutter on my desk, and avoids me hogging on to several electrical outlets at my home or work.
Buy the iClever 6-port 50W wall charger from Amazon.com / $19.99 (opens in new tab)
Windows Central Newsletter
Get the best of Windows Central in in your inbox, every day!
This sounds really useful. Will have to consider getting one.

Doesn't appear to be Qualcomm quick charge compatible. Just a heads up.

And it starts with i - tendency to not like things that begin with an i

If you don't have the "i" you can't sell to the Apple users

I don't buy anything that starts with i either.

Sounds like something you need to bring up with your therapist at your next session. I would hate to go without buying ice cream because of such a phobia.

LOL Only applies to half eaten fruit related tech :)

I use Anker 5-port charger which is also a quality product and it is smaller in size as well.

I've been using one of these (different brand) for months, and really recommend them. It's especially good when travelling and you can't be certain on how many plugs you can access. I keep it plugged in at my charging station and can happily plug in all my dev devices and bric-a-brac. Saves a lot of space and plugs. The only thing to watch out for is the power output of the various ports. This one looks good, but I got burned with one that has 3 low power ports and only 2 standard/high power ports. It really affects things when you're looking for some quick charging.

Is It "heavy" enough to not skid around if plugging something in with one hand?

Yet another candidate to clutter the desktop. What I really want is all wireless charging. Drop the gadget on the desk, somewhere, done.

Is that enough juice to charge a Surface 3?

no you probably better look for a charger that can provide more than 3A of power

Great for behind my video game rack, that has Xbox one, ps3, PS4, WiiU, 360 ....most of the controllers use USB charging, now a central place to always have them charging... USB 3.0 ?
Windows Central Newsletter
Thank you for signing up to Windows Central. You will receive a verification email shortly.
There was a problem. Please refresh the page and try again.